Anti-Hindu and anti-Bharat propaganda are at their peak with an online conference titled 'Indian on the brink – Preventing Genocide' scheduled to be held from February 26 to 28. The Summit is chaired by Dr. Gregory Stanton of Genocide Watch and co-chaired by Dr. Ritumbra Manuvie of Foundation The London Story and Mr. Rasheed Ahmed of IAMC. That these organizations are totally anti-Hindu and anti-Bharat is evident from their own websites. While Genocide Watch lists Islamophobia and Anti-Semitism as 'issues', it makes no mention of anything on Hindu persecution in Pakistan or Bangladesh even under the 'religious persecution' of its website.
HinduPost had busted the fake propaganda by 'Breaking India' forces such as The London Story that keep crying 'minorities under threat in Bharat' at the drop of the hat while conveniently ignoring the plight of Hindus, not just in neighboring Islamic nations but within pockets of Bharat itself where the Muslim population trumps that of Hindus.
There is indeed little doubt that this is an anti-Bharat conference by a cabal of 52 ISI-funded Islamists, Urban Naxals, and Soros-funded "Breaking India" instigators residing in Bharat and the West. The timing of the conference has also been deliberately chosen to coincide with the ominous 27 February date of the horrific Godhra train massacre in which 59 innocent Hindu pilgrims (mostly Hindu women and children) were burnt alive by Muslim mobs in Gujarat in 2002. Tragically, while Hindus have forgotten the 20th anniversary of the Godhra Train Massacre, Bharat's enemies have not.
This conference is nothing but an attempt to tarnish both Bharat and Hindu Dharma by painting them as oppressive which is evident from the selection of those who have called for dismantling Hindu Dharma and Bharat as speakers. We shall take a look at some of the speakers and their views to understand the actual agenda of the conference.
1) Kancha Ilaiah: is a rabid Hinduphobe who equates Sanatan Dharma with Nazism and has attempted to Christianize Bharat's ancient civilization by propagating bizarre illogical theories.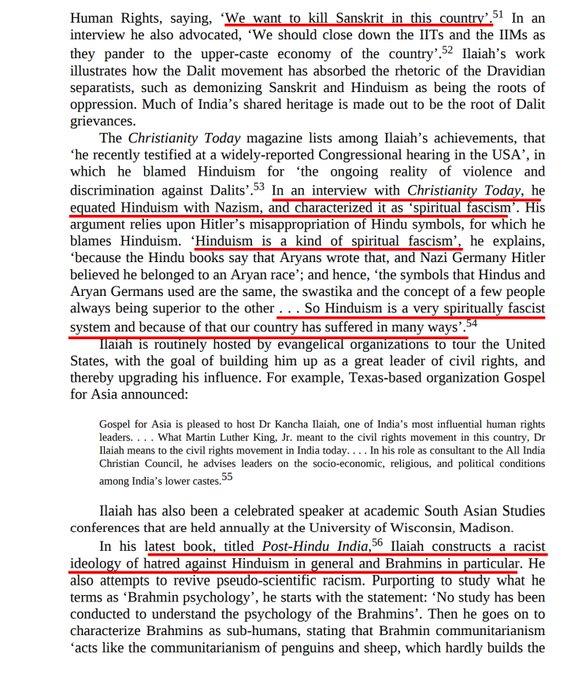 2) Sunita Vishwanath: is a co-founder of 'Sadhana: A Coalition of Progressive Hindus' ("Sadhana"), Hindus for Human Rights ("HFHR"), and the Coalition Against Fascism in India ("CAFI"). The first two lend a 'Hindu' voice to a nexus of organizations, groups, and individuals who constantly demonize Hindu Dharma via propaganda and blatant misinformation – conjuring up images of Hindu savagery and oppression and calling for an outright dismantling of Hindu Dharma as a religion. The third organization is a nexus of such organizations in itself, and contains groups who have supported jihadists and those who call Hindu Dharma 'a religion of violence.'
3) Kavita Krishnan: She is a member of the Communist Party of India (Marxist Leninist) [CPI (ML)], a party whose ideology is based on violence and hatred for anything and everything related to Hindu Dharma. She has gone to the extent of justifying violence against our armed forces, the men who defend our boundaries by risking their lives. In addition, she doesn't blink an eye before batting for terrorist Burhan Wani. But blaming the majority community doesn't stop with Bharat alone and extends to Sri Lanka as well. She was quick to jump the gun and blame Buddhists for the horrific Easter terror attacks but began singing a different tune when to her dismay she found out that an Islamic terror outfit was responsible for the attacks.
4) Teesta Setalvad: She shot to fame during the 2002 Gujarat riots when she used the death of ex-Congress MP Ehsan Jafri to target the then Gujarat CM and present PM Narendra Modi by cooking up stories and pressurizing witnesses to give false evidence. Teesta and her husband Javed Anand, along with several others such as Javed Akhtar, Rahul Bose, Cedric Prakash, etc, started an NGO called 'Citizens for Justice and Peace' (CJP) on 1st April 2002, just about a month after the riots.
The Special Investigation Team (SIT) headed by ex-CBI director RK Raghavan accused Teesta Setalvad of 'cooking up stories of macabre killings' and 'tutoring witnesses to give false evidence'. Sabrang Trust, run by Teesta and her husband Javed, was found to have indulged in FCRA violations and its registration was canceled in 2016.
5) Suchitra Vijayan: was one of the main organizers of the 'Dismantling Global Hindutva' conference that propagated Hinduphobia. She is the founder and executive director of The Polis Project which projects itself as a 'research and journalism' organization. "Our work sheds light on the rise of authoritarianism, especially in democracies, and focuses on issues of racial, class and caste injustice, Islamophobia and State oppression around the world…We publish fearless journalism – you can read our Washington Post op-ed on how our work has been censored on Twitter at the behest of the Indian State", reads their About Us section.
6) Ayesha Renna: is a sympathizer of terrorist Yakub Memon who rose to fame during the anti-CAA protests. She was projected as one of the 'sheroes' by the mainstream media.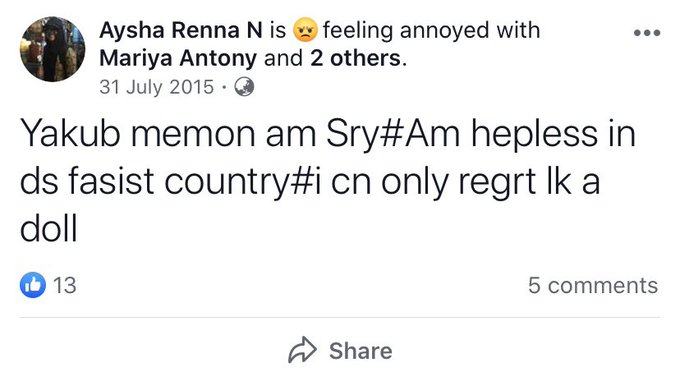 7) Aakar Patel: is the former chief of Amnesty India who had justified the actions of Jinnah especially his "two-nation theory" that led to the partition of Bharat besides demanding separate electorates for Muslims. According to him, the execution of terrorist Yakub Memon amounted to 'killing a man in cold blood'.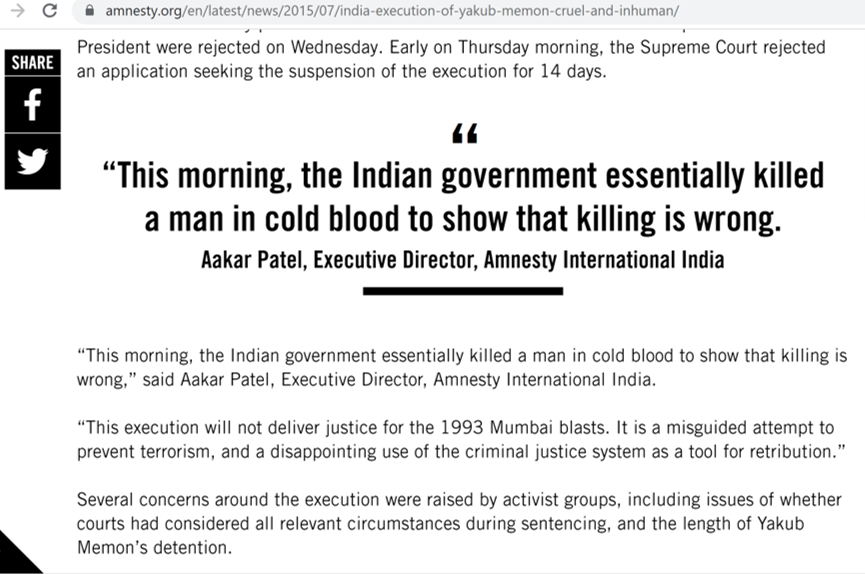 8) Arjun Sethi: is apparently a paid stooge of Pakistan who had endorsed the 'Dismantling Global Hindutva' Conference. It has also come to light that he has a history of stirring up Hinduphobia. Besides, during the hearing of the 2019 Tom Lantos Commission he fabricated or selectively presented 'evidence' about Bharat and Hindus.
9) Lee Rhiannon: is an Australian Senator who has termed Bharat as an occupier of Jammu and Kashmir while conveniently maintaining a deafening silence on the genocide of Kashmiri Hindus.
10) Nitasha Kaul: Her "Kashmir: A Place of Blood and Memory" rejects Kashmir as an integral and inalienable part of Bharat. Instead, it compares Bharat's territorial integrity in the region with China and Pakistan's illegal occupations of Kashmir and Aksai Chin. Kaul's account gives basis to China and Pakistan's cartographic aggression against Bharat.
11) Safoora Zargar: was arrested for orchestrating the Delhi riots. Zargar is the media coordinator of the Jamia Coordination Committee (JCC) – a controversial group comprising students and alumni from the varsity, which has been spearheading the anti-CAA protests in the capital and which was found to have morphed and edited videos to further their cause.
12) Mohan Dutta: is New Zealand's Massey University professor who had demonized and vilified Hindus as violent extremists. Hindu Human Rights had highlighted how Dutta had made false allegations to the police.
We have merely profiled some of the 52 speakers but this would give us a fair idea regarding the anti-Bharat and Hindumisic agenda of the organizers.