Jindal University appears to be walking down the JNU (Jawaharlal Nehru University) path with anti-national as well as anti-Hindu 'smash Brahmanical patriarchy' posters and those hailing Communist terrorist Che Guevara coming up in its premises.
In the above video, faculty member Arijeet Ghosh of Jindal Global Law school says he considers Kashmir to be 'India occupied J&K'. It is these kinds of teachers who seed separatist thoughts among the students who then go on to demand 'Azadi'.
Readers may recall earlier Jindal Law school had come under fire for including books by Bharat-bashers in its curriculum. These posters that call for 'Azadi' appear to be in keeping with what these authors had wanted – seeding secessionist ideas in young minds.
The Jindal Law School curriculum's social movement course manual had Nitasha Kaul's "Kashmir: A place of blood and memory" is one of the books students have been asked to read. Kaul is one of those who believes Bharat has no legitimate right over Kashmir. She terms Bharat as an 'aggressor occupying Kashmir'. It must be pointed out here that Kaul is a supporter of Pakistan. Then there are the likes of Pratap Bhanu Mehta, Jean Dreze, Christopher Jafferlot, and others who keep spewing venom against Bharat.
Not surprisingly, one of the posters wants Kashmir to be 'liberated' from 'fascist' Bharat. The poster titled "combat Indian colonial propaganda! End the militant occupation of Kashmir" whitewashes the Kashmiri Hindu genocide while demanding 'freedom' from Bharat.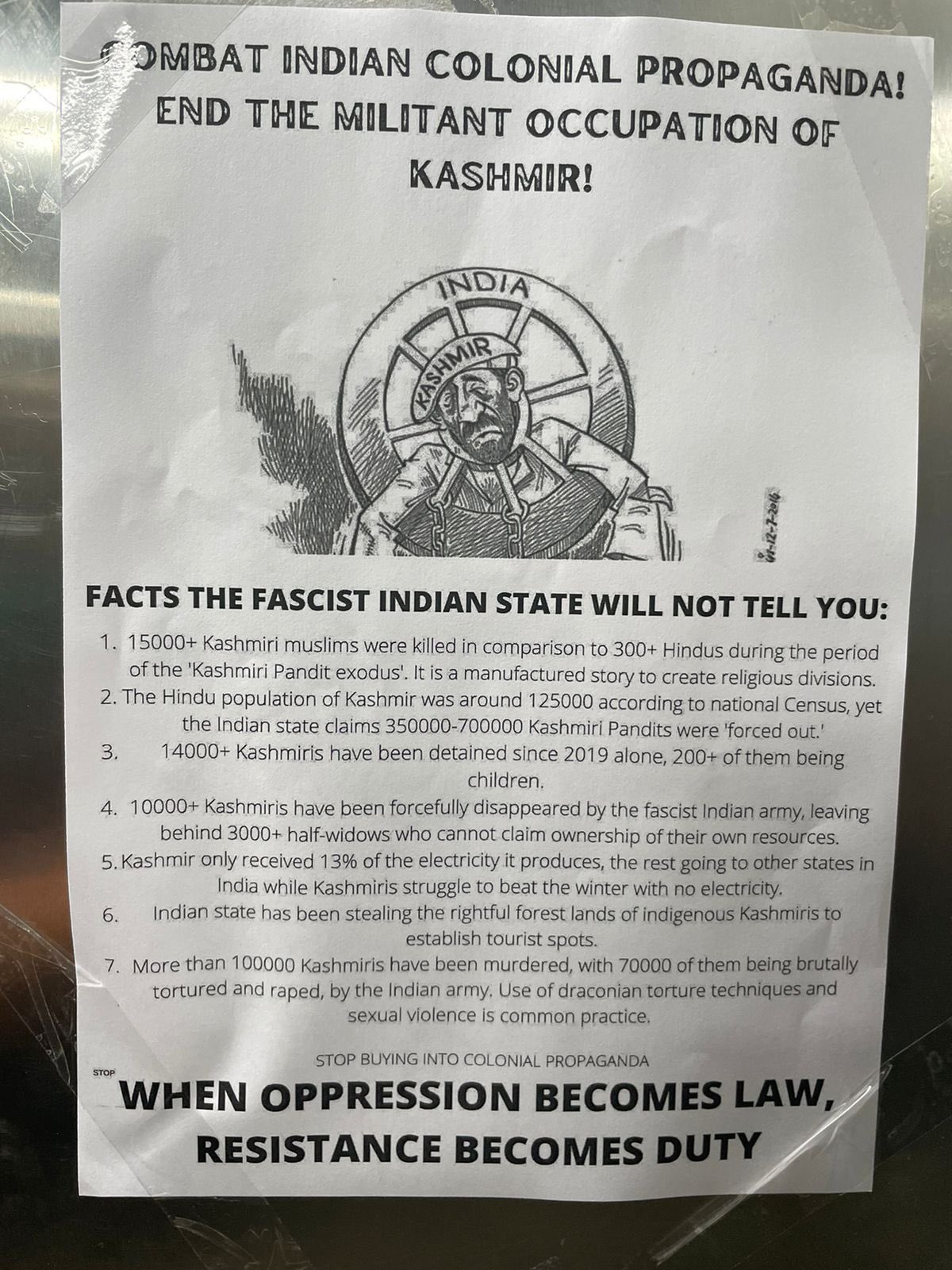 Of course, Jindal seems to be following the path laid out by JNU which is the den of the 'tukde-tukde' gang and where Abrahamo-leftists rule the roost. JNU had been in news as early as 1983 for its leftist politics. In 1983, leftist politics on campus became so violent and uncontrollable that the university had to be closed for a year. Even the leftist masters of propaganda will not be able to accuse someone else of the large-scale violence of that period — no other ideologies, especially the nationalist one, had been allowed to enter JNU at the time.
In this violence, teachers who subscribed to the Left ideology were engaged in instigating the students and making plans for them. After this incident, a contingent of paramilitary forces had to be deployed on the campus for a fairly long time.
Anti-nationalism has seeped into the JNU genes. Tata Institute of Social Sciences (TISS), Jamia Milia, Jadavpur University are some of the other campuses that are on the secessionist path and need to be thoroughly scrutinized by the central government.
Interestingly, while Jindal Steel and Power Limited (JSPL) Chairman Shri Naveen Jindal says that National Flag is the highest and most recognizable symbol of national pride and he always feels proud to fly it, students and faculty of his university are talking the talk and walking down the separatist path.
These posters once again remind us that the Bharatiya education system is doing nothing to imbibe values of patriotism and pride in Bharat's culture and religion. The rot runs so deep that we find such a questionable curriculum to be a part of almost all universities across the country. This can particularly be noticed in streams such as history and political science.
The distortion of history begins right at the school level. We have also seen how attempts to overhaul the UGC history syllabus had upset a section of academics. There is an urgent need to clean up the education system. Be it private or government-run institutions, course contents need to be one that imbibes a spirit of nationalism and a sense of pride in one's traditions and culture.
The bane of Bharat has been that academia has been controlled by the left-liberal cabal who have for long created generations of deracinated Bharatiyas. It is time to reclaim pride in Bharatiya values.
(Featured Image Source: ToI)