Attacks on Hindus and Hindu Dharma, both in Bharat and overseas, are frequent and unrelenting. In many regions of the world, this persecution is like a genocide slowly unfolding before our eyes. For decades, the true depth and breadth of these attacks, driven by disturbing anti-Hindu bigotry, have been ignored by the world. From murders, forced conversions, land grabs, assault on festivals, desecration of temples and murtis, hate speech, and sexual violence to institutionalized & legal discrimination, Hindus are facing an increasing assault on their very existence along with an unprecedented Hindu hatred.
In this weekly summary for the period from 3 April to 9 April 2022, we hope to provide a snapshot of such crimes and hopefully awaken more people around the world to this human rights crisis:
Bharat
1) As Hindus across the globe were celebrating the arrival of their New Year, Hindus of Karauli in the Congress-ruled state of Rajasthan were experiencing the terror of radical Islam. Stones were pelted at a bike rally organized to celebrate the New Year and violence broke out in the city.
2) A person identified as Ahmed Murtaza Abbasi attacked Provincial Armed Constabulary (PAC) jawans guarding Gorakhnath Mandir late Sunday evening. The jawans are reported to have sustained serious injuries in the attack and Abbasi has been arrested. The injured have been admitted to the Gorakshnath Hospital.
3) 40 traditional chulhas in the kitchen of Puri Jagannath temple have been vandalized by unidentified miscreants. They were destroyed after the food for the evening puja was prepared. The district collector has ordered an inquiry into the issue.
4) Yet another case of grooming jihad, marriage under false pretext and triple talaq has emerged – this time from Narasinghpur district in Madhya Pradesh. Farukh Khan groomed a Hindu girl and they had a 'love marriage' in court in 2014. Now after eight years, he tried to divorce her using the banned triple talaq route and a complaint has been lodged at the Kareli police station.
5) Govt. school teacher Nisar Ahmed has been suspended for physically assaulting a minor girl student in Rajouri, J&K. The family of the minor said that the thrashing was in relation to the student turning up at school with a tilak on her forehead that she wore after a pooja at home amid the ongoing Navratri festival.
6) A professor at the controversial Aligarh Muslim University (AMU) has made sacrilegious and distorted remarks on Santana Dharma deities in a slide about rape.
7) The back cover of a magazine published by the Travancore Devaswom Board (TDB) for the Shri Sarkara Bhagavathy temple festival featured a catering service advertisement that showed meat dishes, including beef. Outraged devotees protested on social media.
8) Another Hindu youth has been attacked by Muslims in Karnataka. Madhu, the 22-year-old florist was stabbed by a gang of 6 Muslims reportedly for objecting to smoking drugs in a public place.
9) 15-year-old Prachi Rana was brutally murdered in her home on Tuesday by Asif Mohammed, a newspaper vendor who used to deliver the newspaper to the victim's home.
10) Mahant Gorakhnath Das was killed by thieves on Monday night who also stole 13 murtis of Hindu deities and jewelry adorning the deities from an ancient Ram-Janki temple in Saran district, Bihar.
Bangladesh
1) A Hindu college lecturer was harassed, abused, and physically attacked by a policeman after he saw her wearing a teep (bindi) on her forehead in Dhaka, Bangladesh reports The Daily Star. The policeman tried to run her over with his motorbike, causing her to fall and sustain serious injuries.
2) Suman Karmaker was murdered by unidentified sources on April 6 in Chittagong.
3) The family of Maru Pramanik was kicked out of their home and land by Mohammad Belal Hoseen and Shahin Shah at Natore on April 7.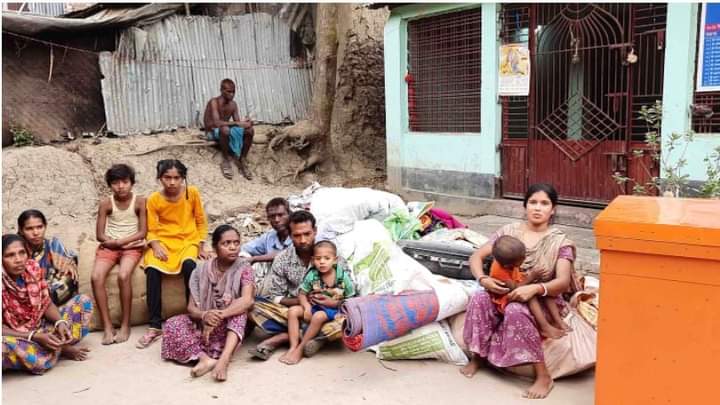 Most hate crimes are driven by anti-Hindu bigotry encoded in certain religious teachings and political ideologies. While the anti-Hindu hate in Islamic countries is obvious, there is another subtler form of anti-Hindu sentiment within institutions and the public sphere of ostensibly secular states (like India) that provides an enabling environment for Hinduphobia and hate crimes. This subtle, everyday discrimination can be missed unless one studies prevailing laws and patterns. The gradual ban on firecrackers during Diwali is a good example – it might seem pollution-related on the surface, but the double standards at play become clear when one looks at the larger picture of restrictions on Hindu festivals, and the lack of sound reasoning behind the ban.
We request all readers to share other anti-Hindu hate crimes that we might have missed in this period in the comments below or by dropping an email to [email protected]. We also solicit support in the maintenance of the Hindu human rights tracker database started by us.