Today I will show you how leftists, Islamists, so-called journalists, and their foreign partners are very well connected since years and how they do the planning.
An international ecosystem in 2009/2010
In Jan 2011, professional leftist activists of India and a few Islamic countries organized a Gaza Caravan to help terrorist Hamas and a few other terrorist organizations! The aim of this caravan was 'Free Gaza'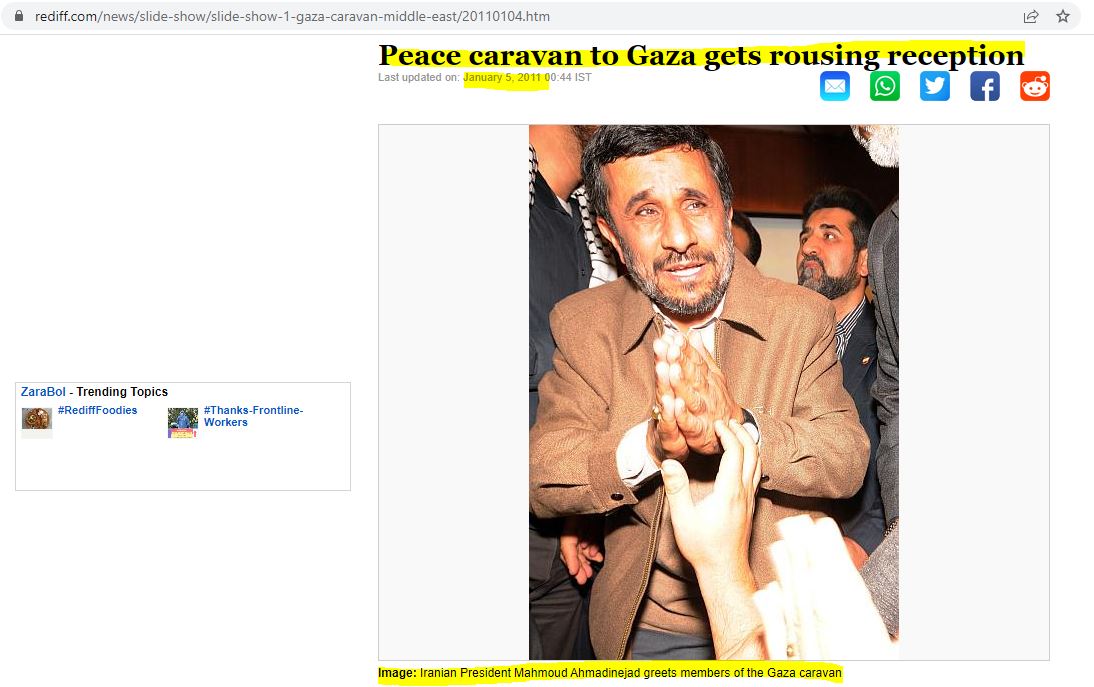 Eight members had boarded a boat in which 4 people were Indians. Names of the four Indians are Brigadier Sudhir Sawant, Sheheen Kattiparambil( Jamaat E Islami), Aslam Khan (AISA) and Ajit Sahi from Tehalka. He has whitewashed the crime of SIMI

Few details about these four people- Brigadier Sudhir Sawant later became AAP Maharashtra chief in 2019. Ajit Sahi Joined Indian American Muslim council as an advocacy director. He is a SIMI supporter and working against Bharat by demanding to put sanctions on Bharat!
Now let me show you who has planned Gaza Caravan, and who had supported and participated in it. Feroze Mithiborwala has held a meeting in Delhi on 12 November 2009
Please see the list of people who have attended it! This list is very important. Please remember it well.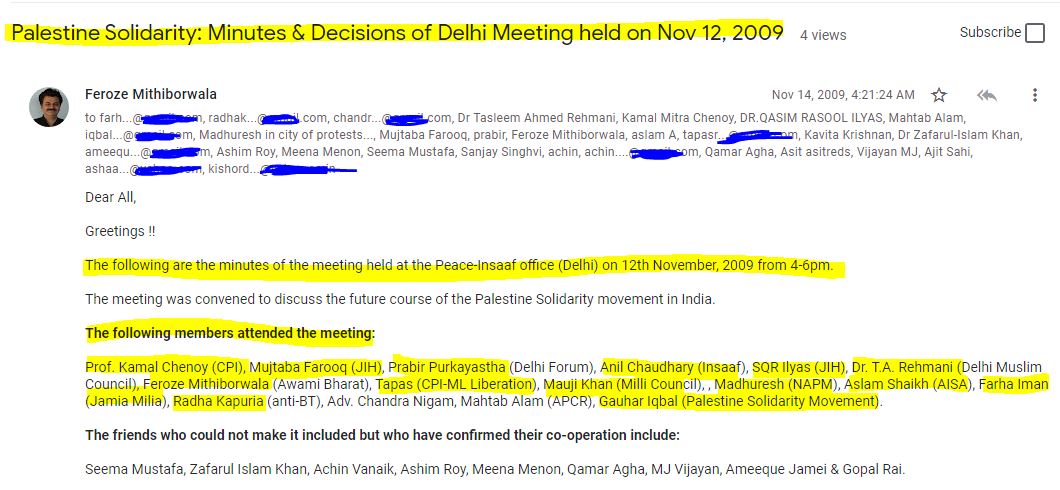 I have highlighted people who did not attend that meeting but they have confirmed their support. It has the name of Gopal Rai too! Please remember these two lists. It is really important.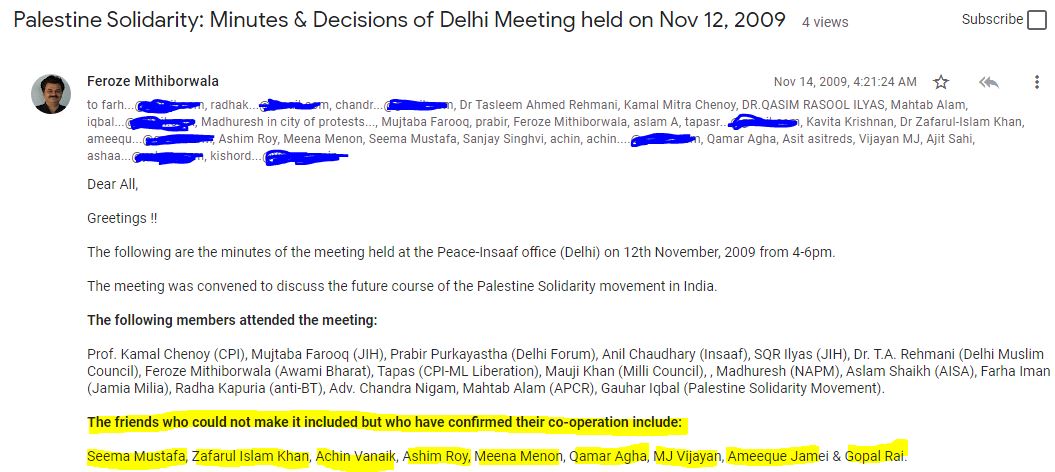 Now let me show you a few details of that meeting. They have prepared a list of their friends and supporters who can join them in the Gaza Caravan.
Here are the details of how they were going to arrange funds for the Gaza Caravan. SQR Ilyas (Father of Ummar Khalid and President of the Welfare Party) and Prabir Purkayastha ( Owner of Newsclick and boss of Abhisar Sharma) have taken responsibility for coordinating funds!
Turkish NGO IHH was one of the organizers of the boat for the Gaza Caravan in which four Indians were traveling including SIMI supporter Ajit Sahi.
IHH has also done meetings with PFI in 2018. Here is the photo in which you can see Taslim Ahmed Rehmani along with PFI leaders
Interestingly Ajit Sahi and Mukul Sinha were very good friends and they were working together in the case of SIMI.
I have written a thread earlier on both of them.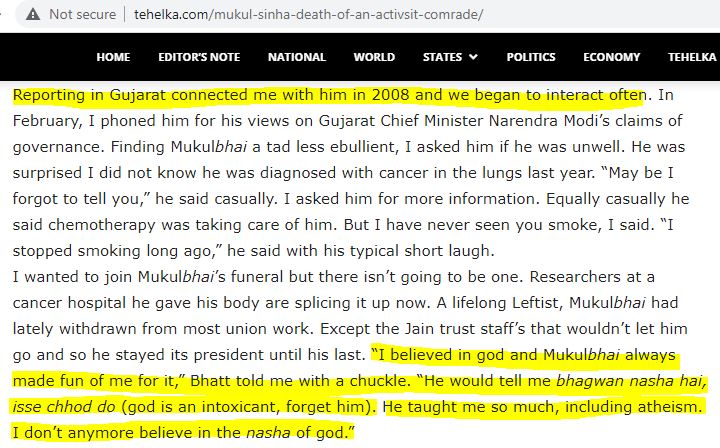 I have given all the above information to show you how these people are connected very well and how they do the planning!
Current warfare against Bharat by using the Nupur Sharma issue
As I mentioned to remember the list of meeting and their friends, so now let me show you something!
All this propaganda against Nupur Sharma was started after a debate in which Taslim Ahmed Rehmani was part of it! Now see the highlighted name of the 2009's meeting!
On the 27th of May 2022 'Friday', Zubair of Propaganda website Altnews posted this issue on his Twitter account. Altnews owner is Pratik Sinha, son of late Mukul Sinha.
I have shown in one of the above tweets how this Mukul Sinha was connected with Ajit Sahi and his cartel.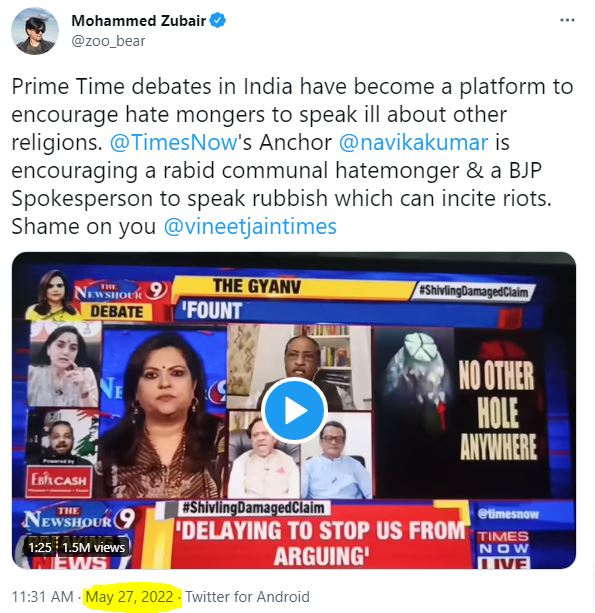 On next 'Friday' 3rd June, Egypt-based Muslim Brotherhood's propaganda (MB) agency 'International org for the support of the Prophet of Islam' has started a campaign against Bharat on Twitter.
MB receives support from Turkis NGO IHH. Do I need to tell you about IHH now?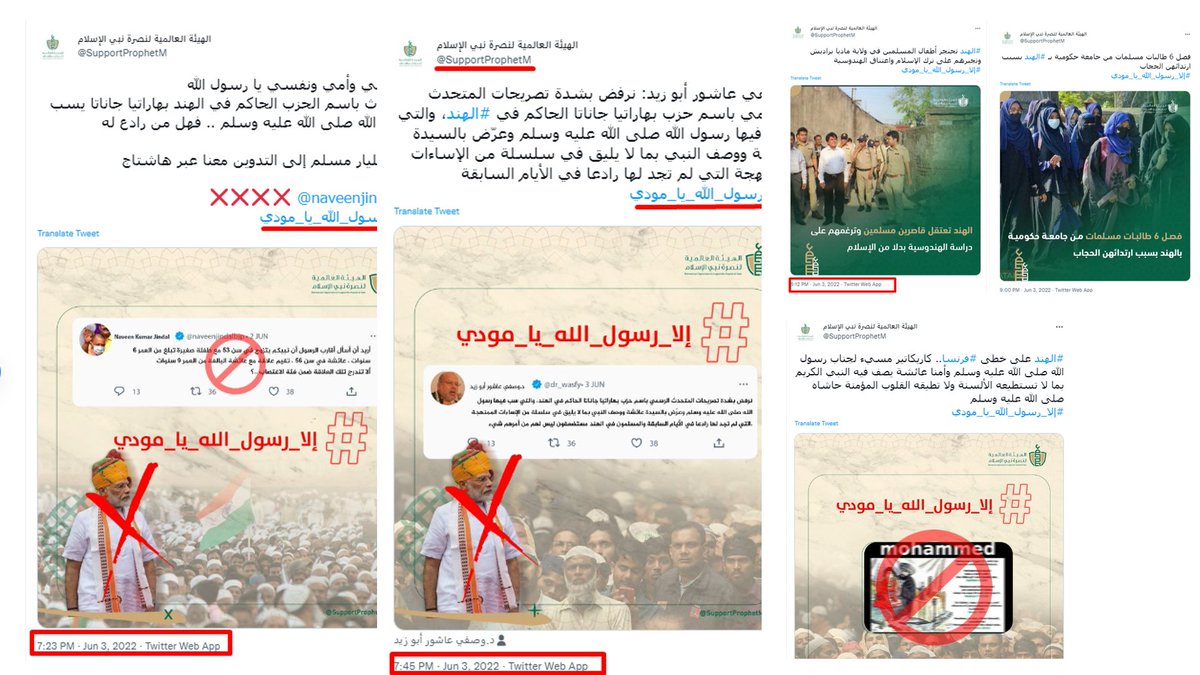 From 5th June Propaganda media of Pakistan, Turkey, Qatar, and other few countries have started to take this propaganda to next level.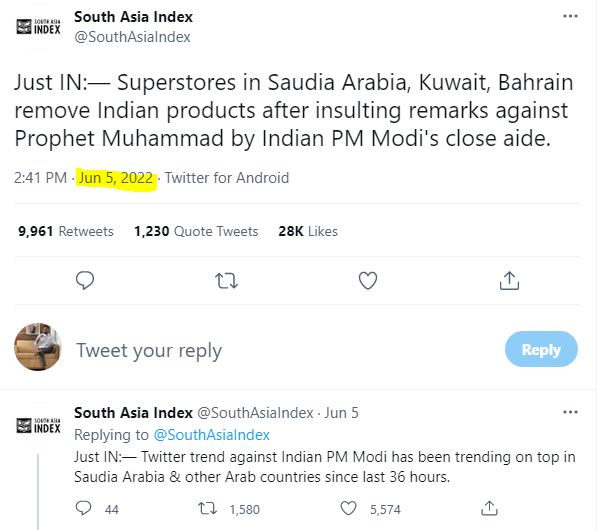 Now let me take you to the list and planning for 2009 again. One of the main organizers of that protest was Prabir Purkayastha. He is the owner of NewsClick.
Newsclick and their propaganda journalists have started to take part in this propaganda from 6th June actively
Another name on the list was Siddharth Varadarajan of the leftist propaganda website The wire. I don't think I need to tell you more about The wire and their propaganda journalists
One more name on the list was Seema Mustafa. Seema Mustafa is the owner of another leftist propaganda website The Citizen and she is also president of the famous Editors Guild of India!
List is so big that I can't include everyone, so let me add the last Islamist propaganda journalist Zafarul Islam Khan. He runs the Islamist Propaganda website Milli Gazette
Now check their Tweets and Retweets. You will find all the above people connected!
One of the most IMP names on the list of 2009 was SQR Ilyas. He was a leader of Jamaat E Islami at that time and is now president of the Welfare Party which is the political wing of Jamaat E Islami.
Prayagraj's violence mastermind was a leader of the same Welfare Party.
A week after championing successfully in Social Media and Propaganda media, last Friday SDPI (Political wing of PFI) organized protests all over Bharat, which turn out violent and created a communal atmosphere in Bharat.
I am adding a few screenshots of the Twitter bio of propaganda journalists. So you can understand why they work for these common groups of propaganda media.
This article has been compiled from the tweet thread originally tweeted by Vijay Patel (@vijaygajera)