The surrender of Suhail Ghani Chishty, wanted for 26 years in connection with a case of rape & blackmail involving hundreds of school & college girls that had rocked Ajmer and the nation in 1992, comes as a stark reminder of how our system has failed to deliver justice in such cases.
The tale of deceit, exploitation & a disappointing police & societal response is well captured in this Indian Express article. What made the matter more shocking is that many of the accused belonged to influential Khadim families – Khadims are those who serve at the famous Ajmer dargah founded by Khwaja Moinuddin Chisti. The gang of predators – 18 were charged and arrested – would blackmail the girls after clicking inappropriate photographs and use a victim to lure her friends, creating a chain in the process.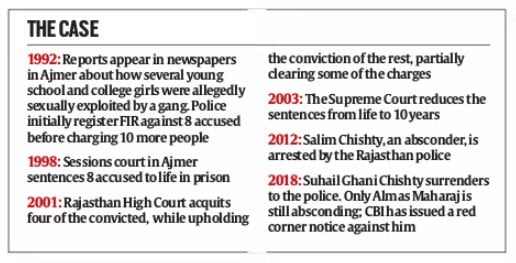 Interestingly, the IE article still refers to the crime as "alleged" at two places – (a) '..women allegedly sexually abused by men…' (b) 'For the alleged victims…' Out of 18 men charged for this crime, 8 were convicted (HC later acquitted 4 of those 8), while 6 are still facing trial, 1 just surrendered and 1 is absconding. So how is this still an alleged crime?
The headline we have chosen is inspired by this tweet by @TheSignofFive – for those who don't know, Rotherham is a city in UK that was rocked by a child sexual exploitation scandal wherein 1,400 children, most of them white girls, had been sexually abused between 1997 and 2013 by predominantly British-Pakistani men.
The Ajmer case holds 5 important lessons for us all –
1.) Perpetrators were from families which serve at the famous Ajmer dargah
Ajmer dargah was established by Sufi master Khwaja Moinuddin Chishti who entered Ajmer with the invading troops of Shahabuddin Ghori, who then proceeded to destroy many temples and built Khanqahs and mosques in their place. Chishti was, at best, a mute spectator to the senseless mass killings of Hindus and destruction of Hindu temples. For all the Sufi claims about universal love and brotherhood, the fact remains that like mainstream Islam they too consider non-Muslims as inferior people who need to be enlightened by convincing them to join Islam. This same attitude reflects in the exploitation of Hindu girls by men from Khadim families of Ajmer.
2.) Clear Pattern of Congress leaders' involvement in such crimes
The very nature of Congress as a dynastic political party, with a rootless ideology mired in twisted notions like secularism, means that it will attract sycophantic or criminal-minded elements. And Youth Congress seems to be a breeding ground for sexual predators. In this case, one of the key accused Farooq Chishty was a Youth Congress leader who tried to escape with a "mentally unstable" plea before he was convicted in 2007. Even in the Jalgaon sex scandal of 1994, the prime accused was Congress leader Pandit Omkar Sakpale whose controversial acquittal by Mumbai High Court triggered mass protests.
3.) Police focus on maintaining 'communal harmony' instead of justice for victims
The reporter who broke the story believes that "police focused more on preventing what they believed would lead to law and order situation as a result of the scandal, rather than ensuring justice for the victims." 
This pithy quote brilliantly captures typical police reaction to any crime involving a Hindu victim and Muslim perpetrator. The focus is more on settling the matter and "moving on" rather than bringing the perpetrators to book. Often, police balks at entering heavily populated Muslim regions to arrest the accused – as we recently saw in this tragic case from Kolkata where a minor Hindu girl was being held captive in the city's Garden Reach area (referred as 'mini-Pakistan') but police refused to retrieve her citing law & order concerns in a 'sensitive area'
4.) A broken judiciary
It seems that the higher we go in Bharat's judiciary, the more out of touch with grassroots reality our honorable judges seem to get. This Ajmer sexual grooming & abuse case was probably one of the earliest examples of such organized gangs in the country and the world. If our law & order machinery, which includes judiciary, had dealt with an iron hand with this case, we might not have seen more such episodes erupt such as Jalgaon, Suryanelli, Malappuram etc. If photos and videos could be used to trap & blackmail girls back in 1992, we can extrapolate how acute such crimes would have become in today's digital age with smartphones.
Yet, our melords in High Court thought it fit to acquit 4 of the 8 accused who were convicted by the lower court; and the Supreme Court actually reduced the life imprisonment sentence for those 4 to just 10 years. 50-100 girls were abused by these monsters, and 6 of the victims committed suicide. Is this a crime which deserves just 10 years of imprisonment?
While reducing the sentence, the SC Bench comprising Justice N Santosh Hegde and Justice B P Singh said "Having regard to the facts and circumstances of the case, we are of the view that the ends of justice would be met if the sentence is reduced to ten years rigorous imprisonment."
Imagine you are the parent of one of those minor girls (girls as young as 12 were abused) who was preyed by these animals – would you agree that a 10-year sentence means "ends of justice are met"?
Shockingly, the SC order in the case also said that it sympathised with witness turning hostile as testifying "would have exposed them as well, and would have adversely affected their future life." Is the Highest Court in the land saying that it can't ensure anonymity of a victim in a rape case, or hold closed door hearings in such sensitive matters. Isn't this kind of a statement virtually giving a green signal to potential rapists and child molesters?
5.) Clueless & Apathetic Hindu Society
Many of the victims were left without support either from their families or society at large, resulting in 6 of them committing suicide and many refusing to come forward to testify. Rather than commiserate with the victims and launch a national movement to ensure harsh punishment for the perpetrators, it appears that common people were more bothered about ensuring that one of the victim girls' didn't end up getting married into their families.
We have seen a similar reaction from some quarters whenever we report cases of Love Jihad where sexual predators adopt a fake Hindu identity to lure unsuspecting Hindu girls into their love-trap. "She deserved it..no sympathy for such seculars" some say, conveniently ignoring the fact that our daughters are so unaware of the dangers which lurk precisely because we as parents and society at large have failed to educate them or build a safe environment for them to grow up in. Have our social organizations held any seminars on the dangers of Love Jihad, has their been any rational debate on the theological moorings which sanction such acts for Islamists, have we calmly talked to our girls about such cases from the past and on socio-legal realities of Muslim-non-Muslim marriages, have we challenged the Bollywood & TV trash that is polluting young minds day in & out? A society that cannot protect its children and elderly, is doomed to die.
---
Did you like this article? We're a non-profit. Make a donation and help pay for our journalism.