One of the most thrilling episodes of Bharatiya history is the story of how Shivaji conquered the savage Afzal Khan, using intrigue, divine blessings and sheer raw courage. When Afzal Khan first set out against Shivaji, he needed to raise money to support his 10,000 strong cavalry.
Afzal's plan was to loot and destroy Hindu temples for their immense wealth and torture priests or merchants around the holy precincts. His strategy was to fund his campaign through rapid cavalry raids on holy cities, sack temples, demolish sacred images and ransom Hindus.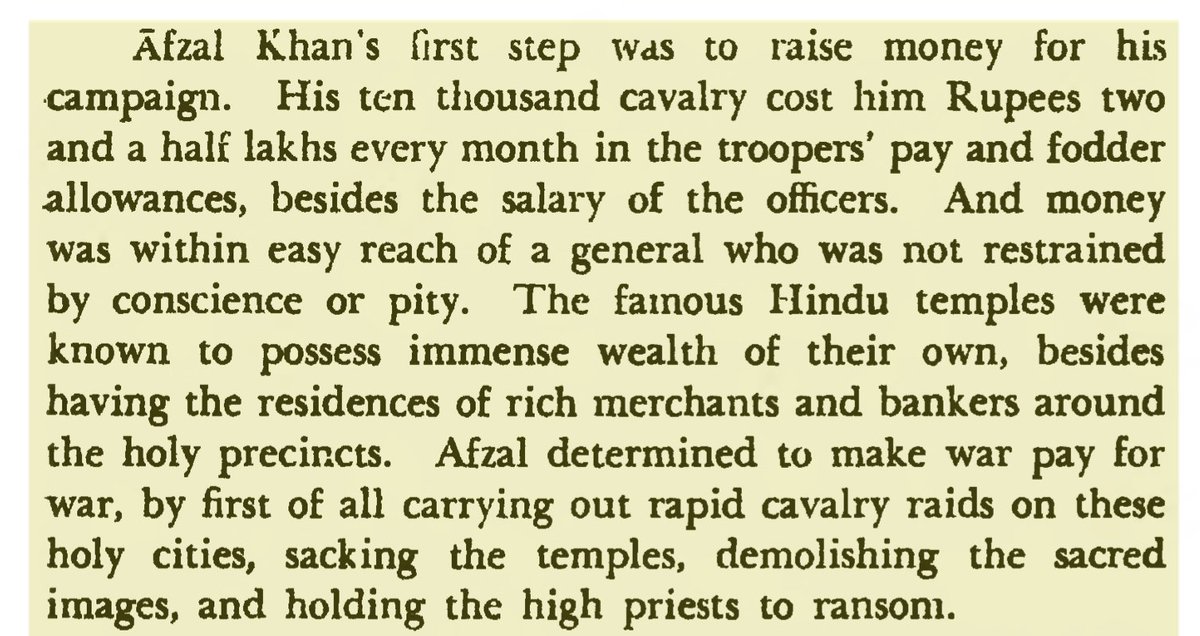 He started from Bijapur in September 1659, by looting the holy shrine of Vithoba at Pandharpur where he demolished the Murtis. He marched all the way to Tuljapur, one of the holiest shrines in Maharashtra and the seat of Bhavani, the guardian goddess of Shivaji's family.
At Tuljapur Afzal ordered the stone Murti of Bhavani to be broken and pounded into dust in a hand-mill. He desecrated the temples at Jejuri. On the way to Pratapgarh, he ruthlessly destroyed temples & attacked Brahmans at Manikeshwar, Pandharpur and Mahadev.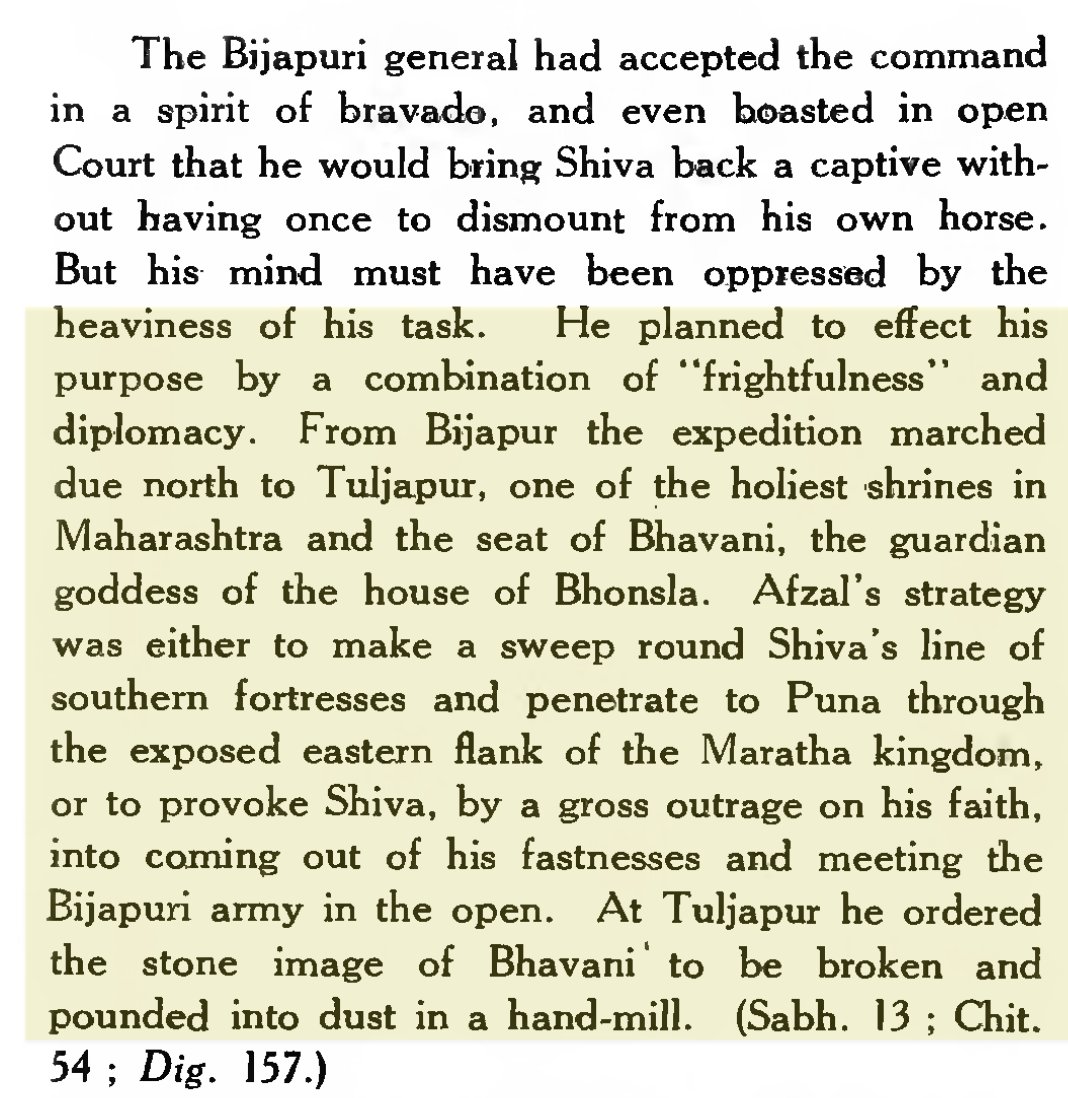 Afzal encamped at Wai, and sent his emissary Krishnaji Bhaskar to Shivaji with a cunningly deceptive message promising friendship with Bijapur. The plan was to lure Shivaji out of the hills and then capture him with the help of local leaders who had been ransomed into subjugation.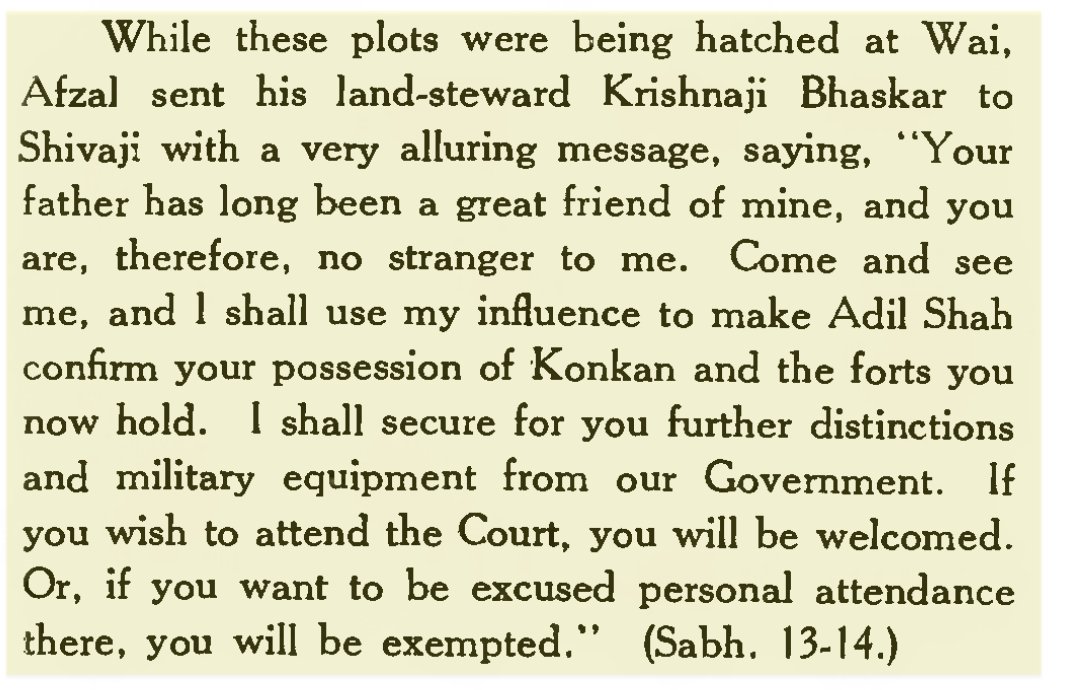 The news of Afzal's coming caused fear among Shivaji's generals who felt unprepared to meet such a well-armed great army. Tales of Afzal's strength & ruthlessness added to their fear, and the council advised Shivaji to make peace with the insurmountable enemy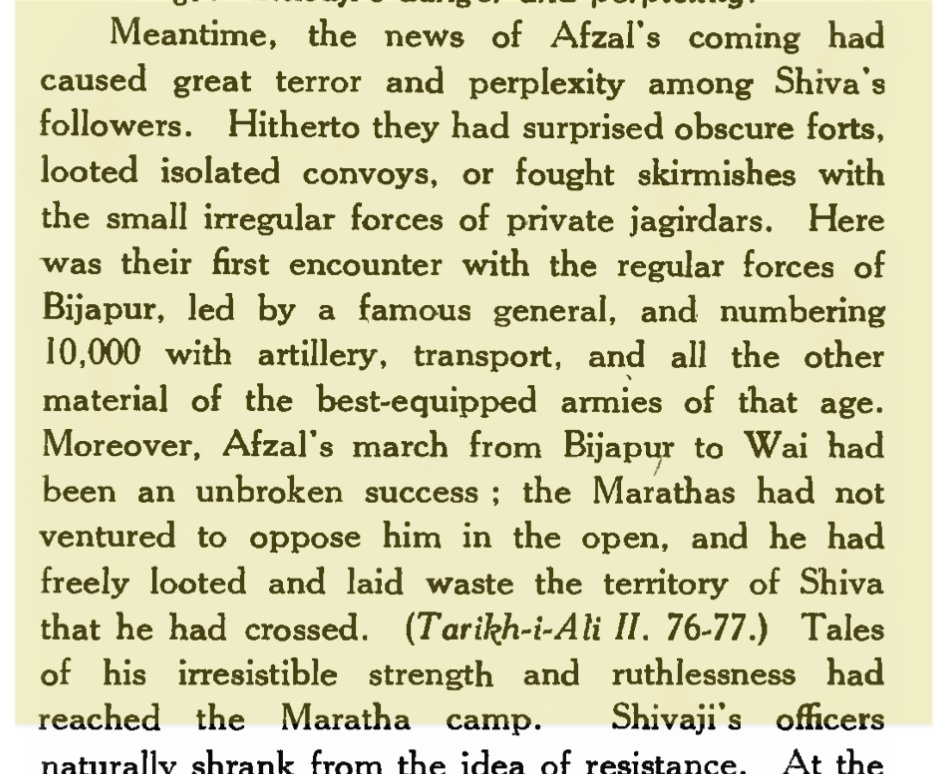 This was the most critical moment of Shivaji's life. Bowing to Afzal Khan, meant giving up all hopes of independence but openly opposing the Bijapur army meant signing up for a lifelong war against both Bijapur and the Mughals without a single friend or protector.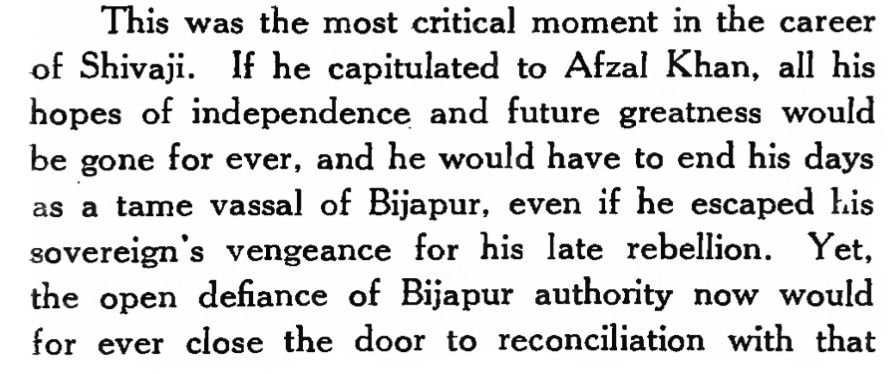 That night as Shivaji tossed and turned trying to make a decision, he suddenly had a divine vision of Devi Bhavani. She told him to boldly confront Afzal without fear, for the sake of Hindu Dharma, promising him victory and her full protection.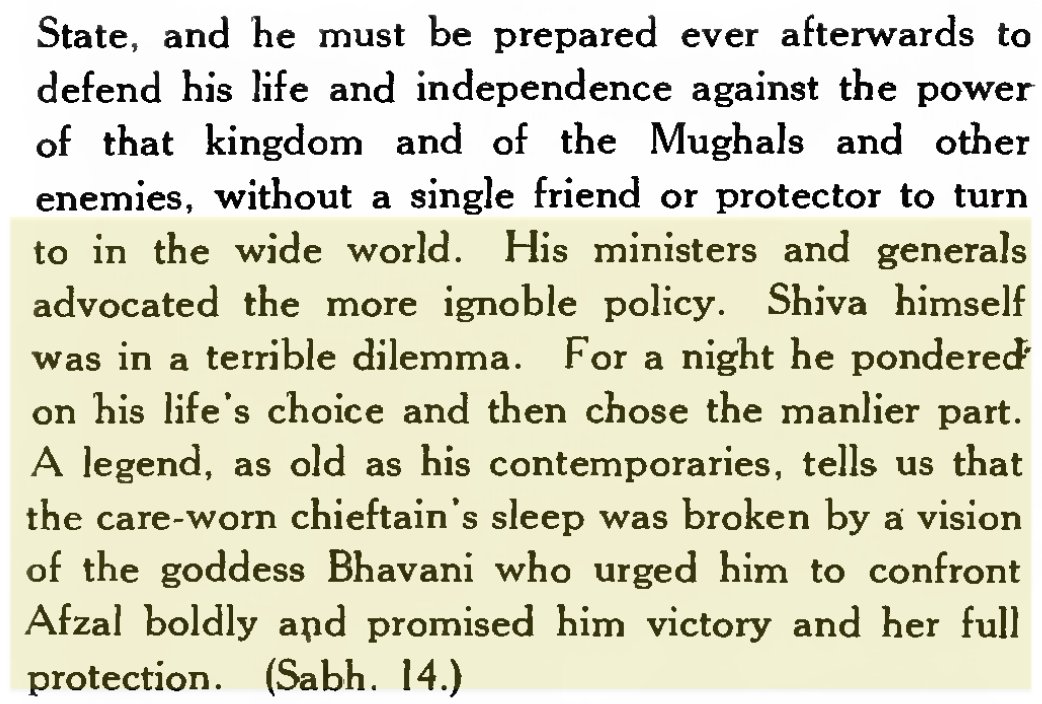 Shivaji had made up his mind. The next morning he told the council about his vision, they were greatly moved and declared their full resolve for war. Shivaji put his plans into action leaving detailed instructions for carrying on the government in the event of his being killed.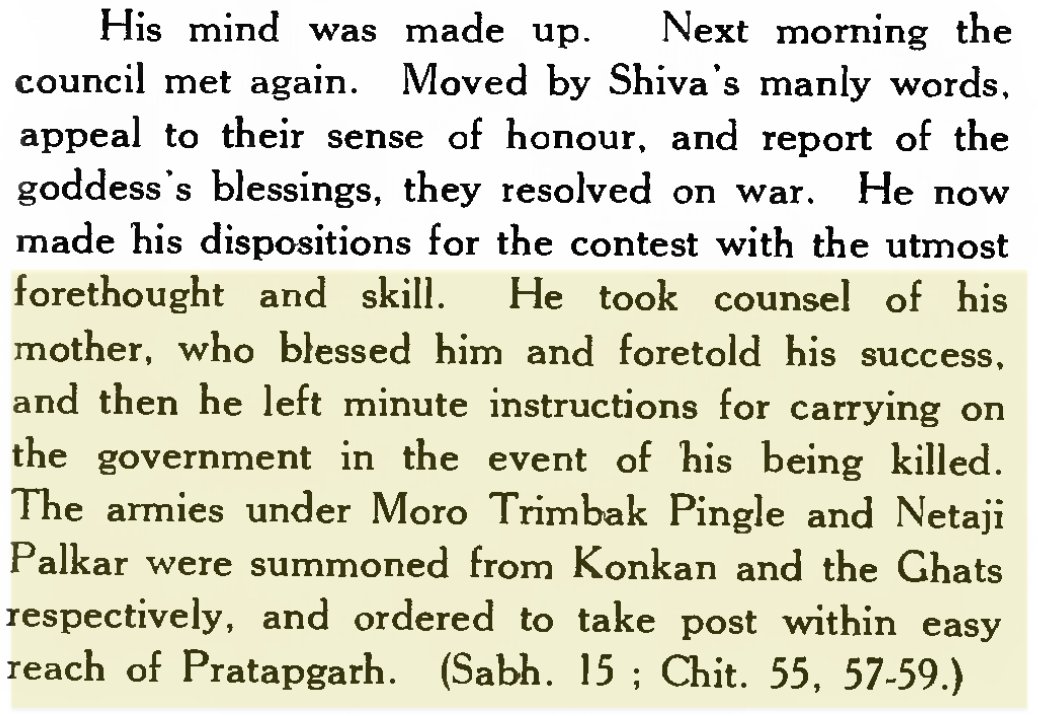 The armies under generals Moro Trimbak Pingle and Netoji Palkar were summoned from Konkan and the Ghats and ordered to take positions close to Pratapgarh. Then he met Afzal"s envoy, Krishnaji Bhaskar, treating him with much respect
At night Shivaji met him secretly, appealing to him as a Hindu to tell him of the Khan's real intentions. Krishnaji hinted that Afzal had planned a treacherous trap. Shivaji agreed to Afzal's proposal of a meeting, sending Krishnaji back with his own envoy, Gopinath Pant.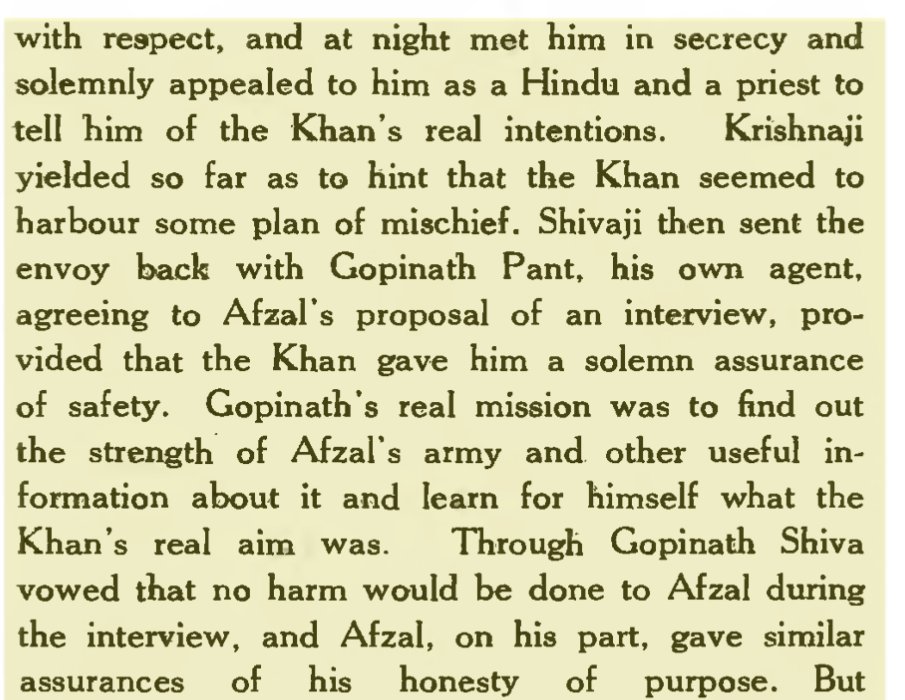 Gopinath's real mission was to spy and dig up detailed information about the enemy army. He conveyed that Shivaji promised no harm to Afzal during the meeting. Gopinath used bribes to persuade Afzal's officers, who revealed that the meeting was a trap to capture Shivaji.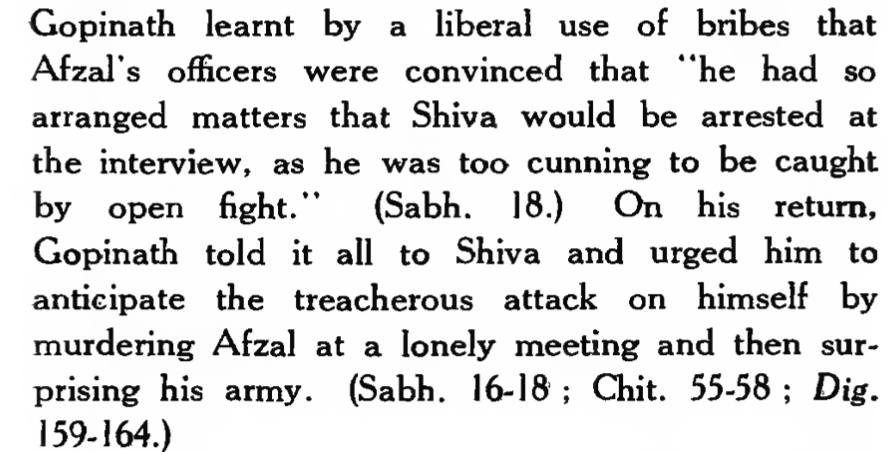 Gopinath returned and urged Shivaji to anticipate the treacherous attack on himself by murdering Afzal at a lonely meeting and then surprising his army. Shivaji then pretended to be afraid to meet at Wai and requested a meeting at Pratapgarh.

Afzal agreed and camped at Par, a village below Pratapgarh. A meeting space was arranged for next day. That night Shivaji posted special soldiers in hidden ambush along the path to the pavilion, where tents decorated with rich carpets and cushions were set up for royal welcome.
Then Shivaji started preparing for the meeting. Under his tunic he wore a coat of chain armour and below his turban a steel cap to protect his skull. His left hand concealed a set of steel claws (Waghnakh), and up his right sleeve lay hidden a thin sharp scorpion Bichwa dagger.
He was accompanied by only 2 swordsmen of extraordinary courage & agility,—Jiv Mahala and Shambhuji Kavji, Each carried 2 swords and a shield. As they were descending, Mata Jijabai blessed them with victory and protection. Then they walked down at the foot of the fort and waited.
Meanwhile Afzal Khan came with more than a 1000 guards. Gopinath objected, reminding him that Shivaji had only 2. Afzal reluctantly agreed and made his way up the hill in a palki with 2 soldiers & a famous swordsman named Sayyid Banda, along with envoys Gopinath and Krishnaji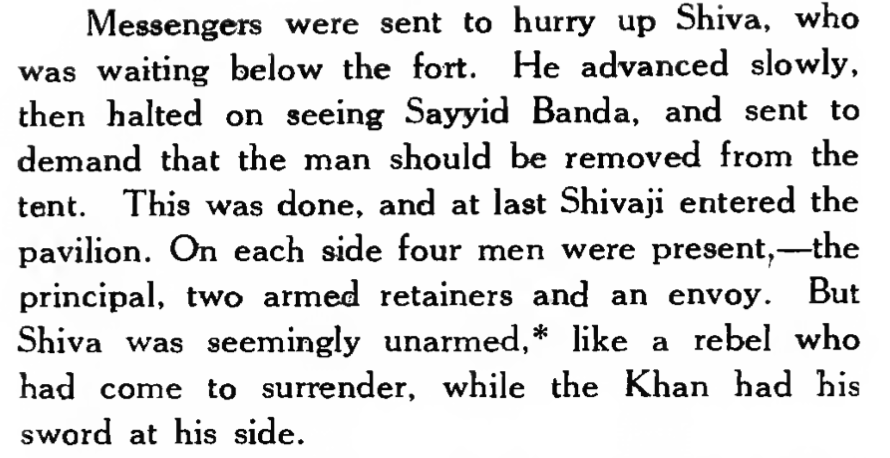 When he arrived at the tent, Afzal was furious to see the royal furniture and decorations which were too rich for a mere jagirdar's son. But Gopinath soothed him by saying that all these rich things would soon go to the Bijapur palace as the first fruits of Shivaji's submission.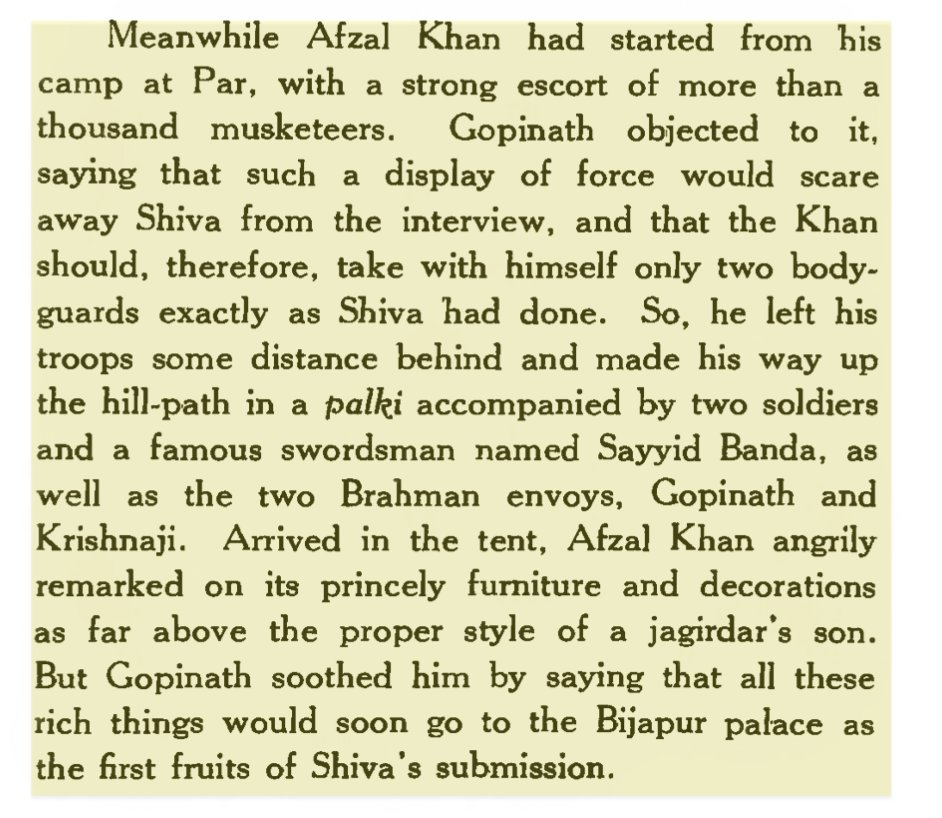 Shivaji was advancing up slowly, and seeing Sayyid Banda, demanded he be removed. Afzal agreed and Shivaji entered the pavilion. On each side 4 men were present, but Shivaji was seemingly unarmed, like a rebel who had come to surrender, while the Khan had his sword at his side.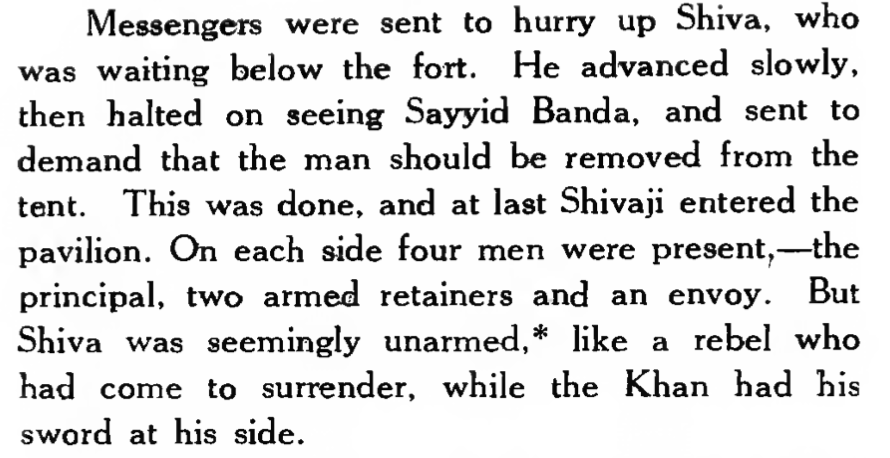 Shivaji climbed the platform and bowed to Afzal, who got up from his seat and opened his arms to embrace Shivaji who only came upto his shoulders. Suddenly Afzal tightened his clasp, and held Shivaji's neck with an iron grip, then he drew his dagger and plunged it into Shivaji's side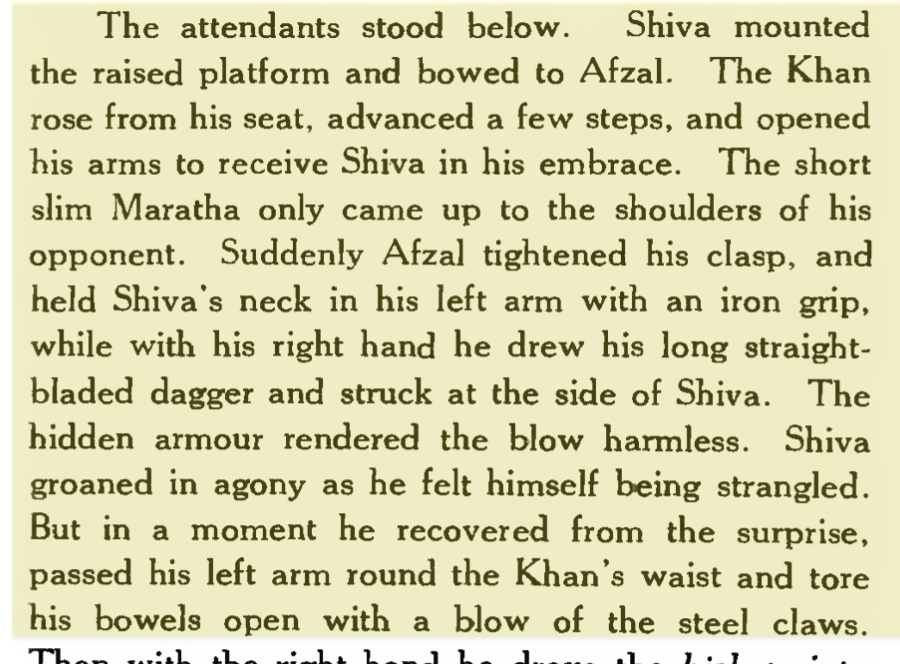 His hidden armor saved him from the treacherous blow, but Shivaji was being strangled. Suddenly he recovered and gasping for breath, put his arm around the Khan's waist tearing his bowels open with a fatal blow of the Bagh nakh. Then he stabbed the Bichwa into Afzal's side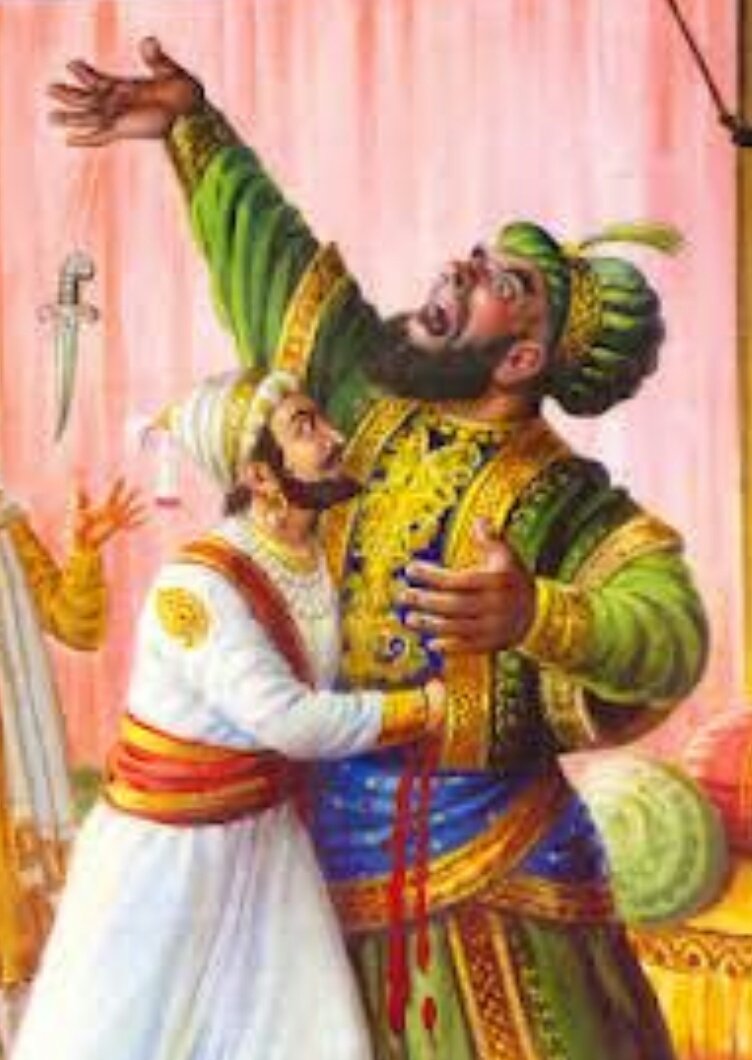 A wounded Afzal screamed in agony. Afzal's men, ran up from both sides and Sayyid Banda lashed at Shivaji's head cutting his turban in two, denting the steel cap. Shivaji grabbed a sword and fought back. Just then Jiv Mahala hacked off the right arm of the Sayyid and killed him.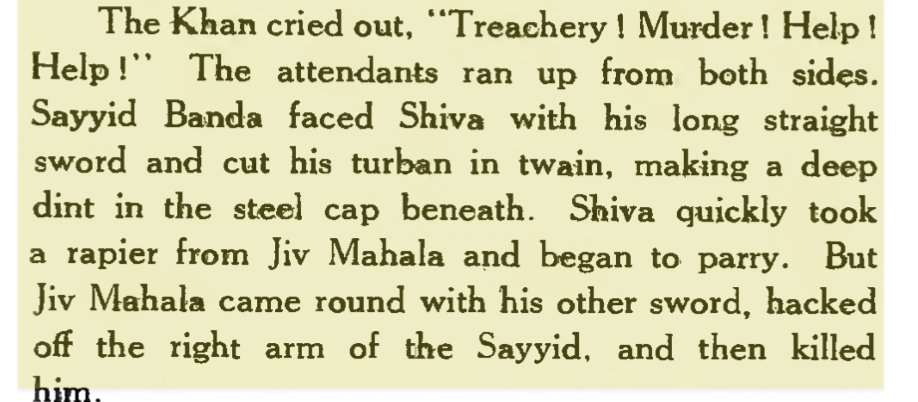 In the meantime, Afzal's men placed the wounded Khan in his palki, and began running back to his camp. But Shambhuji Kavji slashed through their legs, forcing them to drop the palki, and then cut off Afzal's head, which he carried off with a cry of triumph to Shivaji.

At once Shivaji and his men ran to the summit, firing a cannon as signal for all his troops to ambush. Afzal's army was completely obliterated. In a final act of poetic justice, Afzal's head was buried under a tower near the temple of Bhavani built by Shivaji in Pratapgarh fort.
Reference:
Shivaji and His Times – by Jadunath Sarka
(This article has been compiled from the tweet thread of @MumukshuSavitri)