US Senator Rubio has come out in support of Notan Lal a Pakistani Hindu teacher who has been awarded life imprisonment on false charges of blasphemy. In addition to life imprisonment a fine of Rs. 50,000 has also been imposed on Notan. While making calls for Notan's release the Senator said in his March 12 tweet that the teacher was arrested on the basis of false testimony and emphasized the need for putting an end to the persecution. He also noted that Pakistan was a nation of particular concern for religious freedom violations.
The sentence was delivered by a Pakistan court on February 8. It must be mentioned that the student Muhammad Ihtisham had admitted to having lied regarding Notan, who is the owner and principal of a private school, having 'insulted' the prophet Muhammad. The court simply overlooked the confession by Ithisham which in itself is a violation of justice.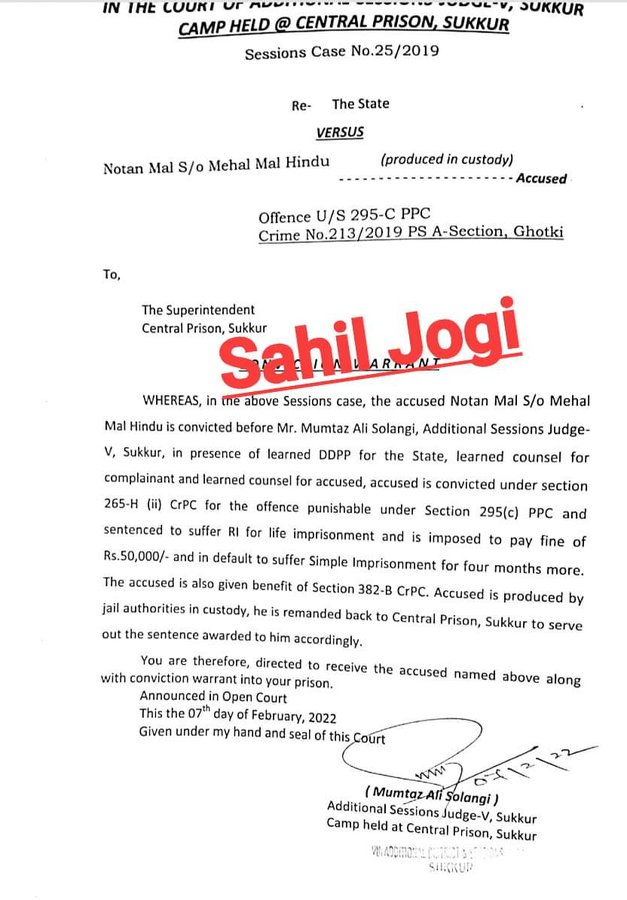 Pakistan's blasphemy laws are extremely biased and have often triggered violence against the persecuted minorities, particularly Hindus as was observed in this case too.
On September 15, 2019, a mob vandalized a Hindu community in the town of Ghotki, Pakistan, after a student accused his school principal, Notan Lal, of blasphemy: "the act of insulting or showing contempt or lack of reverence for God." Riots erupted, during which Hindu temples and homes were damaged. Notan was taken into "protective custody" and an investigation was launched. The student then filed a complaint under Article 295-C of Pakistan's penal code, alleging that Lal insulted the Prophet, Muhammed. Article 295-C prescribes a death sentence for "whoever by words, either spoken or written, or by visible representation or by any imputation, innuendo, or insinuation, directly or indirectly, defiles the sacred name of the Holy Prophet Muhammad (peace be upon him)".
"Notan Sir never said anything like that. He had scolded me for not being able to remember the lesson. So I got furious and posted the video. I didn't know this would take such a massive turn", he had posted on social media, the student posted on social media confirming that the accusation made by him was false.
To be accused of blasphemy in Pakistan is a condemnation to years of harassment at its best—and a death sentence at its worst. The accused is trapped within a Kafkaesque legal system that, in a misguided attempt at keeping them safe, ties them up in its bureaucracy, holding them behind bars to protect them from the mob waiting to carry out vigilante justice upon their release. No prescribed death sentence has yet to be carried out officially by the courts. And yet, ironically, that does not diminish the risk of death for the accused.
"According to the United States Commission for International Religious Freedom (USCIRF), more than 75 people have been put to death since 1990 in connection with allegations of the crime and more than 40 are either serving lifetime imprisonment or are on death row for blasphemy in Pakistan", noted OpIndia.
These laws are more often than not misused in the Islamic nation. Last year, a Sri Lankan man Priyantha Diyawadana was tortured and set afire by an Islamist mob on charges of 'blasphemy'. He had allegedly taken down and torn a poster that contained salutations ("Durood") on the prophet of Islam.
In what is nothing but a travesty of justice, an 8-year-old Hindu boy became the youngest to be charged with blasphemy. A member of the boy's family pointed out that the boy didn't even understand what his crime was and why he was being kept in prison. "We have left our shops and work, the entire community is scared and we fear backlash. We don't want to return to this area. We don't see any concrete and meaningful action will be taken against the culprits or to safeguard the minorities living here," the family member said back then.
The sentencing of Notan Lal highlights once again why the international community needs to stand up for persecuted Hindu minorities of the Islamic nation and the call by the Senator could be the first step in that direction.
(Featured Image Source: OpIndia)