Alerted by the FBI, Facebook tweaked its algorithm to suppress a genuine news story which was electorally damaging for the Democrats. Facebook ran the story through "third party fact checkers" and proceeded to censor it. Imagine what they can do to its 400m user base in Bharat.
Facebook uses 11 "fact checkers" in Bharat. It's only fair Bharatiyas know the political leanings of those who decide what is true and false on Bharat's largest social media platform. It's also imperative GOI and/or the public can access the algorithms to preserve election integrity.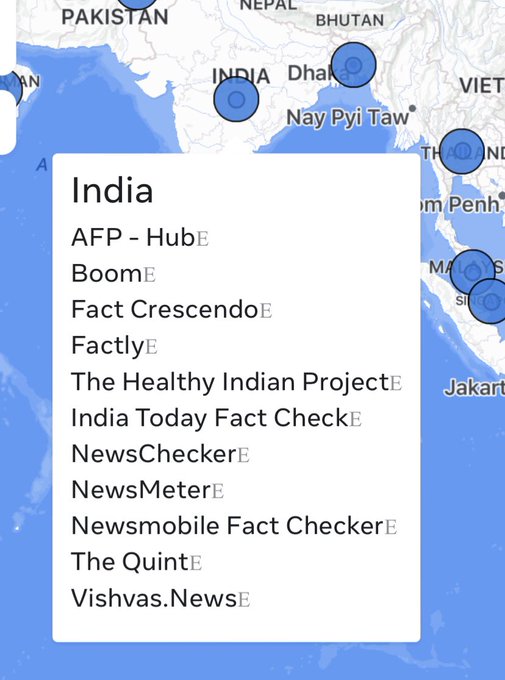 AFP India's fact checkers have interesting backgrounds, with some having worked for Alt News and The Wire. Their social media handles are useful to peruse. Names found: @anu_parmaanu, @RizviUzai, and @fake2fact
BOOM: @govindethiraj, @jencyjac, @Karen_Rebelo, @hrvenkatesh, @SwastiChatterje, @BombayBombil, @adrijabose, @chowarchis, @MKudrati, @AnmolAlphonso, @RohiniChatterji, @skbadiruddin, @SistaMukherjee, @riotsjain, @salmanm94, @FaziliSana, @sachinbaghel__ Political leanings on display
Next up,
@FactCrescendo which covers regions like Maharashtra and the North East. Again, the SM profile of its two stewards, @HarishFc, and @Lets_Fact is telling. And their @ClimateFC project spreads its tentacles into an area rife with activism and lobbying.
@FactlyIndia, founded by @rakeshdubbudu, an RTI campaigner: "Some of the data that is meant for the public does not even exist in the public domain. Factly was born to create supporting platforms and infrastructure to bridge this gap and strengthen democracy through engagement."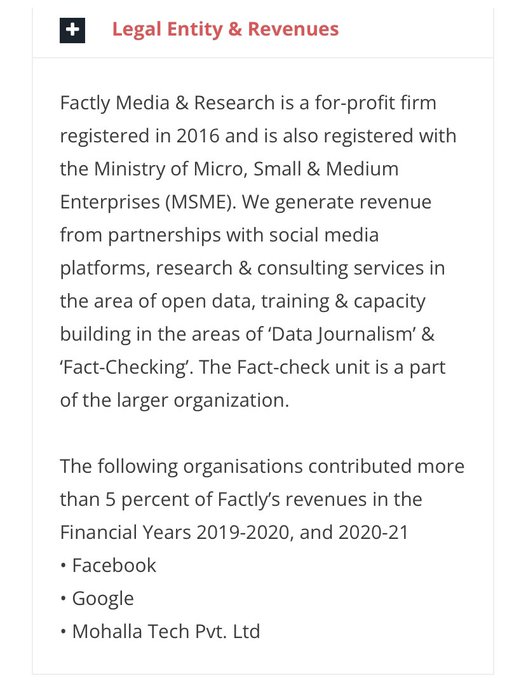 Here's @ThipMedia run by @sudiptasengupta. Interesting effort to fact-check healthcare news. Which medicines and treatments are safe? Which are dubious? What should patients and doctors believe?
Q: What can go wrong with a one-stop-shop for all answers?
@NewscheckerIn is run by former NDTV journalist @allthingsruby.
"We want to inform and educate the public and the electorate of the truth and expose hidden agendas, propaganda and motivated misinformation campaigns."
"Fact checkers'" Twitter handles: https://newschecker.in/our-team
The next is @NewsmeterFacts. The editor is @CoreenaSuares. Besides advertising revenue, the funding comes from a group called "Fifth Estate Digital Pvt. Ltd" which was set up in 2019.
Newsmobile, Jagran News Media and India Today are quite well known. And the less said about The Quint, the better. Media groups choose what to report and what to fact check. A broader debate on possible conflicts of interest is long overdue given elections are coming up.
Common themes amongst some prominent "fact checkers" is an association with the Chevening program and training by the Atlantic Council's Digital Forensics Lab. Deep US influence is evident and perhaps expected given where Facebook is headquartered. Political biases are plenty.
Recommendations:
– Tracking and publish all social media activity and content from "licensed" fact checkers
– Fact-check the fact-checkers on a centralized platform
– Use an AI system to identify notable omissions of false news-checks
– Highlight bias in language and content
In the current fact checking business, US state department "authorization" is a badge of honor, but an Bharatiya government certification may be suspect. The American "truth" – which can be deeply flawed as seen with Covid – cannot be allowed to readily become Bharat's own.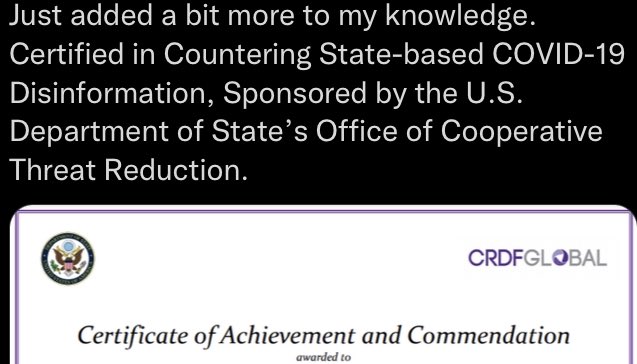 Bharat must not be subverted and colonized by a set of corrupt tech firms and their Bharatiya compradors. I trust the government will do what's needed to protect our digital sovereignty.
(This article has been compiled from the tweet thread originally tweeted by Surya Kanegaonkar (@suryakane) on August 26, 2022.)