Communal violence has triggered the Hindu exodus from Karauli and Khargone with boards of 'house for sale' coming up. Testimonies provided by Ram Bhakts of Khargone to Times Now indicate that they have been living under fear ever since the Ram Navami violence that rocked several parts of the country.
Khargone resident Durgesh Pawar stated that such incidents have been happening since the 90s and now he wants to move out of there. He stated that Hindus have been facing trouble caused by Muslims residing in the nearby disputed locality. "Their population is on the rise and on festive occasions such incidents of violence and an atmosphere of fear have become frequent occurrences", Pawar added highlighting what has trigged Hindu exodus.
Another victim Paru said, "My family including children were at home when Muslims arrived with petrol and set my house afire. The police noticed the smoke and doused the fire. They rescued us and took us to a safe place". Paru also said that people from the Muslim community target them often.
"These Muslims arrive here and indulge in arson and violence", opined Anita Malik who added that the 4-5 houses in the lane where she resides have been repeatedly targeted by them, reiterating the point made by Paru.
That the anti-Hindu violence was planned in advance is amply clear from the CCTV video evidence. The video shows stone-pelting, violence, and arson undertaken by Islamists when the Ram Navami procession was in progress. The rioters were also seen brandishing naked swords in a stark reminder of Khalistani violence during Republic Day.
It must also be mentioned that 16-year-old Shivam had been seriously injured in the Islamist violence. "When we returned from the temple we saw that stone-pelting had begun in the area. The rioters came from the Muslim area located behind our house. They were hurling stones and shouting maaro maaro (hit them)", stated Shivam's family members detailing their ordeal. Another family member said, "there was fire and stone-pelting in which Shivam got injured. There is a lot of damage to the skull".
Several eyewitnesses confirmed that there was heavy stone-pelting in the area that also damaged numerous cars and houses besides causing injuries to Hindus. The pictures and videos of the incident highlight the impunity with which the Islamists were throwing petrol bombs, brandishing swords, raising slogans, and indulging in violence. It also brings to light the fact that these people were fearless of the law. Hindus of the area unanimously agreed on the point that they don't feel safe and emphasized on the need for continued police protection.
Even as 'secular' parties have raised a huge hue and cry about the action been taken by the Madhya Pradesh (MP) government and local administration in demolishing the houses of the rioters, it has come to light that these houses were illegal and built on encroached land. An order by the Tahsildar confirms the court order to demolish illegal structure of one Haseena Farukh. This further confirms the fact that the administration is acting as per law even while the opposition is indulging in petty appeasement politics.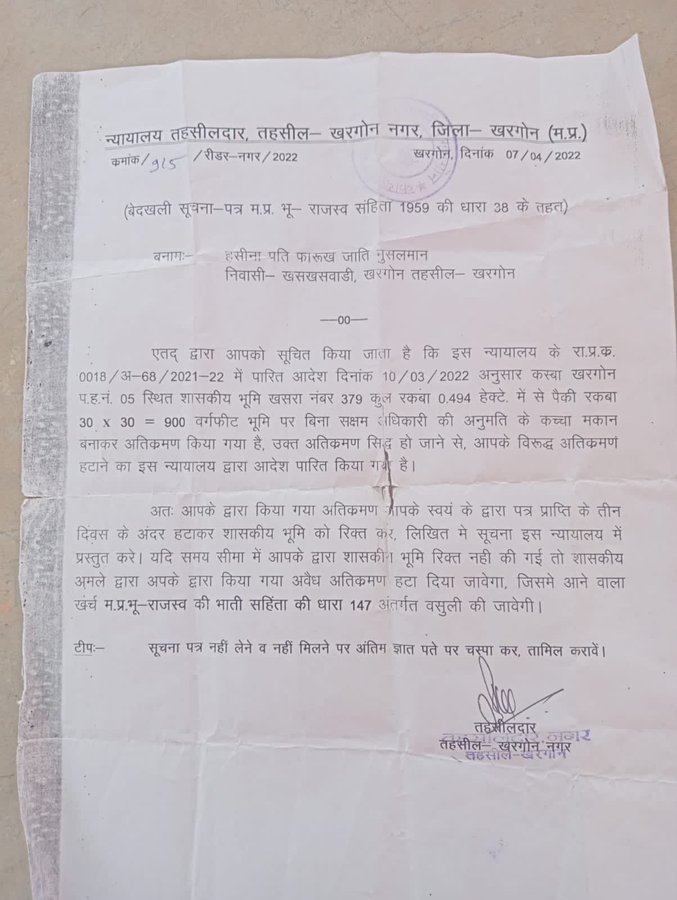 The situation in Rajasthan's Karauli is similar and the threat of Hindu exodus looms large here as well. Several victims have also confirmed the pre-planned nature of the attack at Karauli as well. The victims who spoke to Republic Bharat said that they intended to move to a secure location with their families as they don't feel safe in Karauli.
One of the residents, Chandrashekhar Garg of Hatwara Bazar, said his family ran a departmental store for the last six decades in the locality. "We run around eight shops, all close to the shops run by Muslims. At around 15:30, they suspiciously closed the shops and left the area. They were assembling at a place. But, we did not worry much as we all know them very well. However, they took out a rally and at around 19:00 hours, they forcefully removed us from stores. My father and brother were thrown by the angry mob out of the stores forcefully, who then looted the entire shop." said Garg.
Another elderly victim, Ramesh, who is in his 60s, also corroborated the claims made by his neighbour Garg. "They thrashed us, forced us to run away from the shop. We were not allowed even to save our shops. It was a pre-planned attack on us. They looted my dairy and vandalised our scooters. Our workers had to run for life. We saved our lives as we hid inside the closed doors. Half an hour later, the mob attacked us again. We are shocked and do not want to open the shops. This is a very troubling time for us," said Ramesh speaking to Republic Bharat.
Similar attacks were unleashed on Hemant Agarwal, who runs a provisions store in the Bazar area. According to Agarwal, the mob looted goods worth Rs. 20 lakhs. "We are so helpless now, said Hemant, adding added that the Ashok Gehlot-led government is not helping them in any manner. "The people who looted us were our neighbours, if the government wants to take action, they can do it, but they are reluctant," he added.
Hindu exodus has been systematically taking place from several Muslim-dominated pockets across the country. Bhavnagar, Kairana, Surat, Mumbai's Malvani, and several others have seen Hindu residents being forced to move out. HinduPost had highlighted the Malvani Land Jihad model indicating how a conspiracy was afoot to evict and depopulate Hindus.
An Islamist riot-jihad model appears to be at play across the nation to scare Hindus and subsequently force them to leave. The Central and state governments need to step up efforts to ensure safety and security of Hindus.