Activists have levelled shocking allegations against the Hindu Religious and Charitable Endowments(HRCE) department officials, accusing them of selling cows in temple gaushala for butchering. An activist went to the court seeking information about the maintenance of cows in Palani temple Gaushala. He has alleged that cows donated to the temple were sold to butchers in Kerala. There are other allegations that the DMK government tried to take over 220 acres of the temple's land under the pretext of building an industrial park. The temple was recently in the news when Muslims tried to enter it arguing that the hilltop temple is a tourist spot.
The Dhandayuthapani temple in Palani has been facing a continuous onslaught from anti-Hindus in recent days. Initially, there were issues in performing the consecration ceremony after decades as the DMK government was accused of rushing it without following the Agamas properly. In June, a Muslim family tried to enter the temple and argued that it is only a tourist spot which everyone can access when employees stopped them. HRCE had to restore the board informing non-Hindus that they are not allowed inside the temple after Hindu activists went to court.
Gaushala Cows Sold for Butchering?
Sekar Babu, HRCE minister of the DMK government, told the media that his department will appeal against the court's direction to maintain the status quo. Now, more shocking allegations that cows donated to the temple Gaushala are being mistreated and are sold off to butchers in Kerala have surfaced. Ramasamy, a resident of Palani filed a petition in the Madurai bench of Madras High Court. The contents of his petition as reported by Hindu Tamil are as follows.
"Thousands of devotees throng Palani temple every day and the crowd reaches lakhs during festivities. Apart from donating money and jewels they also give cows. Such cows are maintained in a temple gaushala which spans over 220 acres of land. Veterinary doctors, assistants and other workers are employed there to take care of the cows. But, 17 cows have died without food and there are other irregularities as well".
As mentioned in a Dinamalar report of the same petition, it alleges that 218 cows were sold off for butchering in Kerala under the pretext of giving them away to Women Self Help group members. It further says that despite owning 220-acre land on which cattle feed could be cultivated, 17 cows have died of starvation and others look skinny due to lack of feed. It also mentioned the government trying to take over the Gaushala land for establishing SIPCOT industrial estate.
The petition sought the court to direct HRCE to provide the status of the cows that were given away and maintained in the gaushala. It also sought action against the government taking over temple land for non-religious purposes. HRCE replied in court that cows were given to Women Self Help group members for maintenance only after a state-level committee's approval and a team headed by the district collector selected those beneficiaries. However, the court directed HRCE to file an affidavit giving details of the beneficiaries.
Gaushala Land Taken Over for Industrial Estate?
Meanwhile, another accusation that the DMK government tried to take over the gaushala land for an industrial estate spanning over 1200 acres of agricultural land also came to the fore. Hindu Munnani had criticised the move recalling how DMK enabled protests against the Sterlite copper smelting plant in Thoothukudi and forced the then government to shut it down. Activist and President of the Temple Worshippers Society, TR Ramesh had tweeted alleging that "A powerful politician in that area has a large benami acreage adjacent to Ghosala and is planning to make a killing". Thanks to continuous protests by Hindus and perhaps due to the unviability of the project, the government has issued an official announcement withdrawing the project.
The Controversial Assistant Commissioner
The irregularities and irreverence to divinity continue with Lakshmi, the Assitant Commissioner(AC) of Palani temple. She is often accused of mistreating devotees, small vendors and now Pandarathar, the traditional right holders of the temple. Pandarathar is a priestly jati holding traditional rights of puja in certain temples for generations. The Palani Dhandayuthapani temple is one of them, where 64 Pandarathars were appointed by Hindu kings to bring holy water from the river for puja every day. They do abhishekam and thirumanjanam to the presiding deity.
While they were paid by devotees in the past, now they do not have any solid income. They only receive part of the money earned from tickets sold for puja and abhisheka. They have alleged that AC Lakshmi mistreats them, denigrates them by calling them "robbers, thieves" and asks them to leave the temple so that she can appoint new people. They say that she cannot send them away as there is a court order ensuring their rights and resorting to verbal abuse to drive them away. They filed a complaint with the Joint Commissioner(HRCE) seeking action against Lakshmi.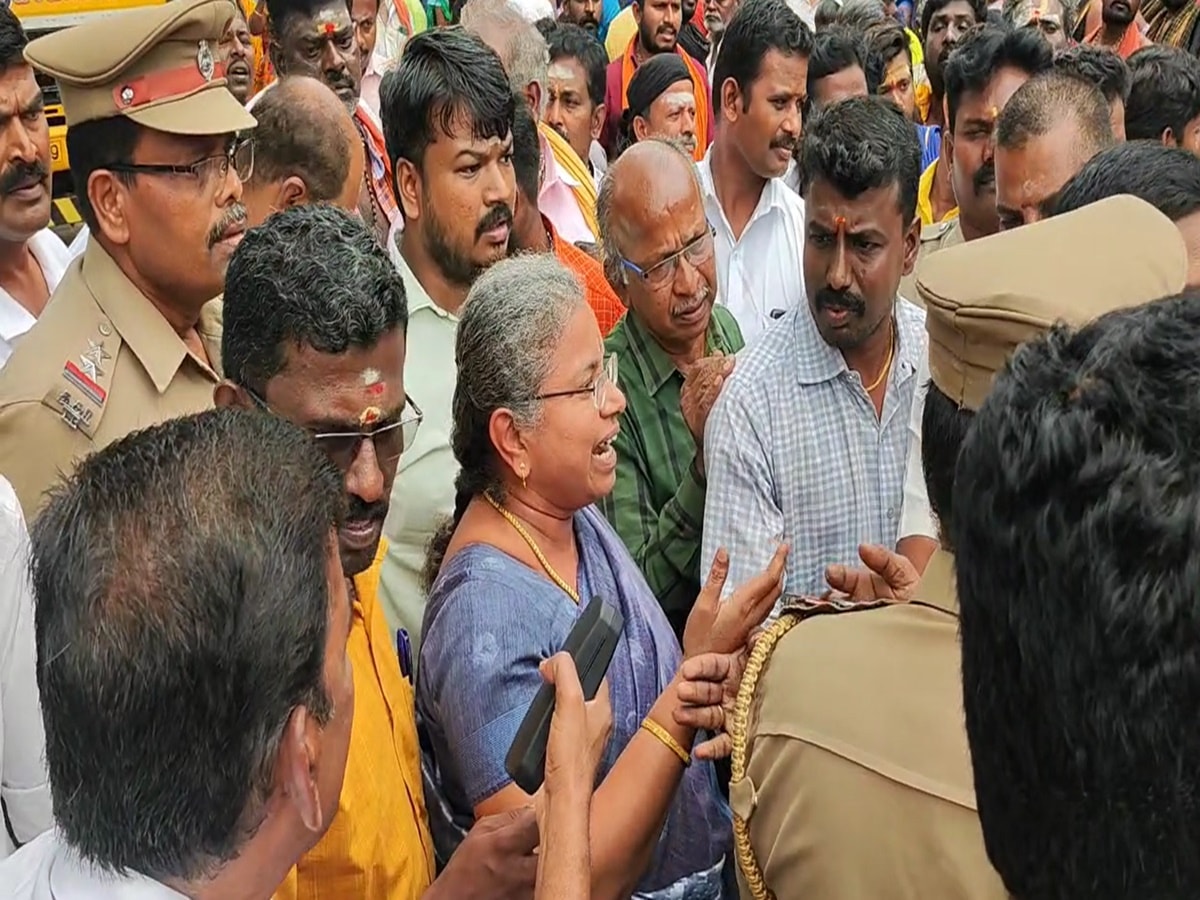 Lakshmi is a repeat offender as she was earlier in the spotlight for assaulting a flower vendor during an eviction drive. Vendors protested against her and sought apologies which she flatly refused to extend and they had to file a complaint against her. In another instance, she abused Hindu Munnani activists who questioned her actions. Devotees donate cocks and hens to the temple if their prayers are fulfilled. Earlier these birds were auctioned once they accumulated to a considerable number.
Lakshmi changed that practice and started auctioning the birds every day at the hilltop temple. Naturally, devotees didn't show interest in buying them. Lakshmi changed the auction spot to the winch station at the foothills. Hindu Munnani activists who were part of the crowd gathered at the auction site questioned why the usual practice and the spot were changed without prior announcement.
Lakshmi reportedly said, "We can conduct the auction wherever we want. You should not question it" and called an activist "crackpot". Protests ensued there as well as activists demanding an apology for her disrespectful behaviour. It is alleged that she further insulted them and left the place as the auction was a failure. With such an irresponsible person in power, it is no wonder that the temple continues to find a place in news cycle.
The DMK government was so eager to implement its pet project, appointing non-Brahmin crash course priests in all temples under HRCE control irrespective of their tradition, as soon as it assumed power. One can see how serious they are about "ensuring social justice in temples" when Pandarathars, the traditional right holders of Palani temple are mistreated and called thieves and robbers. The accusation of selling gaushala cows for butchering could also have merit considering similar accusations were levelled against HRCE officials in Srirangam Ranganatha Swamy temple.
It should be kept in mind that under a HRCE minister who said that Agamas were not written by god and are only man made, implying that it is okay to bend the rules as per one's fancies if proven, such blatantly anti-Hindu actions would not be surprising at all.