News agency IANS has quoted Delhi Deputy Chief Minister Manish Sisodia as saying that India could have vaccinated 100 crore of its population against Covid-19 if the Central government had not sent vaccines to foreign countries and 'worked efficiently'.
They reported a tweet by Sisodia where he apparently said: "Getting 100 crore people vaccinated in India is a big feat. The medical team and administration have worked very (sic) day and night for that to happen. I congratulate them for that."
As per IANS he then goes on to question why this target could not be achieved earlier. "India had vaccines but the Centre, in order to receive compliments, sent them to foreign countries. It was only after people raised questions, so many died in the second wave that government acted on it. If only the Centre had done its job more efficiently, we would have achieved this target way back".
Now, Bharat's Covid-19 inoculation coverage reached 100.59 crore doses on Thursday. We have still not vaccinated 100 crore people, as the number of people who have received at least one dose is 53.4% (71.2 crore people) – the rest of the doses delivered are second doses which are needed to fully vaccinate an individual.
We searched Sisodia's timeline and found one tweet posted in Hindi on October 21:
In it, he says: "While being proud of delivering 100 crore vaccines, we should remember that if the central government had arranged for vaccines on time and had not sent vaccine overseas in their greed for accolades, our medical teams would have achieved the target of 100 crore 6 months back."
Clearly, in the above tweet Sisodia is not saying that 100 crore people have been vaccinated. So unless IANS is referring to a now-deleted tweet, they seem to have misrepresented Sisodia's words.
The IANS report mentions something which Sisodia's above tweet in Hindi doesn't talk about. "It was only after people raised questions, so many died in the second wave that government acted on it.": this statement is missing from Sisodia's tweet. The IANS report also quotes Sisodia as saying "we would have achieved this target way back", but in his current tweet, Sisodia specifically talks about achieving the target 6 months back.
This indicates that there is a high likelihood that Sisodia did indeed tweet incorrectly earlier, and then posted another tweet after deleting the old one. Tweeting in haste, and then silently retracting is not something new for Delhi's deputy CM.
But what about Sisodia's claim that we could have achieved the 100 crore vaccine doses target 6 months back – i.e. by April 21? Remember, the drive for general population started on January 16, 2021; medical and other front-line workers had been vaccinated before that.
So Sisodia is claiming that we could have delivered 100 crore doses in the 3 month, 5 day period (96 days) from January 16 to April 21, which translates to 1.04 crore jabs per day.
Now, as part of Vaccine Maitri, Bharat exported 6.6 crore vaccine doses, with the last batch being sent on April 16. So just those vaccines would have barely made a dent in the 100 crore target which Sisodia claims we could have hit by April 21.
Let's bear in mind that when Bharat was expediting its indigenous vaccine, Bharat Biotech's Covaxin, and gave it emergency use approval, the Opposition and media had criticized that move. Also, Covishield manufacturer SII had hit a supply roadblock in March-April due to a US embargo on vaccine raw materials.
Even in best-case scenarios, SII production lines in Bharat were making around 16 crore doses of Covishield vaccine a month, while Sisodia's grand plan would have required 35 crore vaccines a month to manufacture 100 crore doses in just over 3 months, an almost impossible target.
There was a lot of hue & cry in April-May that Bharat should buy foreign vaccines, particularly American company Pfizer's vaccine, by Opposition politicians and media commentators. It was almost as if they were lobbyists for Big Pharma. What their rhetoric masked is that even if the Bharatiya government had agreed to Pfizer's unreasonable demands like full indemnity etc. they could at best have provided 5 crore vaccines by October!
But producing vaccines is just one part of the puzzle. Administering the vaccines requires coordination among governments, health-care workers, hospitals and many other nodal agencies. What Bharat has achieved is nothing sort of remarkable, given the less than perfect health infrastructure we have and given our per capita GDP at just over $2000 is far less than that of richer, more industrialized nations.
It took Bharat just 281 days to administer 100 crore Covid vaccine doses. The pace at which Covid-19 vaccinations were administered is unparalleled in our history – let's not forget it took Bharat 32 years and 20 years to hit the 100-crore milestone for TB and polio immunisations, respectively.
Even putting aside the absolute number of 100 crore (only Bharat and China have 100 crore+ populations), the speed at which we administered the Covid-19 vaccine is breath-taking: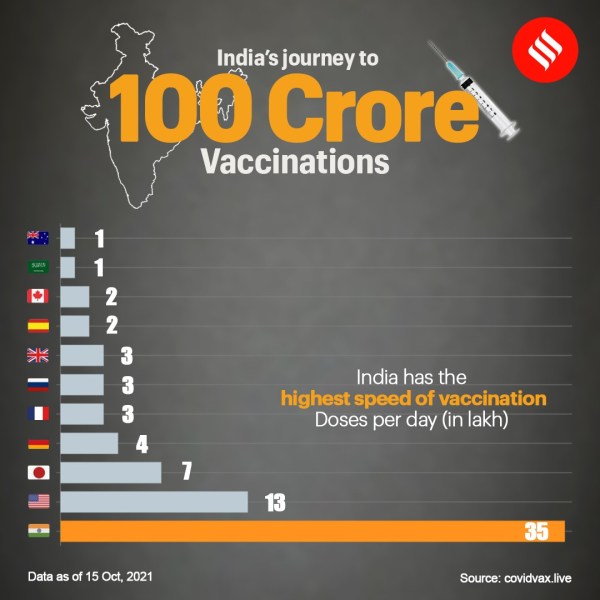 So Sisodia's tweet that we could have hit the 100 crore vaccine doses target by April 21, is a falsehood, and representative of the chicanery and hyperbole his party has come to be associated with.
Series of Opposition flip-flops
Bharat had started export of vaccines in Jan 2021 due to contractual obligation that required SII to supply to the UK, Covax alliance, etc, and as grants to smaller nations under the 'Vaccine Maitri' diplomatic initiative. It is noteworthy that China has exported larger quantities of vaccines, while the richer Western nations have faced criticism, including from WHO, for hoarding vaccines.
When Bharat's vaccination drive was launched, many in media, opposition and left-liberal talking heads like Prashant Bhushan had slammed the emergency approval for the indigenously produced Covaxin, and likes of Ahkilesh Yadav had even termed the vaccination drive as 'BJP's vaccine'.
The vaccine hesitancy created by such irresponsible commentary mean that in the initial phase when vaccines were being rolled out to the vulnerable 60+ population, many people were reluctant to take it. So medical experts also agreed it was wise to send vaccines to other nations while the vaccination drive in Bharat catches on.
So, initially Opposition dubbed the vaccine drive as 'hasty and unproven'. Then after the second wave exploded, same Opposition and media raised a hue and cry stating that the Bharatiya government was prioritizing others over its own citizens and insinuating that PM Modi was more concerned with 'image-building'.
Then in June, after WHO criticized Bharat's decision to stop exports, senior Congress leader Shashi Tharoor said the "vishwaguru" government should hang its head in shame.
And now Opposition leaders like Sisodia are again blaming the government for exporting vaccines and making impossible claims like we could have completed 100 crore doses by April 21.
With such a history of opportunistic flip-flops and hyperbole, does our Opposition deserve to be taken seriously and is it performing its duty of holding Government accountable through cogent, mature arguments? Readers can decide for themselves.