Here is the real timeline of Hijab propaganda. This article is really important for the future of Bharat. You are going to know about a radical group and their propaganda. You will also learn how Communist and liberal media helped them.
In September and October 2021, a radical student group Campus front of India (CFI) started its membership drive in colleges including Udupi. Campus Front of India is student wing of the radical Islamist and quasi-terrorist group Popular front of India (PFI)
Just within a month, in a very similar period, all four initial instigators of the ongoing propaganda to demand Hijab in classrooms opened their accounts on Twitter and started to promote CFI's agenda by taking part in hashtag campaigns.
Now here let me draw your attention to one point. In an interview with BBC, one of the alleged victims has told that she is not a member of CFI and she contacted them only after the Hijab controversy broke!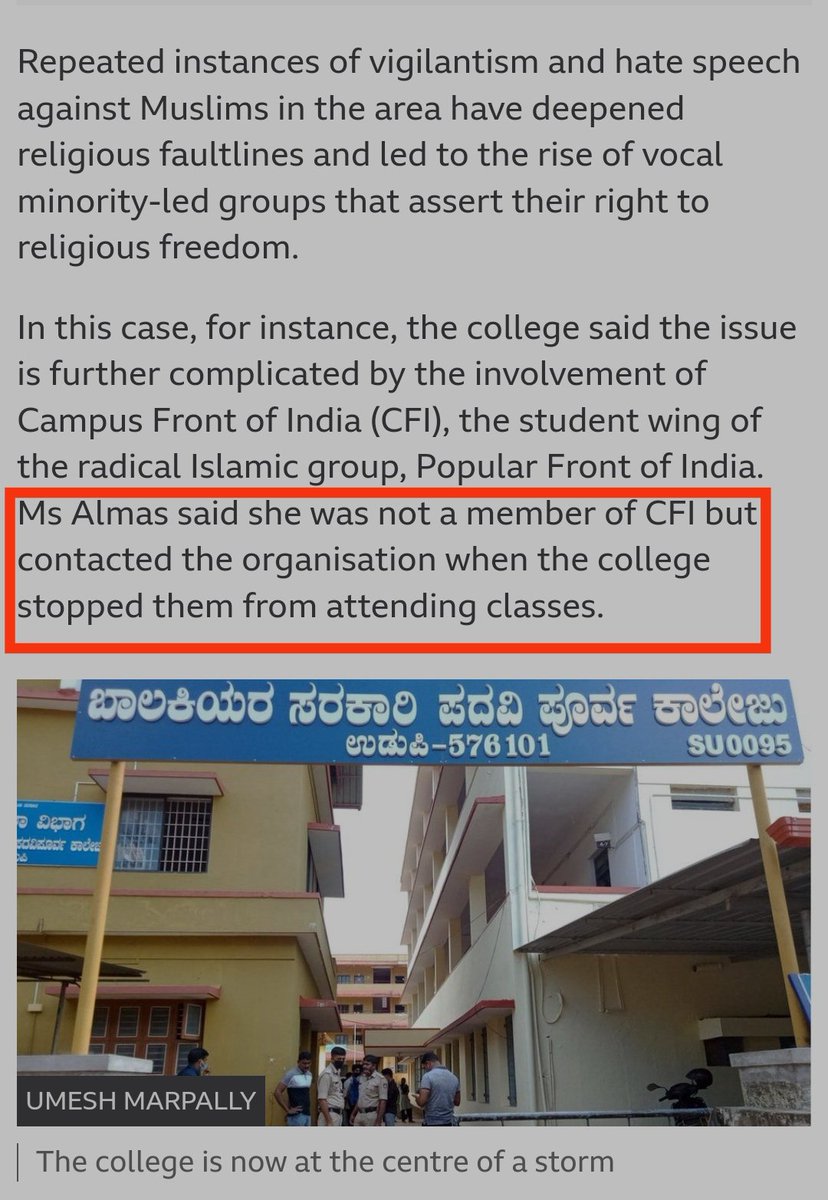 But was she saying the truth? No, at least their Twitter timelines say a different story. From the first day of joining Twitter, they started sharing CFI propaganda. Let me show you some patterns of their posts.
They have started to post copy-paste tweets to take part in the hashtag campaigns of CFI on November 1, 2021. This hashtag was against the center's New Education Policy.
As you can see in one of Muskaan's tweets, this hashtag campaign was started by CFI.
Next CFI hashtag was started on November 8, 2021 regarding Babri Masjid. Just look at the language they have used and their copy-paste work.
CFI's National President M.S. Sajid, a JNU research scholar was has been previously booked for accusing "Indian Military executes systematic genocide of Kashmiris", has also done tweets in this campaign. You can also see their poster regarding this Twitter campaign.
The next Twitter campaign of CFI was on November 11, 2021 regarding Maulana Abdul Kalam Azad, a much hyped 'secularist' whose true intention behind opposing partition is lesser known.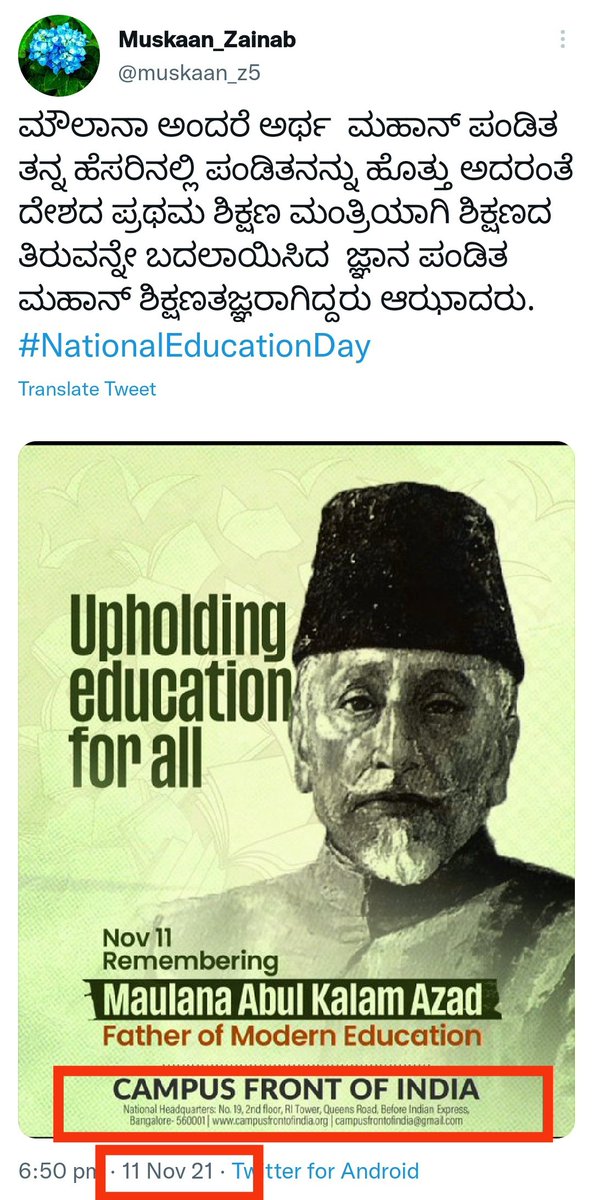 Here again you can see that the girls were part of the WhatsApp group or the toolkit used by CFI to promote their hashtag.
On November 19, 2021, they were again part of a hashtag campaign of CFI. Look at the language and words they have copy-pasted from the toolkit.
On November 21, 2021, CFI's State President has started a Twitter campaign regarding 'beauty' of Azaan blaring from loudspeakers.
Look how these girls have done a word-to-word copy-paste while following WhatsApp groups or the toolkit of CFI. Don't forget to note words like 'Sanghi' while advising Hindus to 'go to Nepal'!
If you still have doubts about their copy-paste work and radicalization, these tweets are for you:
Next hashtag of CFI was started on December 12, 2021 to support arrested criminal Rauf Shareef. Again see the copy-paste work and language they have used.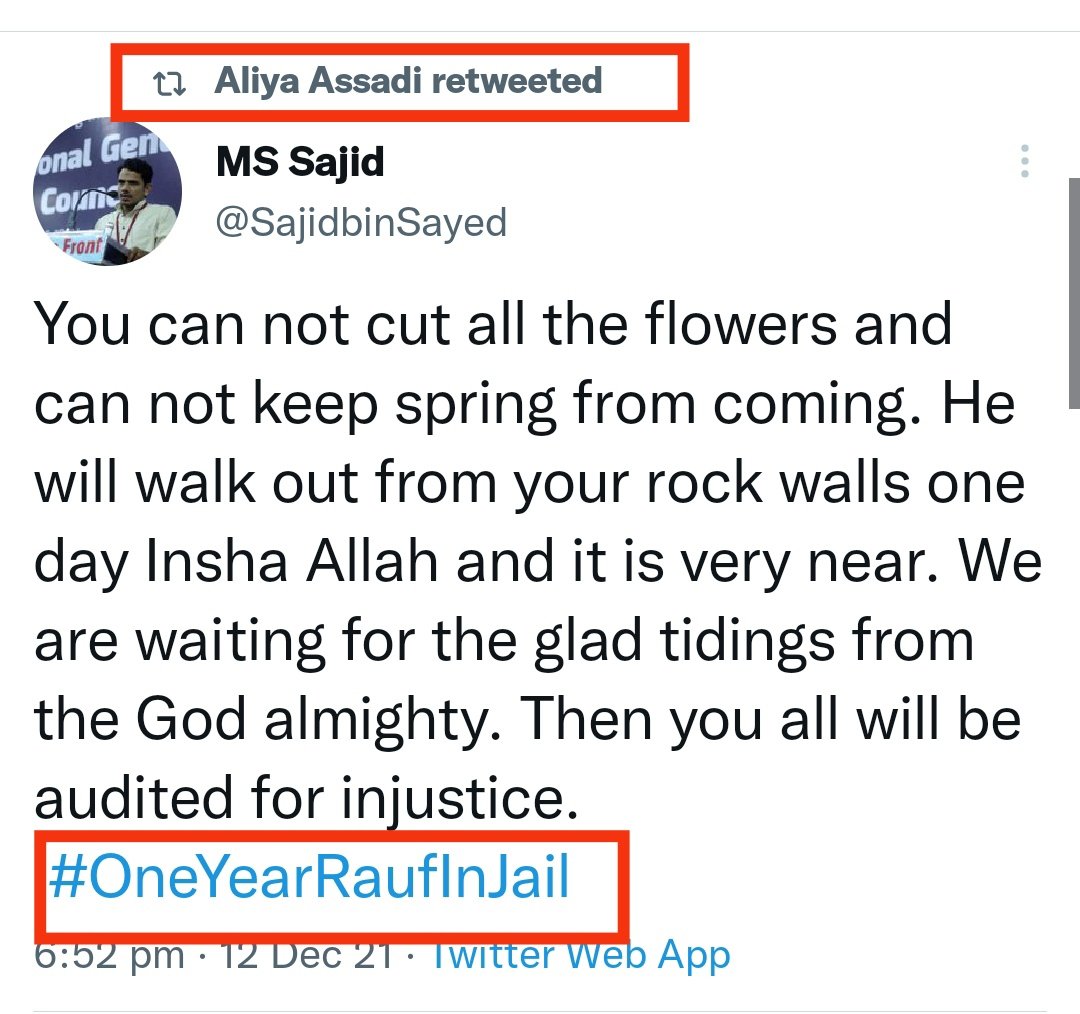 Rauf Shareef is secretory of CFI and was arrested by UP police one year ago. He was involved in money laundering for CAA and Delhi riots. He was also involved in the conspiracy to trigger violence over the Hathras tragedy.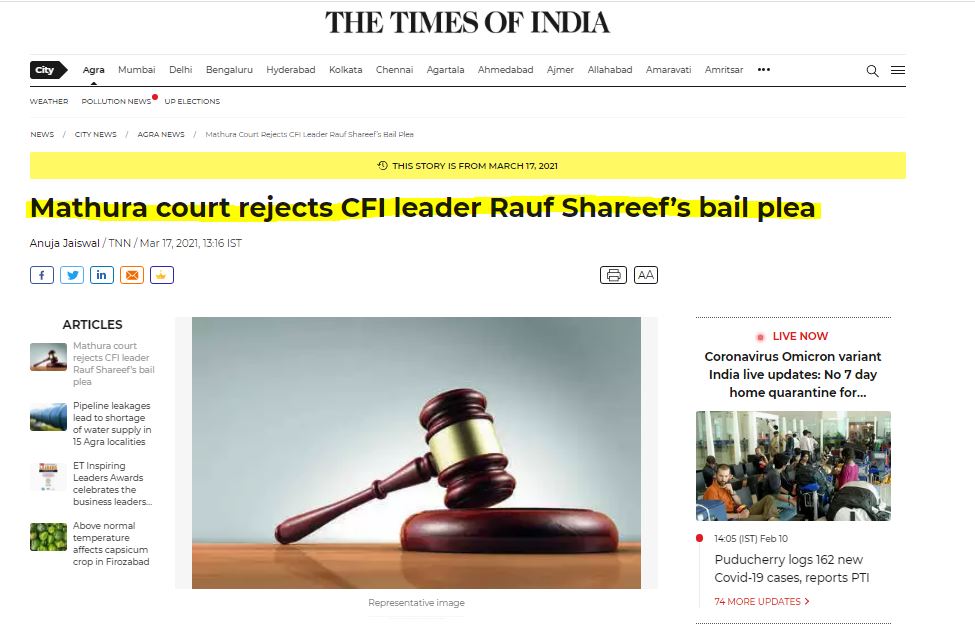 This is a sample tweet to understand how these girls have been radicalized by the quasi-terrorist outfit PFI and its student wing CFI: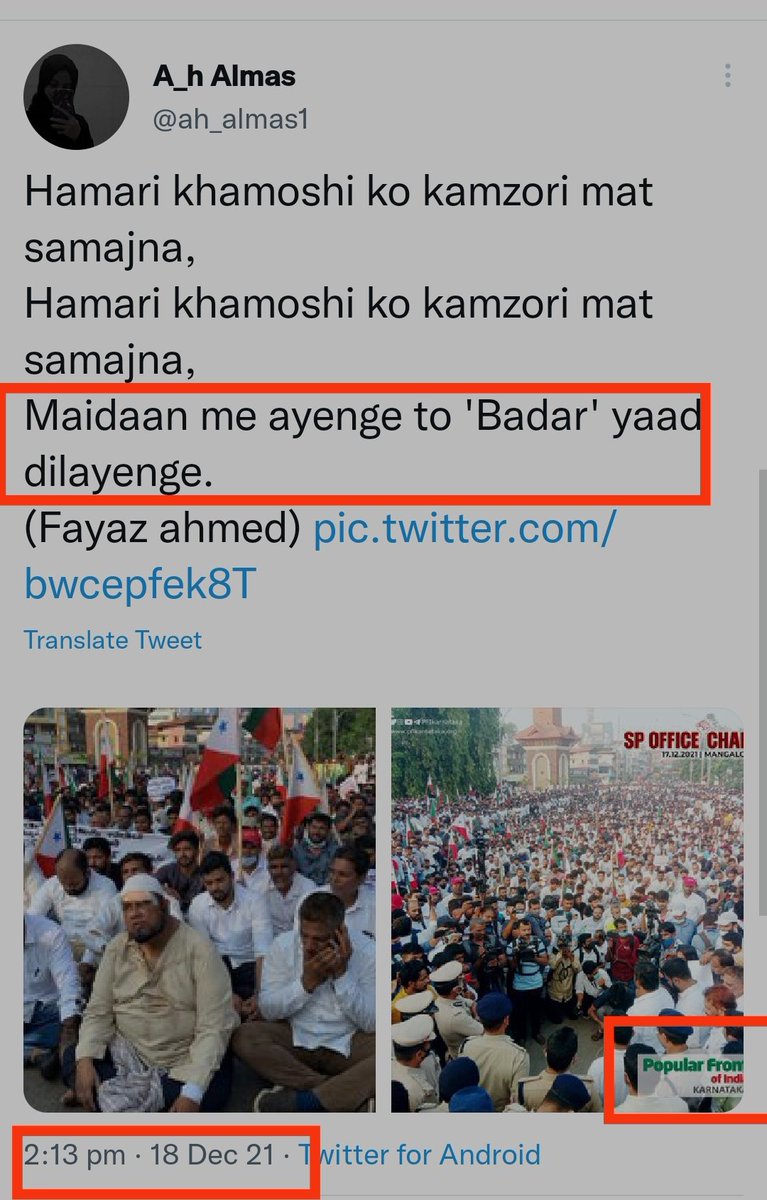 The Urdu couplet says, "Don't mistake our silence for weakness. Once we come on the battlefield, we will make you remember 'Badar'" . The Battle of Badr in 624 CE in present day Saudi Arabia was the first large-scale engagement between the Muslims led by Muhammad and Quraysh Meccans – it has been passed down in Islamic history as a decisive victory attributable to divine intervention.
This proves that these girls were very well connected with CFI and their claim to have come in contact with CFI only after the Hijab controversy broke is dishonest. Now, let's move on to the next part of this propaganda campaign.
On December 31, 2021, these girls and the state committee member of CFI, Masood Manna have started propaganda on 'hijab ban' from a college campus. The Udupi govt. college had merely upheld its long-standing uniform rules.
On January 1, a propaganda journalist for left-liberal and Islamic web portals, Meer Faisal took an interview with the girls. Look at the twitter bio, which lists the Hinduphobic outlets for which he writes – The Wire, The Quint, Al Jazeera English etc.
On January 2, these girls, clad in burqa, did a press conference along with CFI to take this propaganda to the next level.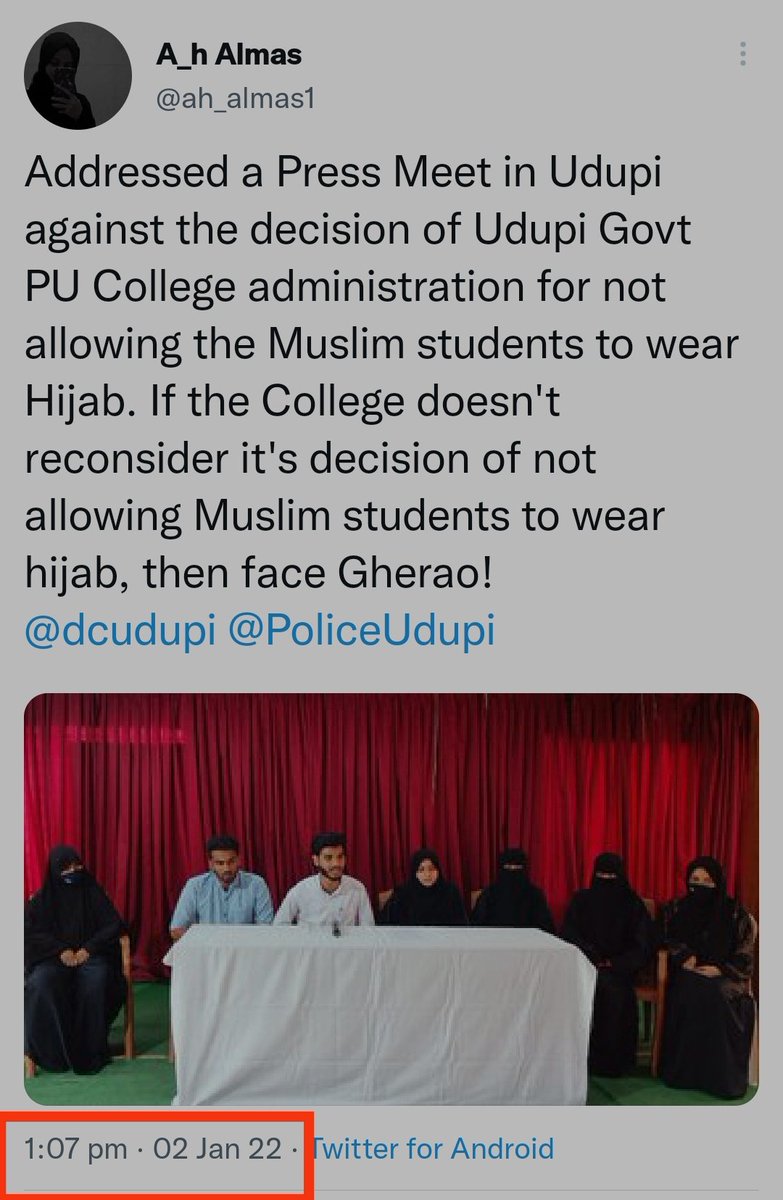 On January 13 another propaganda reporter came to take their interview. Look at the names of the websites she writes for: Again, The Wire, The Quint, Al Jazeera English and others.
On January 19, Communist student groups and pro-Congress TV channel NDTV joined the party.
On January 20, another propaganda journalist who writes for The Wire came and did her job.
Later, when the hijab issue went fully viral, the leftist propaganda media including IPSMF-funded media and their journalists started to play their roles.
As usual, Congress is playing their role in this case by providing legal help to further this Islamist campaign demanding hijab in government schools, which is being mis-represented as 'hijab ban'.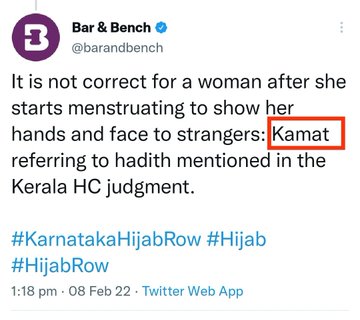 (This article has been sourced from the tweet thread of @vijaygajera with suitable edits to provide additional information and improve readability)