On Monday, May 16, the team surveying the Gyanvapi Masjid reportedly discovered a Shivlinga inside a well-hidden water body that the Muslims were using for performing Wuzu before performing Namaz. Wuzu is the act of washing the feet, hands, and mouths by Muslims to cleanse themselves before they pray. This practice translates to the worst form of desecration of a Hindu deity, second only to the brutal taking down of the Hindu temples by the Islamist invaders to set their foot in Bharat. 
Repeatedly dubbed fascist and intolerant, the Hindus didn't descend on the streets of Kashi baying for the blood of the community that had committed this heinous sacrilege of Mahadev, the supreme deity worshipped by billions of Hindus around the world. There was no mayhem and absolutely no violence in any part of the country. Infuriated Hindus didn't harm a single Muslim for the crime against the Hindu community committed by his coreligionist for centuries. The patience and calm practiced by the peace-loving Hindus have been taken advantage of and exploited by the Adharmis.
An Adharmi is not just an individual outside the Hindu community; this term is also used to denote the Hindus in Name Only (HINOs) who have no reverence for dharma, culture, and God. The Islamists, anti-Hindu secularists, Hinduphobic liberals, or the HINOs together form Adharmis who have taken the Hindu emotion for granted and have attacked it incessantly. This anti-Hindu cabal has been triggered massively by the claims of discovering the ancient Shivalinga from the Wujukhana site of the Gyanwapi Masjid.
And to cope with their frustration and hatred for the Hindus, they took to social media. They posted vulgar and revolting memes and pictures to denigrate the imagery of a Shivalinga. These anti-Hindu entities include 'renowned' journalists, professors, and regular social media users. What is shocking is that some of the MPs (Members of the Parliament) also resorted to the distasteful act of insulting the Hindu deity on Twitter.
TMC MP Mahua Moitra tried to take a sly dig with this tweet. She compared the atomic center with the Hindu holy symbol because of its structure.
Some users rightly pointed out that she could make this distasteful mockery only because it was about a Hindu deity.
Islamist 'journalist and political analyst' Saba Naqvi also posted the same disparaging comparison hiding behind the claim of it being a Whatsapp forward. Facing flak, she was compelled to take down her tweet and tender an apology. However, the Hindus by now must know better than to buy into these fake apologies.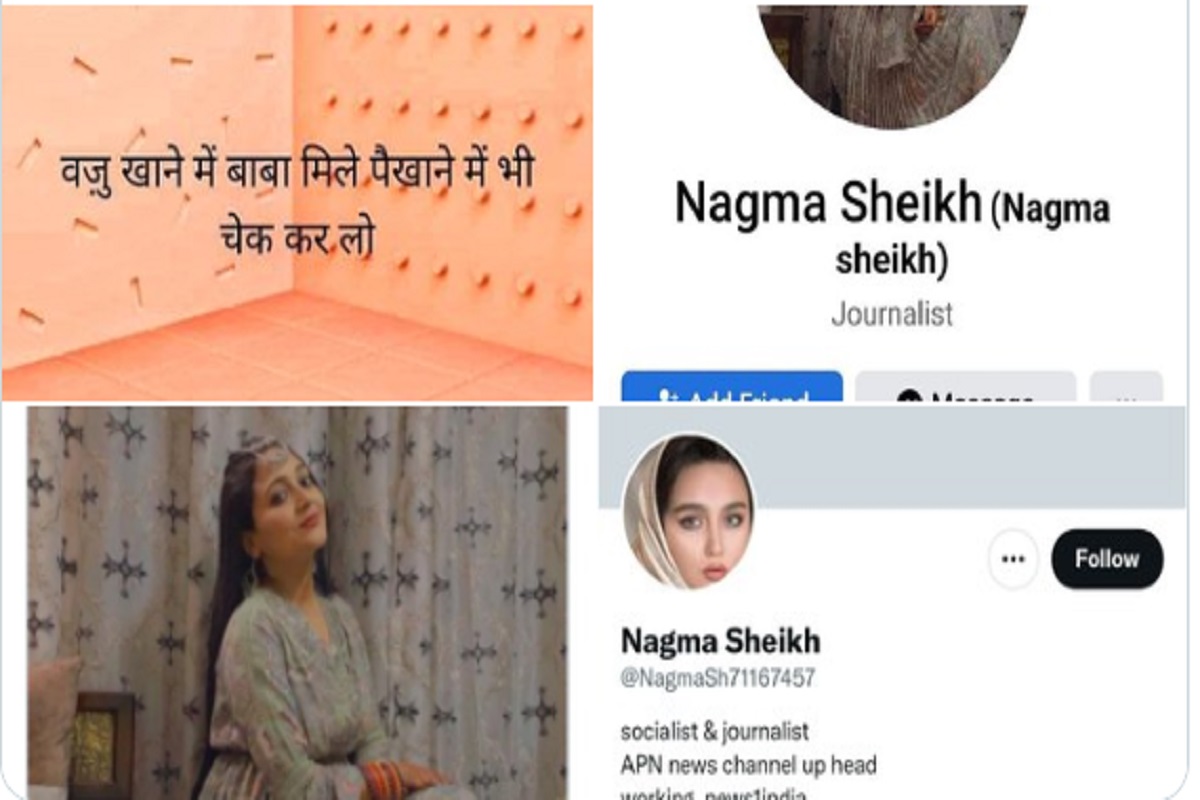 News1India anchor Nagma Sheikh took to Facebook to post some nasty words reacting to the claimed discovery of the Shivalinga in Gyanvapi. Her pejorative remarks left netizens outraged and demanded her arrest. The news channel immediately took to Twitter to denounce Sheikh and verify that they have distanced themselves from her reprehensible posts and fired her.
Finding herself in a difficult situation, the hatemongering journalist tried to shift the blame by stating her younger brother had posted this tweet. The Hindus have seen such excuses being made by Islamists after their hateful motives get busted. Even if we believe her claims, doesn't it expose that even a young member of such families is filled with hate for the Hindus?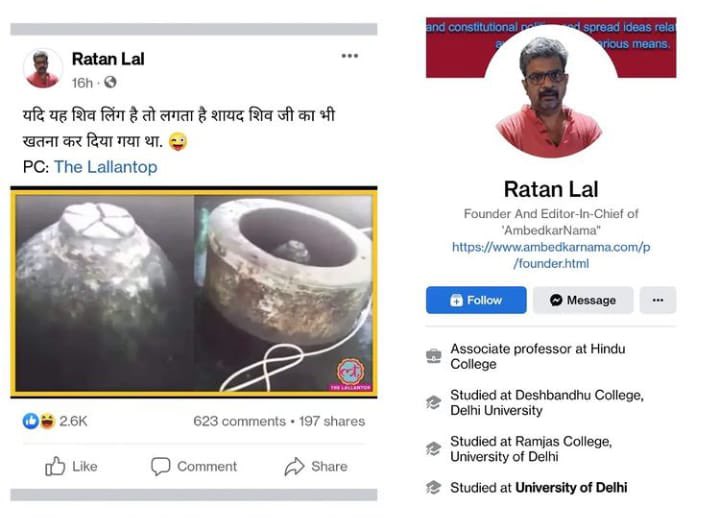 DU professor Ratan Lal also made unspeakable comments on the claimed Shivalinga recovered from the Gyanwapi Masjid. This explicitly derogatory remark was shared and condemned widely on social media, and he has been booked under IPC sections 153, 153A, 298, and 505(2) for his tweet.
Lucknow University's Hindi professor, Dr. Ravikant, had made disrespectful comments about the Shivlinga. Students protested against him and filed a police complaint demanding action.
Islamist propagandists rushed to the defense of the likes of Ravikant and Ratan Lal and tried to paint it as a caste issue. They seem to have forgotten that the Hindus have only condemned the professors who had shown the audacity to mock a holy Hindu symbol. These professors are healthy and alive without a scratch on their bodies.
Had this been a case of a professor eluding to the Prophet of Islam, some Islamist student would have beheaded him by now. The Islamist-secularist ecosystem might have gotten busy establishing that the professor had provoked him or that the Islamist was mentally unstable. Some journalists might have even tried to paint him as a low-income family's only son and play every available victim card to prove him innocent.
Apart from these influential citizens, social media was replete with Adharmis, mainly from a particular community, competing with each other in insulting Mahadev. Many of them have been arrested by police. However, they will eventually get bail and return to their regular lives. They will wait for another day to target and defile another deity and offend Hindu sentiments yet again.