Battle of Tilpat, 1699 is one of the most unsung battles of late medieval era. The battle lasted four days and 4,000 Mughal soldiers lay dead at the end of it. Read below on the battle, the events leading up to it and rise of Veer Gokula.
The reasons behind the revolt were the discriminatory religious and economic policies of Aurangzeb. In 1665, restrictions were imposed on public celebration of Holi and Diwali. The same year it was decided that Hindus would pay 5% duty on their goods and Muslims would pay only 2.5%. 
In 1688, Hindu fairs (a key aspect of village life in Braj Bhoomi) were banned. In early 1660s, Aurangzeb appointed the zealot Abdun Nabi is faujdar of Mathura to suppress Hindus in the holy city. Nabi went on work to implement his master's policy. 
In 1666, Nabi removed the stone railing of Keshavdeva Temple (the Krishna Janmabhoomi temple). His ultimate goal was the destruction of the temple itself. This of course couldn't be allowed and Gokula, the zamindar of Tilpat (in Mathura taluqa) rose the banner of revolt. 
Local tales talk of the visit of Guru Ram Das who exhorted Jats to throw off the Mughal yoke. Gokula pledged on leaves of Pipal tree and waters of Ganga and Yamuna to lead the revolt. Though led by Jats, local Ahirs, Gujjars, Sainis and others joined Gokula too.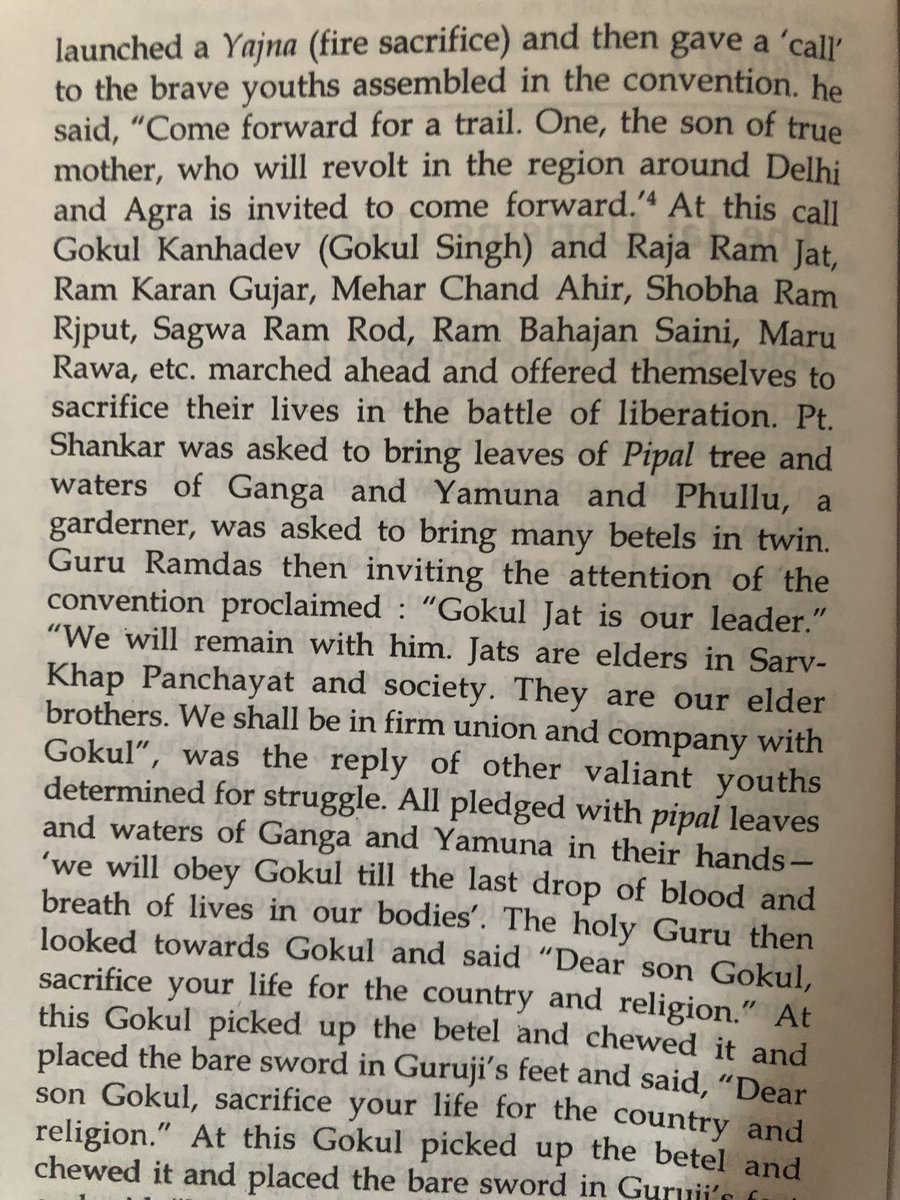 Gokula's rebels gathered at the village of Sahora, 6 miles from Mathura in May 1669. They were attacked by a force led by Abdun Nabi. In the ensuing battle, Gokula slayed Abdun Nabi and freed Mathura and the local Hindus from the religious bigot. 
Gokula then went to ravage Mughal outposts in Sadabad and the district of Agra and Mughal authority in the region broke down. Aurangzeb sent new faujdars and governors but to no avail. Mughals offered Gokula amnesty if he would stop the attacks but Gokula spurned the offer. 
With nothing else working, Aurangzeb had to personally lead the imperial army to face Gokula which itself shows the seriousness of the situation. Gokula faced the imperial army with 20,000 followers near Tilpat towards the end of December, 1699. 
Both sides suffered many casualties in the ensuing battle and Gokula lead a charge through the centre towards the rear location of the emperor which saw success initially but superior artillery of Mughals and the lack of one on Gokula's side stopped the charge. 
Gokula retreated to his stronghold of Tilpat where the battle raged for the next four days. At the end of it 4,000 Mughals and 5,000 rebels lay dead. Aurangzeb's biography mentions that the "Lashkar of Islam" faced heavy casualties in the battle.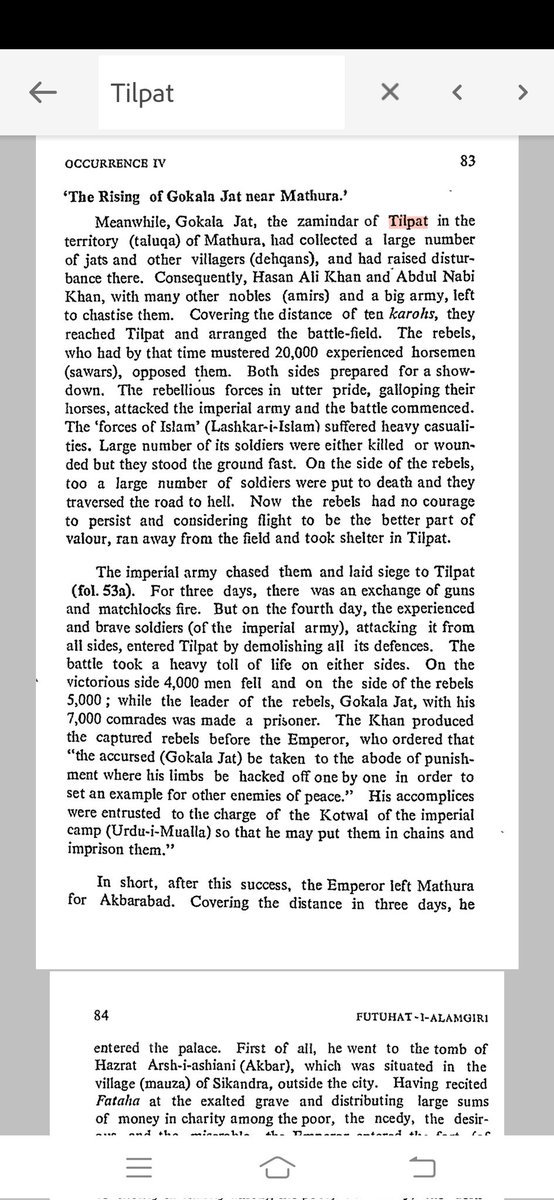 Gokula was captured, taken to the fort of Agra and exceuted sometime in the first week of January 1670. Roughly 9 decades later, his descendant Maharaja Surajmal conquered the very fort of Agra and finished the rebellion that Gokula had started.
(This article has been compiled from the tweet thread of @Kishkinda2)