Hamvira Mohapatra was a Suryavanshi Khandayat and a scion of the Gajapati dynasty. One can't imagine the Gajapati empire without him, such was his stature. Let's get to know him.
When most of Bharat was lost to Islamic imperialism, the east saw a Hindu messiah in the name of Suryavanshi Khandayat Samrat Kapilendra Routray. His eldest son Hamvira Deva Mohapatra played momentous role in this new dawn. It's impossible to imagine the empire without him.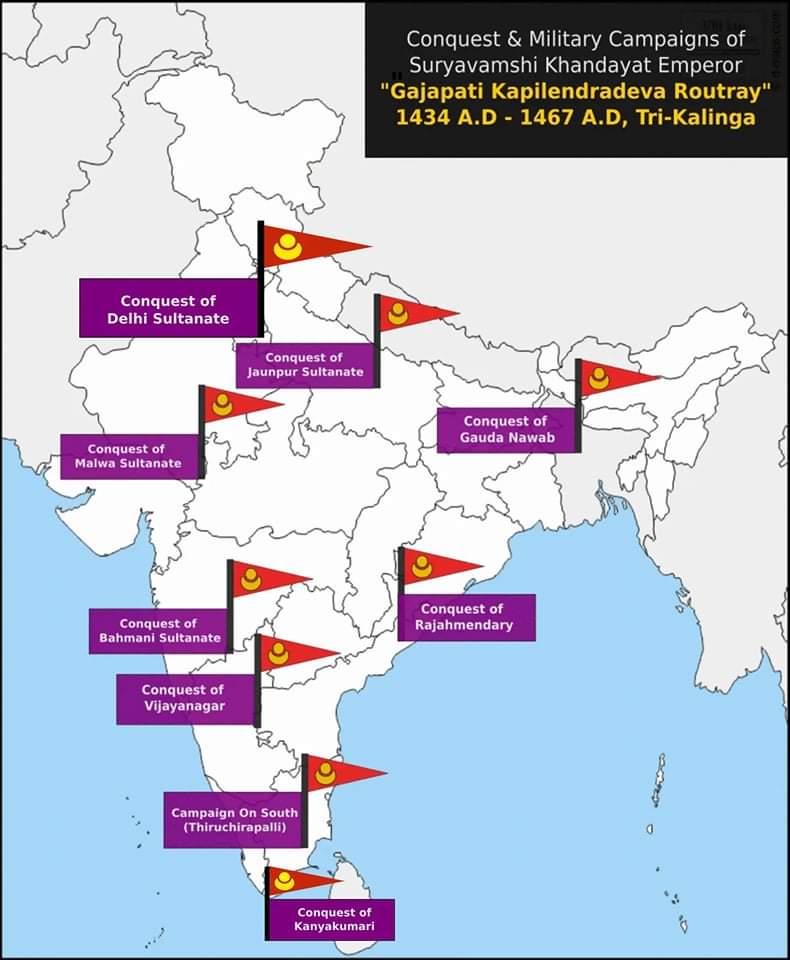 One of the chief forts of southern Bharat, the Kondavidu fort, was under the control of Reddys, who were vassals of Devaraya II of Vijayanagar. However his successor Mallikarjuna Ray was a weak monarch.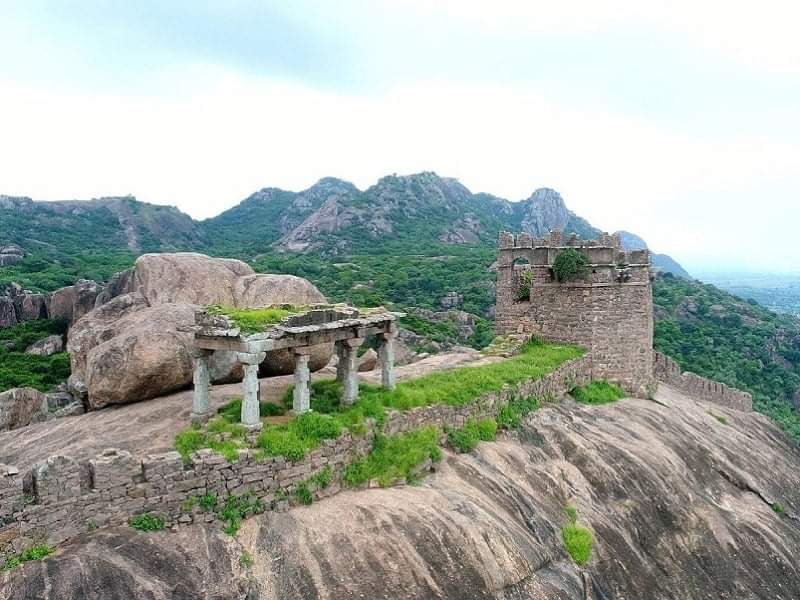 Hamvira Deva, taking advantage of this fact, launched an attack on Kondavidu in 1454. Although the Reddys were assisted in this battle by Vijayanagar, their combined forces were no match for Hamvira Deva's sheer military prowess and were promptly defeated.
Hamvira Deva took control of the Kondavidu fort and appointed Ganadeva Routray as it's governor. Kapilendra Deva had appointed Hamvira Deva Mohapatra to annexe the Southern states to his empire. He began his march of glory with the conquest of Rajamahendry in 1448, which was under Veerabhadra Reddy at the time. He appointed his cousin Raghudeva Narendra Mohapatra as its governor. In the following year, Kapilendra Deva conquered Mahur fort, which is located in Nanded district in present day Maharashtra.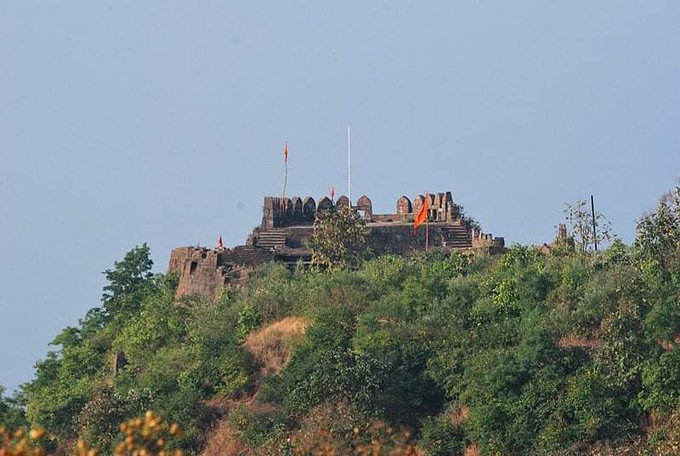 In the same year, Hamvira Deva launched an attack on and utterly devastated Dhara, the capital of the Malwa sultanate. The Velama chief Gajaravo Tippa seeked help from Kapilendra Deva to liberate the southern Hindus from the tyranny of the Bahamani Sultan Alauddin Ahmed Shah and his general Sanjar Khan. Hamvira Deva at once rushed to attack Sanjar Khan and with the help of the Velamas, defeated the yavanas in battle. He took control of the Khambhamatta (Khamma) fort and appointed Raghudeva Narendra Mohapatra as its governor.
After the death of the Sultan of Bahamani, his son Humayun Shah and his generals Khwaja-i-Jahan and Nizam-ul-Mulq attack Devarakonda fort with a force of 20k cavalry and 40 elephantry. The Hindu Velama chief of Devarakonda, Madaya Linga, pleaded for help to the Gajapati.
Seeing this, Hamvira Deva Mohapatra thoroughly defeated the Bahamani forces. He appointed Madya Linga as his vassal in 1459. Following this, on 2nd February, 1560, he attacked the fort of Warangal and Gulbarga and triumphantly defeated it's incharge Muhammad Gawan.
After that, Khandayats attacked Bidar, the Bahamani capital, and ransacked and absolutely destroyed it. But they had to pull back their when the Sultan of Jaunpur Hussain Shah Sarqi attacked. After defeating him, the expedition to south India was revived.
His conquests also include Vijayanagar, whose then monarch, Mallikarjuna Ray was thoroughly defeated in battle after the victory of Kondavidu. This is evident from Samrat Kapilendra Routray's Velligalani plate.
In the year 1464 AD, under the able leadership of Hamvira Deva Mohapatra, Khandayats were successful in annexing numerous Vijayanagar territories. These include Chandagiri, Kondapalli, Addanki, Vindukonda, Padavidu, Tiruvaruvu, Valudulampattu Savadi and Tiruchirapalli.
His son Kumar Dakshineswar Mohapatra was appointed the governor. According to the Tirumalai inscription, Chandagiri, a major city of Vijayanagar was conquered by Pasupati Tamma Bhupati. To celebrate this victory, Kumar Dakshineswar Mohapatra donated a shedload of cows which is mentioned in the Srirangam inscription. He washed his bloodsoaked sword in the saline of the southern sea after conquering from Arcot to Kanyakumari. In a similar fashion, the Nawab of Bengal, Sultans of Delhi, Jaunpur & Malwa were overpowered by Kapilendra Deva
The immense contributions of his nephew Raghudeva Narendra Mohapatra, general Ganadeva Routray, minister Gopinath Mohapatra, grandson Kumar Dakshineswar Mohapatra, Tumma Bhupala and the Velama chief was pivotal to the expansion of the Gajapati empire.
But the sheen of Hamvira Deva Mohapatra's heroism outshines them all. He will be forever remembered as an unsung hero of Hindu Dharma as well as Bharat.
Here's an excerpt from the poem "Uṭha Kaṅkaḷa" by Godabarish Mishra, an eminent figure in Odia literature, describing the events in this thread.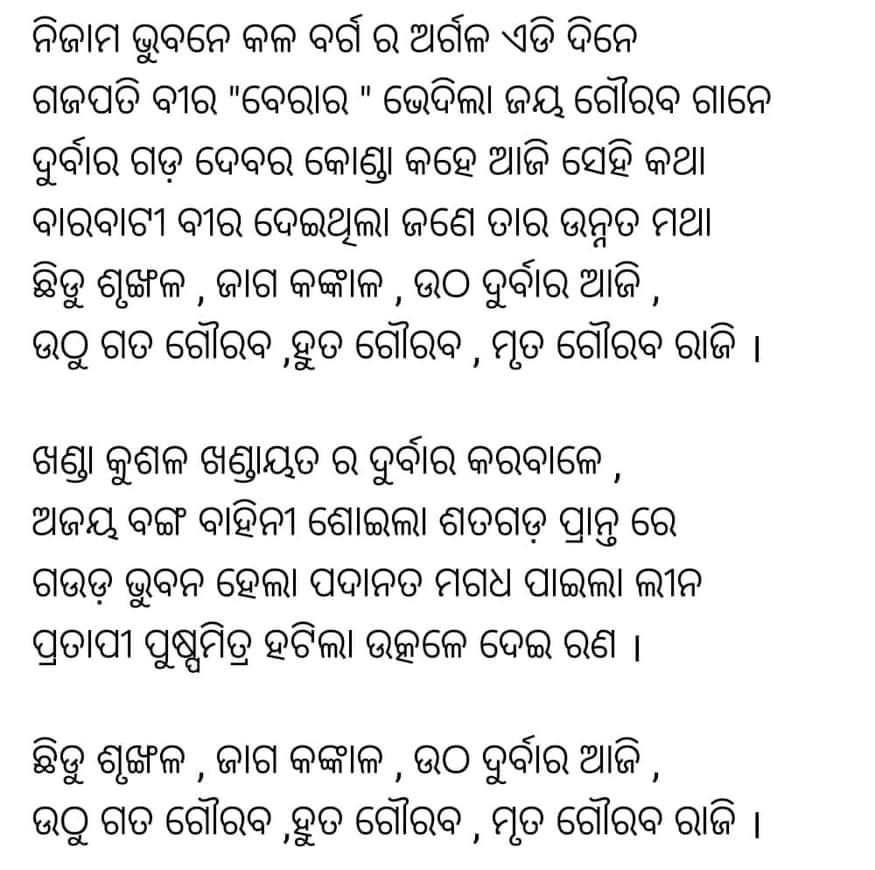 References:
The Suryavamsi Gajapatis of Orissa by R SUBRAMANYAM
Kapilendradeva By Shree Godavarisha Mohapatra
Kapilendra Deva and His Times by Annapurna Bhuyan
Epigraphica Indica Vol 33 , 34 – South Asia 2004
Odia jnyanakosha , Volume 2
Sardesai 1949 : 9
The Volume of Bihar Research Journal society , Volume 31 -3
(This article has been compiled from the tweet thread of History of Khandayats @GloryKhandayats )