On Sunday, Hindu American Foundation (HAF) reported that there have been multiple thefts at Hindu temples in USA. The modus operandi is that groups of females enter during off-hours, masquerading as devotees or curious visitors. They then attempt to enter the sanctum sanctorum, encircle the priest/staff, threaten & brandish knives before robbing the donation money and other valuables.
HAF asked temples to prepare security protocols and for staff/volunteers to approach unknown visitors and ask for introductions. "See something. Say something", should be the motto, HAF suggested. Hindus need to be on their guard at all times given the increasingly brazen Hinduphobia across the world, especially in the Anglosphere and Bharatiya subcontinent.
Responding to the HAF tweet, twitter user @_Agnijwala_ shared how similar infiltrations with ulterior motives like robbery or desecration take place in Hindu temples in Bangladesh, and even Bharat:
In 2015, 5 women "devotees" wearing saree, shakha pola, sindur (all married Hindu symbols) were caught by local Bengali Hindus of Banshkhali. In disguise of Hindu women, this organised group of "devotees" was stealing women's gold ornaments at a Hindu religious ceremony for a long time. The local committee tried to catch the thieves several times but failed. The group of fake devotees stole gold ornaments of many Hindu women present at the ceremony.
After the ceremony, devotees were alerted in local language & the thieves failed to understand that language & continued stealing. While stealing, few of them were caught red handed. On interrogation, the thieves first told their names as "Shefali & Dipali," when they were handed over to police, they revealed their real identity. Those women were no devotees but Muslimahs who entered the religious ceremony in disguise of Hindu women. "Rancha Khatun, Rahima begum, Ripna, Rabia Khatun, Tachlima, Aklima, Hamida begum, Nachima begum" were handed over to police.
This year in April during Basanti Puja, a woman wearing Hindu symbols entered Kandipara's Raghunath Jiu Mandir with intent to loot. At first she introduced herself as "Sathi Ray," later admitted her real name was "Sayeda Begum." 
Such incidents keep happening in Bangladesh where Patitas (fallen people) enter Hindu temples & steal the temple valuables & devotees ornaments while their men attack Hindu men, women, temples and homes.
Similar incidents take place in India as well. Since there's no rules & tight security at most temples, non Hindus enter our temples obviously with bad intentions & then they dilute the holy places of Hindus by throwing stealing, throwing meat, condoms etc.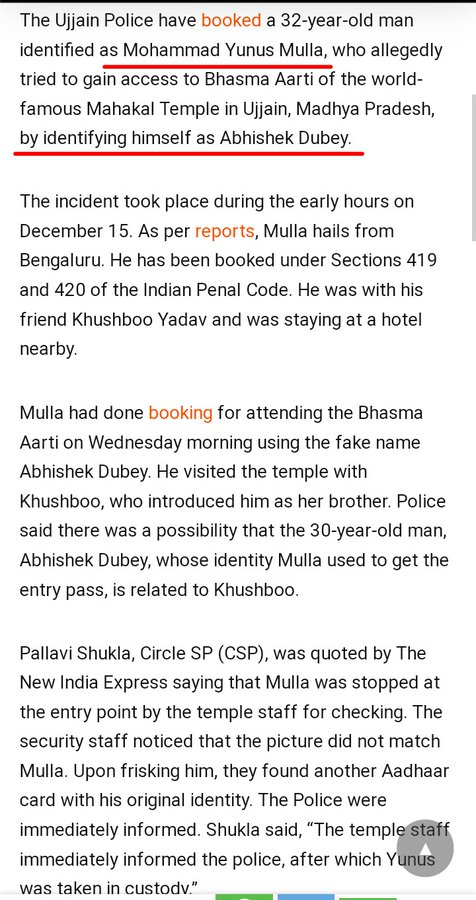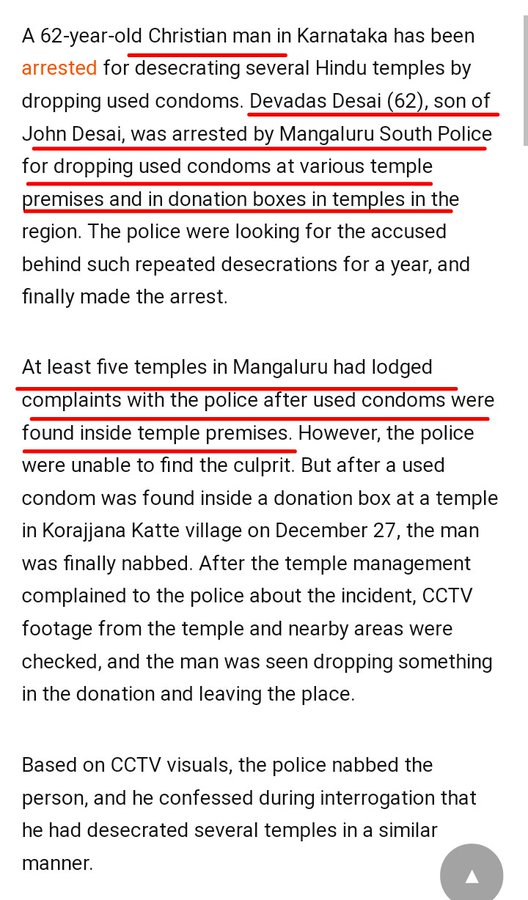 Our temples must be freed from clutches of govt & Hindu temples whether in India or outside India, must be protected from fringe elements. Many times our temples have been targeted by the Islamists. Always on the hit list of terror!sts. Strict rules, strict security is much needed for protection of our temples.
There is a hue and cry by left-liberals each time a Hindu temple like Sri Jagannath Puri talks of preventing entry of non-Hindus or of making them pledge respect for the presiding deity. This is done with the strategic goal of painting Hindu Dharma as 'discriminatory and rigid'. But the reality is that Abrahamics are indoctrinated with notions of exclusivism, supremacy and contempt for 'idol worship' since birth. As a result, many of them look down upon Dharma and its traditions, especially temples which they see as centers of 'satan/false god' worship. 
In such a climate, and seeing how even many Anglophile 'secularized' Hindus (aka HINOs) are now adrift from their Dharmic roots, it is natural for practicing Hindus to guard their sacred places zealously. The counter argument given by Hinduphobes that other religious places like mosque, church are welcoming of all 'unlike' Hindu temples is a red herring.
Hindus and non-Abrahamics in general are not steeped in ideas of exclusivity or 'one true god'. They are genuinely respectful or tolerant of other religions and other spiritual practices, and that is how temples devoted to different deities and sampradayas (sect/community) have coexisted with peace for millennia. So when we visit a church or mosque, we are usually extremely respectful of their guidelines. Secondly, even the slightest hint of 'blasphemous' behavior, real or fabricated, at a mosque or church is bound to invite immediate retaliation by the believers, and their strong media-political-legal ecosystem will ensure that the act is justified. But if Hindus try to defend their temples, the incident is spun as an act of 'intolerance' by Hindu 'radicals'.