Tele evangelist Paul Dinakaran and his family were sent back from Sri Lanka after Hindus protested against his event. He had planned a 2-day "Blessing Meeting" in Jaffna. Hindus opposed it saying that Jaffna is a spiritual land and evangelists like Paul Dinakaran should not set foot on it.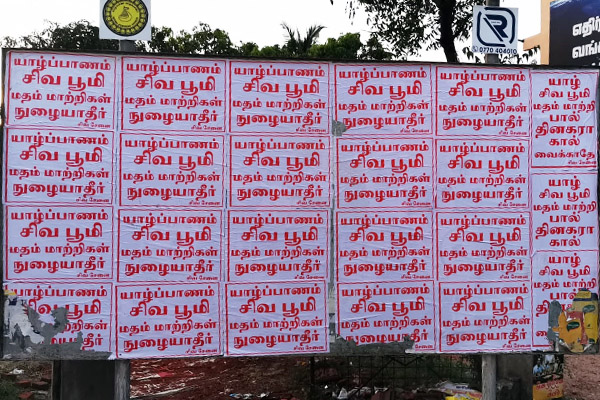 Paul Dinakaran's Jesus Calls NGO organised a 3-day event in Jaffna, Sri Lanka from March 23rd to 26th. His family members were to conduct the event along with him and pamphlets were distributed in Jaffna(Yazhpanam in Tamil) informing the same. But Hindu organisations like Siva Senai opposed the event and posters saying, "Yazh is a spiritual land. Evangelist Paul Dinakaran, don't you set your feet here" were put up all over the city. There were other posters and fliers that said, "Yazhpanam is the land of Shiva. Evangelists do not enter".
Many filed complaints with the Sri Lankan police as well seeking to stop Paul Dinakaran from conducting the event citing that he could be arriving with a Business Visa and proselytisation would violate the rules. The Sunday Times reported that after preaching in Colombo and Kandy, Paul's team arrived at Palaly airport in Jaffna, and Immigration officials apprehended them. Their passports were seized while officials investigated the motive behind their visit and they were allowed to stay in a hotel.
After investigating 6 of them, officials concluded that they misused the Business Visas and ordered them to leave the country. Following this, Paul and his family left Jaffna and took the flight to Bharat from Colombo. It appears that he met Sri Lankan President Maithripala Sirisena and Prime Minister Ranil Wickremesinghe. Only after Hindu outfits protested against his visit he was apprehended by the Immigration officials.
Maravanpulavu Sachidanandam, who founded Siva Senai, said that churches have mushroomed in areas where Tamils are in the majority. He mentioned that Paul Dinakaran and his team went to preach for one pastor Madan who has been aggressively proselytising in a village named PonNagar in Kilinochchi. He runs a church named Assemblies of God. He also talked about evangelists forcing Hindu students and teachers working in a Christian school to convert to Christianity. The same school had invited Paul Dinakaran to the event in Jaffna.
He further said that Hindu activists sought the help of Immigration officials in understanding the Visa rules and were told that those who have Business Visas can only attend events held in churches and not conduct one on their own by advertising about it. Based on their complaint Immigration officials stopped Paul Dinakaran and his family from entering Jaffna and sent them back after confirming that they violated Visa rules.
Bharatiya Tamil Hindus expressed their solitude and commended Srilankan Hindus for opposing and stopping Paul Dinakaran's proselytisation on social media.