"Pandemic, Poverty, and Inequality: Evidence from India" with Arvind Virmani and Karan Bhasin, we look at poverty and inequality estimates for Bharat and here are a few big takeaways –
1) Extreme poverty in Bharat was as low as 1% in 2019. This is a substantial reduction in poverty rates from 2011 levels.
2) Low inflation, more equitable growth and improvement in public distribution thanks to Aadhar helped reduce poverty.
3) Extreme poverty in Bharat was below 1% even in 2020 – the pandemic year. The doubling of entitlements under the Pradhan Mantri Garib Kalyan Ann Yojana prevented any substantial increase in extreme poverty in 2020.
4) Inequality in Bharat has been on a decline since 2017 (IHDS survey reported the first decline in 2017) – it is at the lowest level seen since 1993/94.
5) All of this indicates a very inclusive growth in Bharat over the last decade.
6) Given that extreme poverty has been eradicated in Bharat, Bharat should move from the PPP1.9$ poverty line to the 3.2$ PPP line. Eradication of extreme poverty is a big achievement especially as we celebrate 75 years of independence later this year.
A remarkable paper about Bharat has come out from the IMF. Its findings are mind-blowing. Since this is about Bharat's success, and particularly that of the present dispensation, many are avoiding it altogether.
The image below contains certain highlights of the paper. Among them, extreme poverty (PPP$1.9 per person per day) was below 1% in 2019 and 2020 (pandemic year) in Bharat! A low percentage in extreme poverty for 2 consecutive years is considered as elimination of extreme poverty!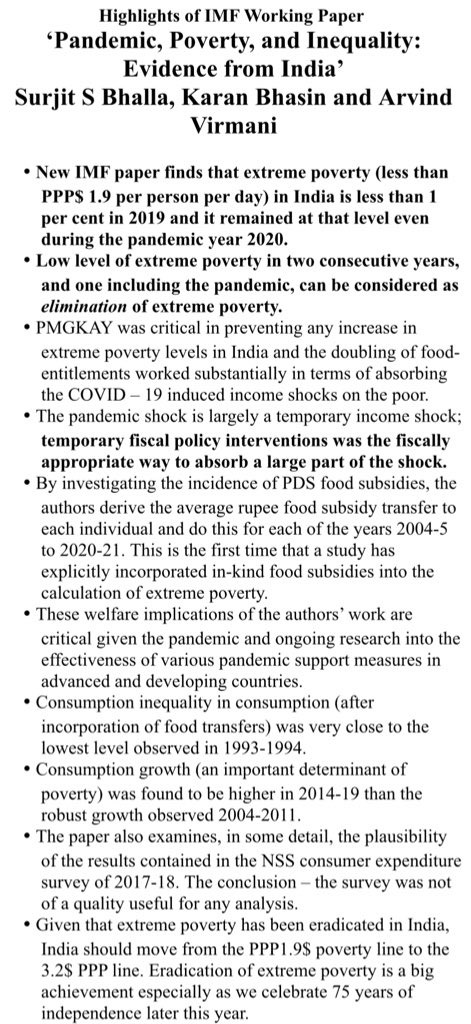 To begin with, we have this fantastic achievement of extreme poverty being eliminated. Moreover, it is sustained in the pandemic year! How? Pradhan Mantri Garib Kalyan Anna Yojana- food grains provided to the poor through Bharat's Public Distribution System during the pandemic
Why is this not the biggest issue being discussed today? There are three reasons.
One, the usual suspects can't question the IMF's credibility. Two, Arvind Virmani, one of the authors of the paper was CEA under economist PM Manmohan Singh. Again, who's credibility will you question? Three, the Garibi Hatao slogan from the 70s, which has shaped the outcome of so many elections, is slowly and steadily becoming a non-isssue. Of course, there's a long way to go and only extreme poverty has been eliminated. But it's happening nonetheless. And under whom?
(This article has been compiled from the tweet thread of @surjitbhalla and @ajitdatta)