Assuming that speaking the same language is essential to the continued existence of a nation, and not having one would lead to it "falling apart" is a very Tower of Babel-esque notion.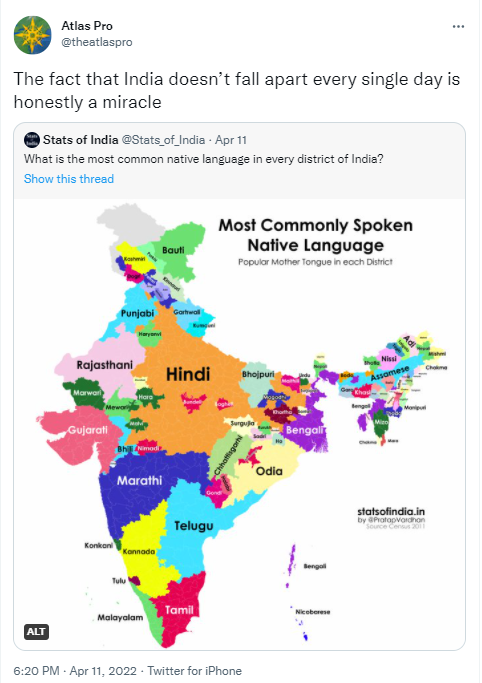 After all, Churchill famously said this about Bharat. That Bharat has endured and thrived is a testament to how flawed this understanding is. The other oft-repeated myth that it was the British that united Bharat also stems from this.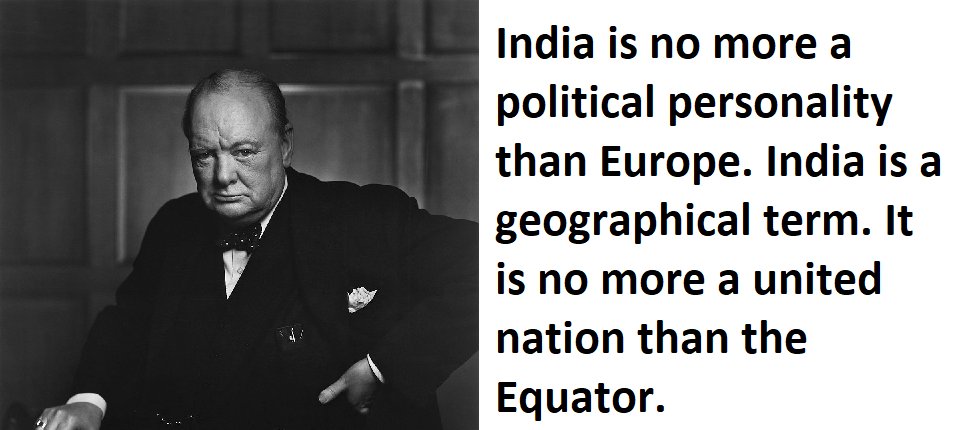 It not only negates, but is completely oblivious to the idea of a civilizational state, a state that is bound by a commonality of sacred geography and sacred history. What is this sacred geography?
Let's look at the Vishnu Purana Book II, Chapter III. It lays out the clear expanse of the Bharatavarsha.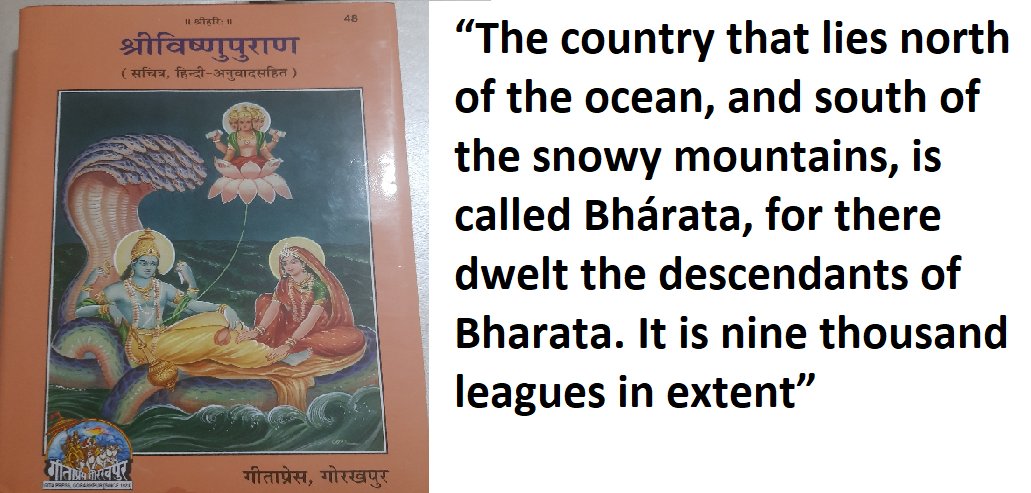 The Shakti Peethas that are spread across the geography of this land, the epics, Ramayana and Mahabharata, all of which not only have translations in local languages, but also local associations.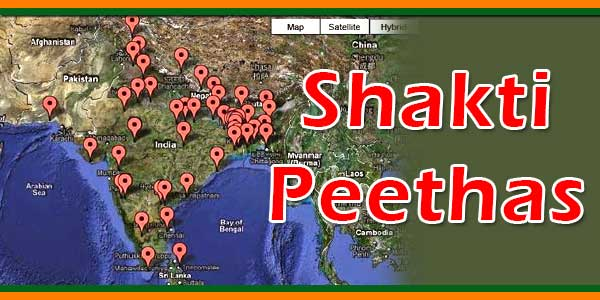 How many times during a trip have we heard stories that this stone on that rock is where Rama sat despondent looking for Sita, this lake in that valley was carved out by Bhima for Draupadi, and so on.
How do we explain this if Bharat was not felt as one civilizational whole?
References to incidents from the Sanskrit epics find mention in the literature of other languages as well. While such references are numerous, I'll just give one example, from the Tamil epic Silappathikaram.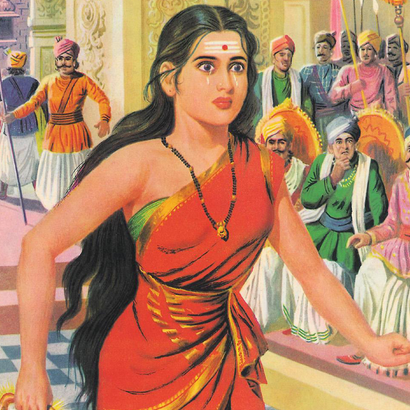 Silappathikaram mentions that the people of the port city of Puhar were left as distraught by the disappearance of the rich merchant Kovalan as the people of Ayodhya were by the departure of Rama.
Much later, from the 10th and 11th centuries CE, Raja Raja Chola's Lanka expedition is compared with Rama building a bridge across the sea. Admittedly in typical hagiographic style with poetic hyperbole, as is the case with inscriptions!
Similarly, Rajendra Chola's expedition to the north to get the waters of the Ganga river, is compared with Bhagiratha's penance to bring Ganga.
A number of dynasties, including the Cholas, that ruled territories located far away from Ayodhya, claim their lineage from Rama's Ikshvaku kula.
Admittedly, this may not be a direct biological lineage. But that only goes to prove the point on civilizational unity.
Speaking of which, the Kailasanatha temple is an interesting case here.
A temple in Kanchi, built by the Pallavas and dedicated to Kailasanatha but located 3000 kilometers from Mount Kailash.
But that's just one part of it.
The Vatapi Chaluka Vikramaditya II defeats the Pallavas, and builds the Virupaksha temple in Pattadakal, in the same style as the Kailasanatha.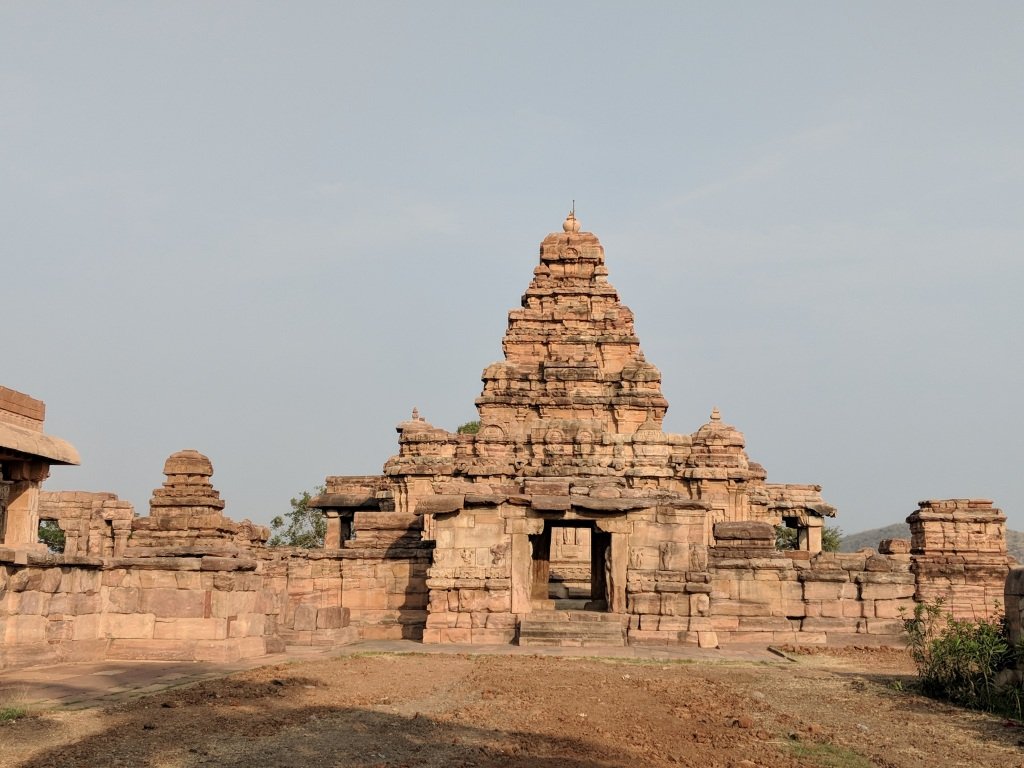 The Rashtrakutas then defeat the Chalukyas and build the famous Kailasanatha temple at Ellora, in the same style as the other two.
Once again, it's dedicated to the Lord of Kailasa, located thousands of kilometers from where it is built.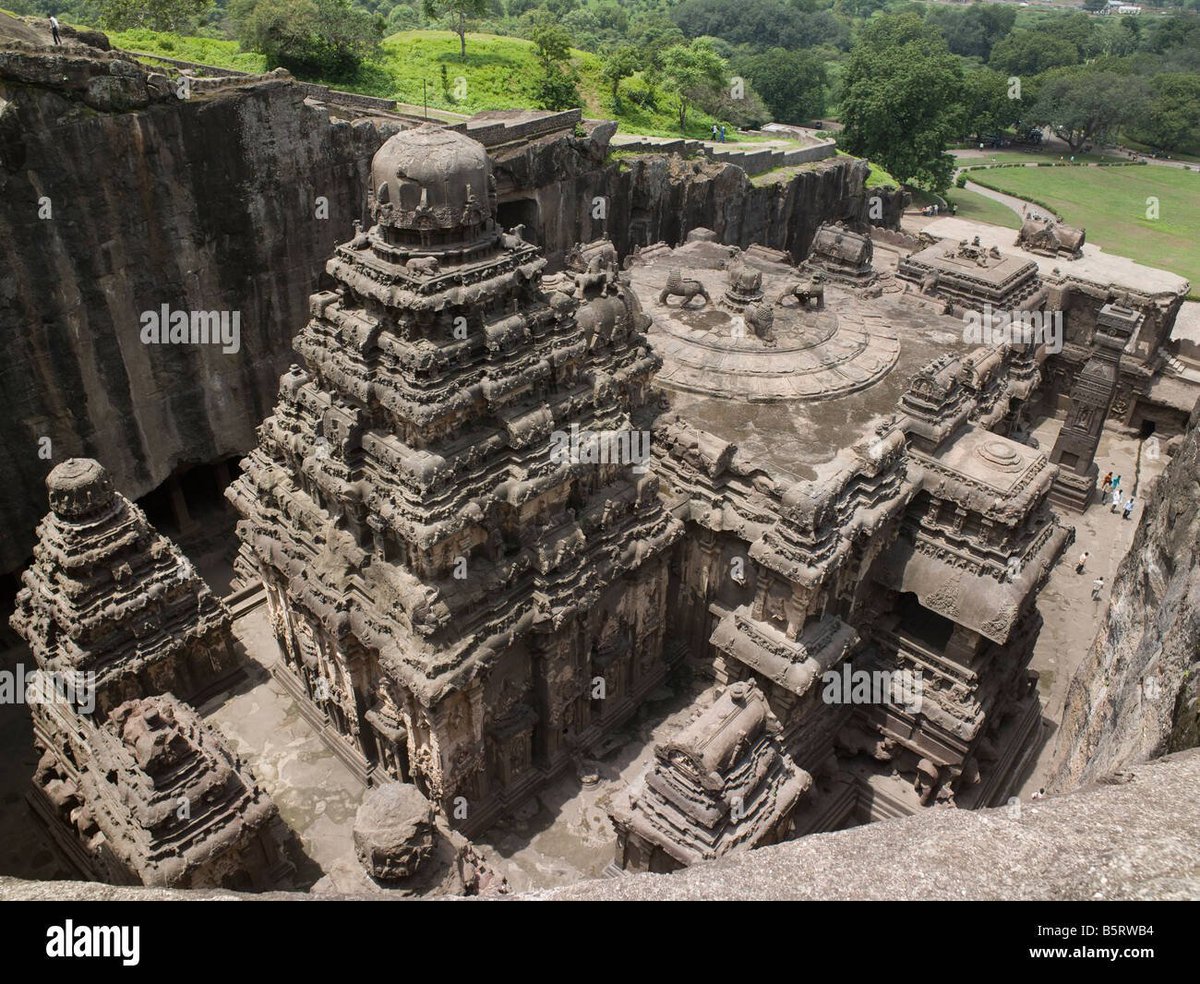 A murti of Narayana lying on the Sesha, of Durga riding a lion, of the formless Linga, are instantly identifiable to a member of the Indic civilization irrespective of what language he speaks and which part of its territory he is from. Sure, one can claim that there was no political unity in Bharat when the English arrived and these were independent kingdoms often at war with each other.
Let's put a date to this as year of the foundation of the English East India Company – 1600.
Was Europe any different? In 1600, how many countries in Europe had the same political and territorial unity that they have today? How many times have their maps been redrawn? How many "independent" units became unified into larger countries after that? 
Of course, the obvious question is if Bharat did not exist as one unit before the English arrived, but merely an assortment of languages and people, then how was the Company called the English East India Company?
What did they name it after, if there was no recognizable unit?
The point is simple. A civilizational state does not speak for only one language or one set of people within its borders.
It is built on the common civilizational foundations that unite all these sub-identities and therefore, transcend the differences. 
Such a civilizational state can lead to the emergence of various political units through its history. These units may get into competition or conflict, or unite against a common enemy and so on. But they remain inalienable units of that common civilizational whole. 
So, while it may seem miraculous to some that "India doesn't fall apart every single day", the bonds that constitute a civilizational state go deeper than the linguistic differences that seem apparent on the surface.
These bonds go to the core of the identity of its people, their beliefs, their customs and traditions, and the way they perceive their emergence from a common origin. 
One can go on but I'll stop here, with a picture that speaks a thousand words.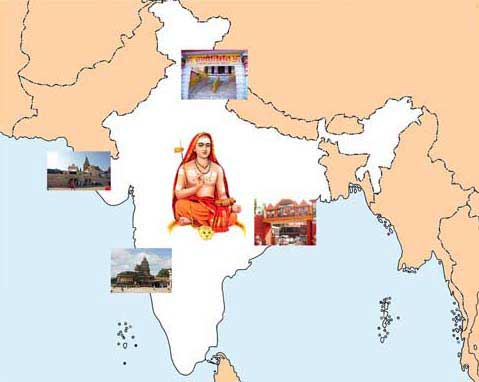 (This article has been compiled from the tweet thread of @jeysundhar_d)