In Pakistan's new national security policy with respect to Bharat:
1- It blames Bharat for impeding connectivity in the subcontinent
2- It wants to challenge Bharat declaring itself as a net security provider
3- It accuses Bharat for 'genocide' in Kashmir and continues to support terrorism
4- It wants to improve relations with Bharat with "just and peaceful" resolution of Kashmir at its core
5- It calls "Hindutva" its security threat
6- It is concerned about Bharat's military modernisation, getting nuke exception.
It wants to "reimagine" its relations with Russia which it sees as growing rapidly. Largely, the document focus is on its economy. I have seen reports in Bharat about Pakistan wanting peace, change in stance etc. There is nothing beyond what Pakistan has not said over the years.
Pakistan is rattled with Bharat's sustained diplomacy which is hurting its economy. It doesn't say it directly, but it shows in the document by talking about "disinformation campaign to hurt its image" and the need to counter.
Pakistan now gets it that economy is key. Zulfi wanted to eat grass and fight Bharat for 1000 years. The document stresses on using Pakistan's "prized location" to improve its economy. Bharat obviously should make sure that it keeps the heat on. Because a Pakistan with money is equal to nuisance for Bharat.
Another thing that Pakistan talks about in its security policy is internal cohesion. Its policies led to radicalisation, sectarianism is rife. Internal cohesion is a key element for economic prosperity. Bharat did that post independence with its diverse population. It shouldn't change.
Pakistan's security policy is not a peace proposal to Bharat but to strengthen itself to fight Bharat better. Also helps with perception management in the West which sees it negatively, but important for it for the money. Focus on economics, connectivity etc. appear rational and peace loving.
In 2020, Pakistan sent a "peace proposal" to Bharat, a new map. Claiming more than just Kashmir and an open ended border. Just like Chinese claim maps, even if laughable, shows their revisionist mindset and intent.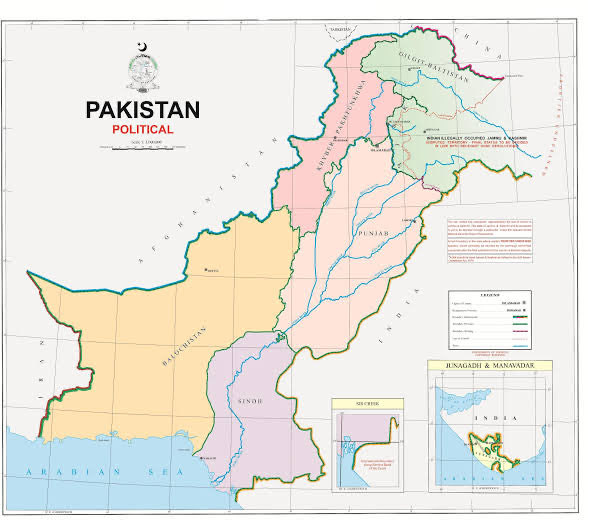 So please don't get carried away with non existent "peace proposal".
(This article has been compiled from the tweet thread of Yusuf Unjhawala @YusufDFI with minor edits to link to conform to HinduPost style-guide)