Consider this. Until 2018, Bharat was a net exporter of copper. Its export of refined copper products for the year 2017-18 was 378,555 tonnes. However, it fell down drastically to 47,917 tonnes in 2018-19. Replying to an unstarred question posed by Majeed Memon of the NCP, Commerce and Industries Minister Piyush Goyal submitted in the Rajya Sabha that the domestic production and exports of refined copper declined due to the closure of Sterlite Copper Smelter plant since May 2018. Sterlite, which has an annual production capacity of 4 lakh tonnes per annum, accounted for 40% of the country's total copper production.
Now consider this. According to the United Nations COMTRADE database on international trade, Pakistan's copper exports to China stood at USD 787.96 million for 2021, up from around USD 35 million in 2017.
Form the above graph, it can be seen that there has been an unprecedented surge in copper exports from Pakistan to China.
Multiple media reports belonging to Pakistan have reported that Pakistan's copper export to China have increased by 400% giving a boost to local industries.
The point of this comparison is not to convey that Sterlite's closure was a doing of China or Pakistan. However, it does tell how a social unrest in a southern town of Tamil Nadu was taken advantage of by these two countries.
The Neutrino project have been facing similar protests where repeated attempts by scientists to explain to the locals about the project has gone in vain. The Salem 8-lane highway project too met with the same fate. Misleading and false rhetorics were also constructed on the port-led coastal development plan of Sagarmala. It's not just that development projects of the present regime are being targeted. The Kudankulam Nuclear Power Plant faced similar hurdles.
All these have something in common. They are protests supported or spearheaded by 'activists' who are either supported by or have their own organizations which receives blessings in cash and kind from outside. These activists are projected as the voices of victims by an able and a thriving ecosystem.
So, who are these activists? Why do they do what they do? From where do they get support? To seek answers to these questions, we will take the example of one entity.
The other media
This is not a term ascribed to a non-mainstream media. The Other Media (TOM) is an FCRA-NGO with the registration number DL 231660085. It was founded by Rev. Earnest Deenadayalan in the year 1992 as a centre for 'supporting people's organizations and movements'. It goes on to say in its website that its mandate includes providing "campaigns, advocacy, communications, research training, and scientific support to and mobilising solidarity for community struggles against social and environmental injustice". It runs many 'campaigns' like 'Community Environmental Monitoring (CEM)', International Campaign for Justice in Bhopal and Occupational Health Campaign. Under the CEM, there are several projects run for different purposes. While some of their campaigns like the one against Unilever's Mercury Pollution in Kodaikanal is praiseworthy, a closer look at TOM's books and its associated persons raises serious questions.
TOM majorly receives funding from its regular donors Association for India's Development, Global Green Grants Fund, The Takagi Fund For Citizen Science, Pesticide Action Network North America, Health Care Without Harm, etc. However, the organization has also received funds from the following questionable entities:
1) In 2012, TOM got ₹71550 as donations from World Association For Christian Communication, Canada – an organization that claims to promote 'social justice' to people of all faiths, ethnicities, and cultures worldwide. The same organization contributed ₹5,76,990 in 2011.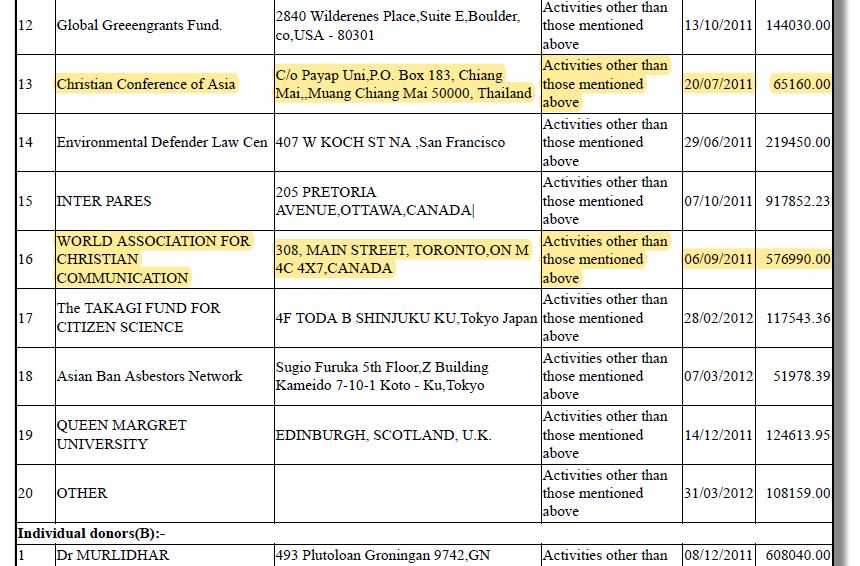 2) Another institution named Christian Conference of Asia, an ecumenical organization representing more than 100 denominations across several countries claiming to work towards 'social justice' had donated ₹65160 in 2011.
3) Two other organizations named Catholic Organization for Relief and Development Aid (CORDAID) of Netherlands and Trócaire, the official overseas development agency of Catholic Church in Ireland, have contributed millions of rupees during the period from 2007 to 2011. These two organizations have contributed the most to TOM during this period.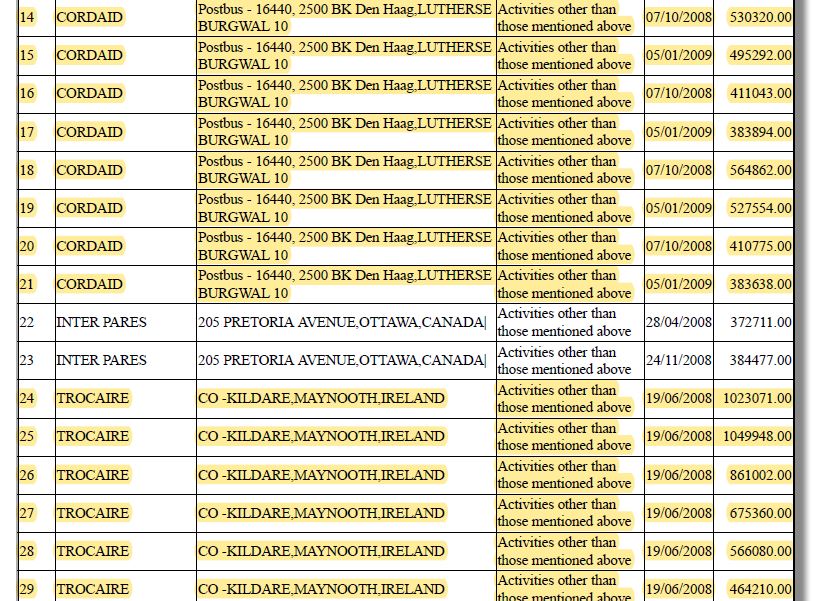 4) TOM has also received funds from Bread for the World (BfW), a "globally active development and relief agency of the Protestant Churches in Germany". BfW openly claims to "influence political decisions through lobbying" which it does by funding the thought leaders and members of civil society.
The 2011-12 Annual Report on Receipt and Utilization of Foreign Contribution by Voluntary Associations mentions that amongst the purposes for which foreign contribution was received, the highest amount went towards "Activities other than those mentioned" i.e., the proceeds did not go towards purposes like rural development, construction or maintenance of schools/colleges', welfare of orphans, scholarships, etc.
While TOM's account statements (Form FC-6) mention the nature of association to be "educational, social", all their donations have been marked under "Activities other than those mentioned".
What are these "Activities other than those mentioned" they're referring to?
Well, it gets quite clear from TOM's mandate – "mobilizing communities for social and environmental justice", which is a fancier way of saying "causing trouble by instigating people against democratically elected governments" under the guise of voicing for social and environmental issues.
Considering that they have received contributions from entities like CORDAID and Troicare, these "other activities" can also be taken to be an attempt at changing the religious demography.
This is not just TOM. Currently Tamil Nadu has the highest number of FCRA NGOs numbering 2483, and is probably the second highest recipient of foreign contribution after Delhi. Incidentally, all the protests against development projects are also concentrated in Tamil Nadu.
The 'Nity' Gritties
The Other Media never finds itself getting mentioned in mainstream platforms and discourses. We don't see them getting quoted in newspapers, TV or on social media. Infact, the organization does not even have a presence in social media. All they have is just a website. Probably it is meant to be that way considering their shady background. But, we have persons associated with TOM very much active, making news and noises. They write articles for certain news portals, give interviews, participate in panel discussions, tweet, protest, and engage in other activities that would keep them in the limelight. They get projected as 'activists' claiming to represent the marginalized and the voiceless. One such 'activist' is Nityanand Jayaraman aka Nity.
Now, Nity is a person that we need to watch out for. His Twitter bio says that he is a writer and nothing more. In other platforms where he writes, he is identified as a writer and a social activist. In news reports appearing in the mainstream media he will be mentioned as someone belonging to Community Environmental Monitoring or Coastal Resource Centre or Save Ennore Campaign all of which are initiatives under TOM. But, there will be no mention of TOM in these platforms. However, he is the Chairperson or Chief Functionary of TOM.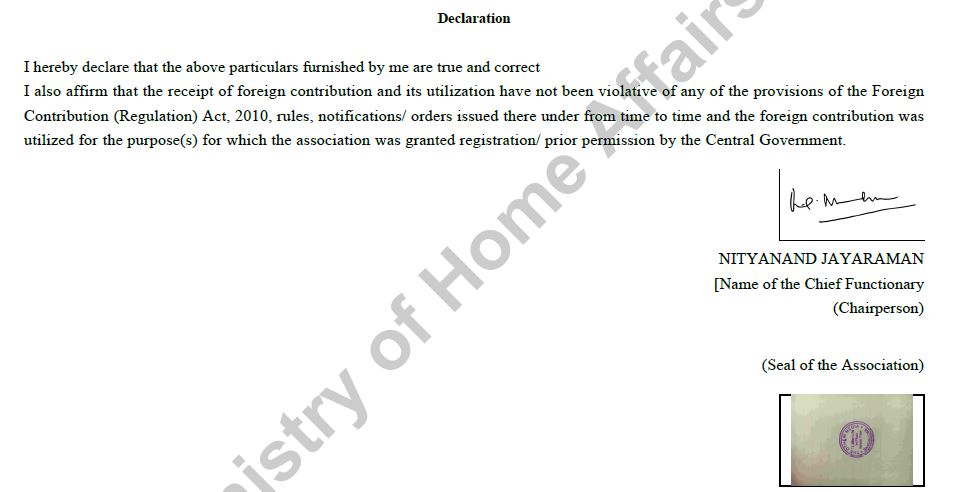 While striving for social and environmental justice is a laudable pursuit, what people like Nity advocate is anarchy. Speaking at the India Today Conclave in January 2019, Mr. Nityanand says:
Courts are an extremely fickle partner. And.. I also find that often times, the courts are not as powerful as they used to be. There is not the respect for the courts that there used to be. And.. also the final thing is the courts treat big polluters different from small polluters. There is a clear class difference. They don't want to take on the big guys. In Tamil Nadu, right now after the floods, they are talking about removal of encroachments, but none of the lordships talk about the big encroachments – you have entire power plants and ports built inside water bodies, who will remove them? They are encroachments too.
So, where else would ports and power plants be built Mr. Nity? At your posh house in Besant Nagar?
In another interview with The Wire, Nityanand says
I think the neutrino [observatory] will get built. You should not have any fears on that count. I'd rather it doesn't. But I think it would be unfortunate if it does without so much as an honest debate where each side is prepared to live with a scenario where what they want may not be the outcome.
The engineering of social unrest
Four people are were at the forefront of the Sterlite protests – Fathima Babu, Nityanand Jayaraman, Mohan C. Lazarus, and Samarendra Das of the London based Foil Vedanta group.
Fatima Babu, a sexagenarian professor turned 'activist' had worked hand-in-glove with Samarendra Das who had reported visited Thoothukudi for a 'secret meeting' with anti-Sterlite leaders. He had allegedly promised help 'to keep the protest alive' against the copper smelting plant.
Another important fringe element who was instrumental in instigating the people against Sterlite was Mohan C Lazarus. While addressing a huge gathering of Christians, he peddled without any scientific basis that Sterlite Copper was a toxic factory and said that the Church has risen to shut the factory down. He also instigated the Christian population to protest and 'dispose off the factory' from Thoothukudi.
He also stated that a huge protest was to be held on 24 March 2018 at Thoothukudi, in which all Catholics, Pentecostals, Church of South India (CSI) would agitate against Sterlite.
Accordingly, thousands of protesters gathered in Thoothukudi on the said date demanding the closure of the plant. The protest gained political patronage from then on, with the likes of Kamal Haasan's Makkal Needhi Maiam, DMK, Communist parties and other separatist outfits like May 17 Movement extending their support.
The Sterlite protests is where all our puzzle pieces fall in place – FCRA-NGOs with foreign donations, 'activists', Church and a certain section of media houses came together to achieve a certain purpose through social unrest.
The role of media
The media is the vehicle on which all these people ride to engineer social unrest. Portals like The News Minute and The Wire repeatedly kept carrying articles of Nityanand Jayaraman. The News Minute carried an article and a video of Nityanand Jayaraman giving a response to a video by Let's Make Engineering Simple that sought to give a bigger picture of the pollution crisis and questioned the motivation of Nityanand Jayaraman in targeting Vedanta to which he conveniently replied
People choose and pick their battles based on what they think is deserving of their attention.
On the other hand, the Tamil media exalted Fathima Babu as a Gandhian satygrahi. Here is an interesting tidbit about her. She was found having sex with a another leader of the anti-Sterlite protest named 'Thermal Raja', at a star hotel in Chennai during their 'awareness and advocacy efforts' against Sterlite.
It is through news outlets like these that people like Nityanand Jayaraman and Fathima Babu got portrayed as an enlightened intellectual and an activist. Together they manufacture opinions and build narratives that further leads to social tensions. At the same time, these media outlets took care to not project Mohan Lazarus' nefarious propaganda on Sterlite.
Lessons from the Sterlite episode
Today, the Sterlite Copper plant in Thoothukudi, which had been producing copper for close to two decades stands permanently closed. Thousands of direct and indirect jobs have been lost. The company has now called for bids to sell the plant. The NGOs, radical Church forces, academia and the agenda-driven media can proudly declare 'Mission Accomplished'. But this episode hold crucial lessons for the people.
On the outside, these NGOs, activists and media seem like they stand for justice. But all of them come from a certain political and ideological position. They scratch each other's back to help them promote themselves at the cost of lives and livelihood. And most often the organization or the individuals can be linked to large foreign Church-funded organizations. Together, they form an ecosystem. Together, they form what is called the NAM troika – the NGO-Activist-Media troika.
This ecosystem of foreign funded organizations, academia, media and other outfits peddle a certain narrative that glorifies certain values and exaggerates half-truths. They are hell belt on shoving their opinions down the throat of people. They must be an even angrier lot now, considering that the government has stopped the money flow through problematic organizations into Bharat by cancelling many of the FCRA licenses.
It is not the intention of this post to vilify the organizations and individuals mentioned here. However, it is important to shed light on the foreign funding aspects of the organizations and the activists associated with such organizations. The NAM troika not just influences policy making and decisions by nurturing opinion makers and thought leaders to stand against development projects, but also spread anarchy knowingly or unknowingly.
We are country that is governed by rule of law and in a country governed by rule of law, institutions upon which power is bestowed by the people and the Constitution should have the right to fulfil the developmental aspirations of the people and deliver justice. Not by those whose source of revenue are questionable.
(The article was published on thecommunemag.com on June 20, 2022 and has been reproduced here with minor edits to conform to HinduPost style-guide.)