The most racist Ukraine coverage on TV News.
1. The BBC – "It's very emotional for me because I see European people with blue eyes and blonde hair being killed" – Ukraine's Deputy Chief Prosecutor, David Sakvarelidze
2. CBS News- "This isn't Iraq or Afghanistan…This is a relatively civilized, relatively European city" – CBS foreign correspondent Charlie D'Agata
3. Al-Jazeera- "What's compelling is looking at them, the way they are dressed. These are prosperous, middle-class people. These are not obviously refugees trying to get away from the Middle East…or North Africa. They look like any European family that you'd live next door to."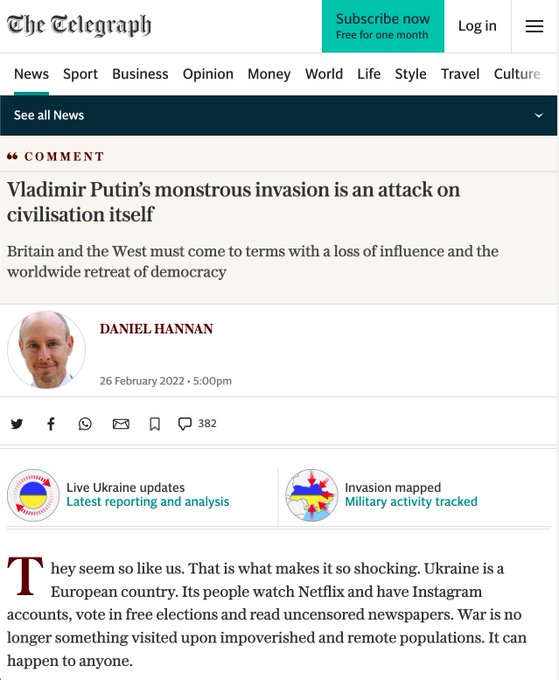 6. ITV (UK)- "The unthinkable has happened…This is not a developing, third world nation; this is Europe!"
7. BFM TV (France) (again)– "It's an important question. We're not talking here about Syrians fleeing…We're talking about Europeans."
8. If you speak French, sample from the racism buffet on offer.
(This article has been compiled from the tweet thread of @AlanRMacLeod)
Update
Some more examples have emerged of blatant racism in Western media coverage of the Ukraine crisis
9. NBC News (US) "These are not refugees from Syria. These are refugees from neighboring Ukraine..quite frankly, part of it is, these are Christians, they are Whites. They are very similar to the people who live in Poland," says the correspondent from Poland.
10. Spanish TV channel – "Blue eyes, very important" (on why Ukrainian lives matter more..)
So while Europeans and their descendants who colonised the 'new world' are openly talking about why the lives of 'people like them' (White, Christian) matter more, these very countries turn and admonish a country like Bharat when it passes a humanitarian law like CAA to provide expedited citizenship to religiously-persecuted refugees from our Islamic neighbors.