How are leading South Indian journos responding to the Islamist threat to the judges. Here is what I saw in a few of the TLs:
Nikhila Henry, Bureau Chief, SI Quint, has been very vocal in her support for Muslim students right to hijab but zero tweets on threat.
Ahmed Shabbir of The News Minute (TNM) is very vocal on Hindutva extremism. But no comments on death threats, just 2 tweets reporting the news. There are 6 or 7 tweets about the case of someone who was arrested for urinating in neighbor's house. He is an ex-ABVP guy.
TNM head Dhanya Rajendran who tweets a lot, too finds the ex-ABVP guy's news interesting enough for a tweet, there is another tweet about a discussion criticizing hijab judgment but none on the threat.
Fatima Khan who is a ground reporter for Quint and has an explainer as to why Hijab judgement is wrong, has nothing yet to say on the death threats. She had time to RT this though.
Imran Khan who works for Times Now has been actively covering Hijab controversy and is the one recorded some of those viral videos of Muslim girls and Hindu boys protesting but zero tweets on death threat. But he plugged in this piece yesterday. And also such insights on Karnataka politics.
Anjali Mody who writes for Scroll and has been vocal in her support for girls right to hijab but zero tweets on the death threats. But she RT'ed her own tweet against the judgment yesterday.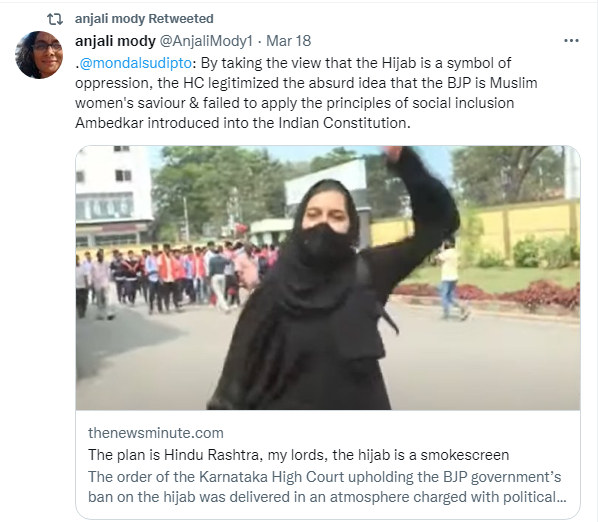 You just can't but in awe of the intrepid journalism of Ahmed Shabbir doggedly pursuing the case of the notorious urinator, the biggest socio-political problem facing this country. Dhanya Rajendran is so lucky to have him at TNM. First Pulitzer for TNM incoming?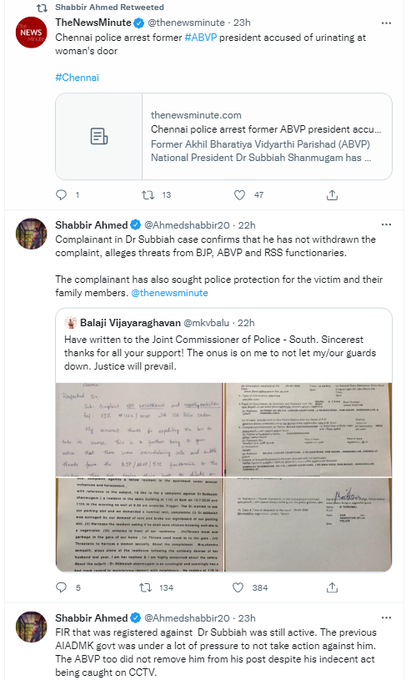 Anusha Ravi Sood of The Print India who, wrote the least distorted account of the hijab controversy also has nothing to say regarding the death threats.
This one is not at all surprising. Lakshmi Subramanian of The Week Live also thinks the death threats are not worth talking about while she has 4 tweets on the ex-ABVP guy's urine case. Hilarious, their fixation on this issue.
Stalin SP of Tamil news channel PTTV News has not reported on the death threat as well, there are tweets on the ex-ABVP guy case.
Shilpa of Times Now has reported on the death threat but no criticism or snide remarks. That is reserved for introduction of Gita in schools.

I wish I was kidding about this but many Tamil journos are actually more obsessed about the case of the ex-ABVP guy who was charged with urinating at neighbor's house than about the death threat issued to the judges.
(This article has been compiled from the tweet thread @Saiarav)