Another India vs Pakistan high voltage clash in Asia Cup 2022 and another orchestrated disinformation from across the border!
Several Bharatiya players targeted, but Arshdeep Singh was specifically picked to render the Khalistani agenda to gaslight the Bharatiyas.
Chronology
To the world it was made to look that Bharatiya accounts pushed the narrative but in reality, conspiracy was cultivated by Pakistan's Zaid Hamid and fact Checker Mohammed Zubair that pushed the narrative.
To understand how this disinformation propaganda unfolded, we pulled two sets of tweets on keywords #indvspak #pakvsind #asiacup and 'arshdeep' & 'Khalistan'; all used during the game, right from the 1st ball till the Pakistan's winning moment.
A total of 117,200 tweets were done on #indvspak #pakvsind #asiacup out of which merely 35 tweets were in context of #Khalistan. It represents only 0.06% of the total tweets.
Even in these 35 tweets, 1st tweet comes from a Pakistani account at 11:06 PM (IST).
We also analyzed tweets with keywords 'arshdeep' and 'Khalistan' in which only 75 tweets were made from 74 handles during the match. Of all the accounts, 37 had location of Pakistan origin.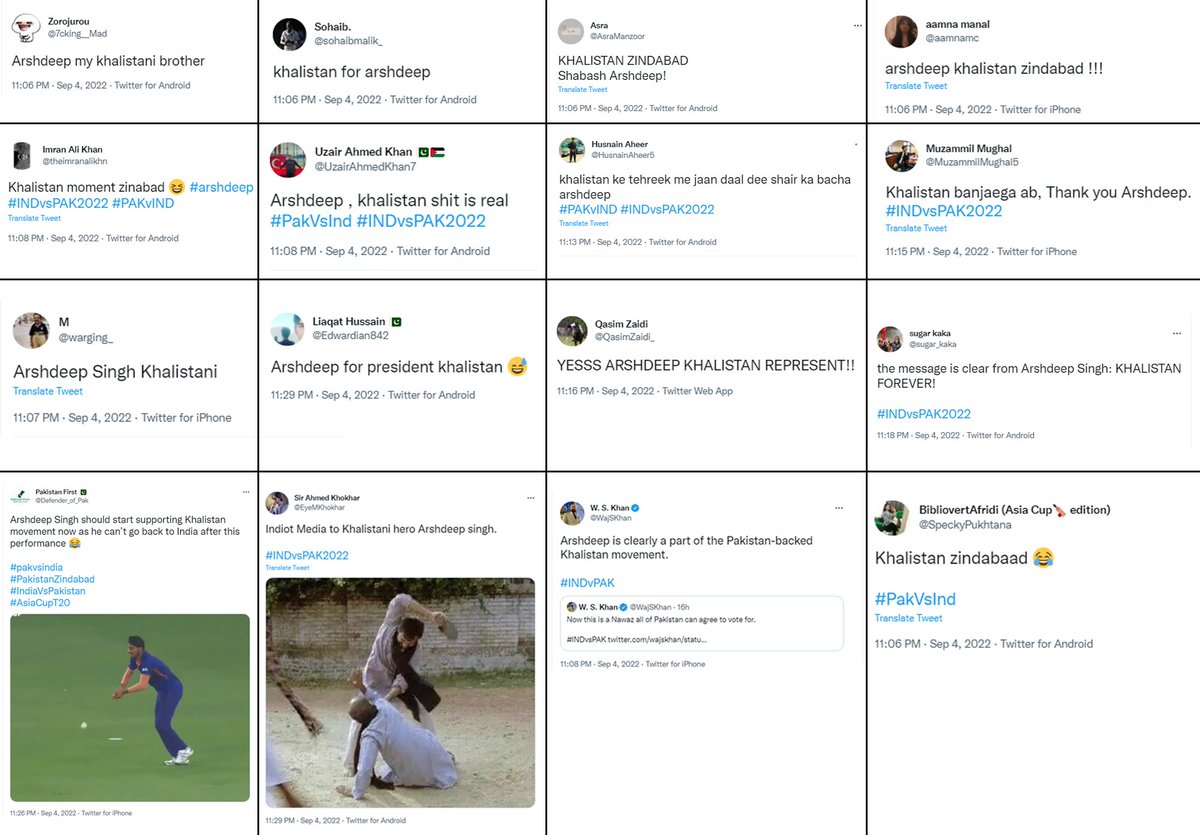 It was not possible for those 75 accounts to push the propaganda which were in fragments. So, after the game, Zaid Hamid encashed the opportunity and propelled the propaganda at 11:28 PM IST.
But the real communal color was given by Mohammad Zubair who took resort to dummy, fake and Pakistani accounts which were amplified and the audience further jumped into it.
They say old habits die hard and so was the case during the time of Mohammad Shami when 'fact-checker' 'Zoo bear' came later on and pushed the agenda, terming Shami as a Pakistani. The same toolkit was put to use even yesterday.
Even the Wikipedia page of Arshdeep was edited with the intention to label him as Khalistani, all done from Pakistan. Later, Ministry of Electronics and IT summoned the platform.
Even after the match numerous Pakistani accounts came in and pushed the agenda as analyzed by Sai Kiran Kannan after Arshdeep dropped the catch.
Fuelling of such propaganda isn't possible without intended/unintended assistance of Bharatiyas.
Several prominent Bharatiya handles helped fuelling the fire. Some of them included Sanket, Purva Chitnis, Alka Lamba, Sayema, etc., without even fact checking those claims.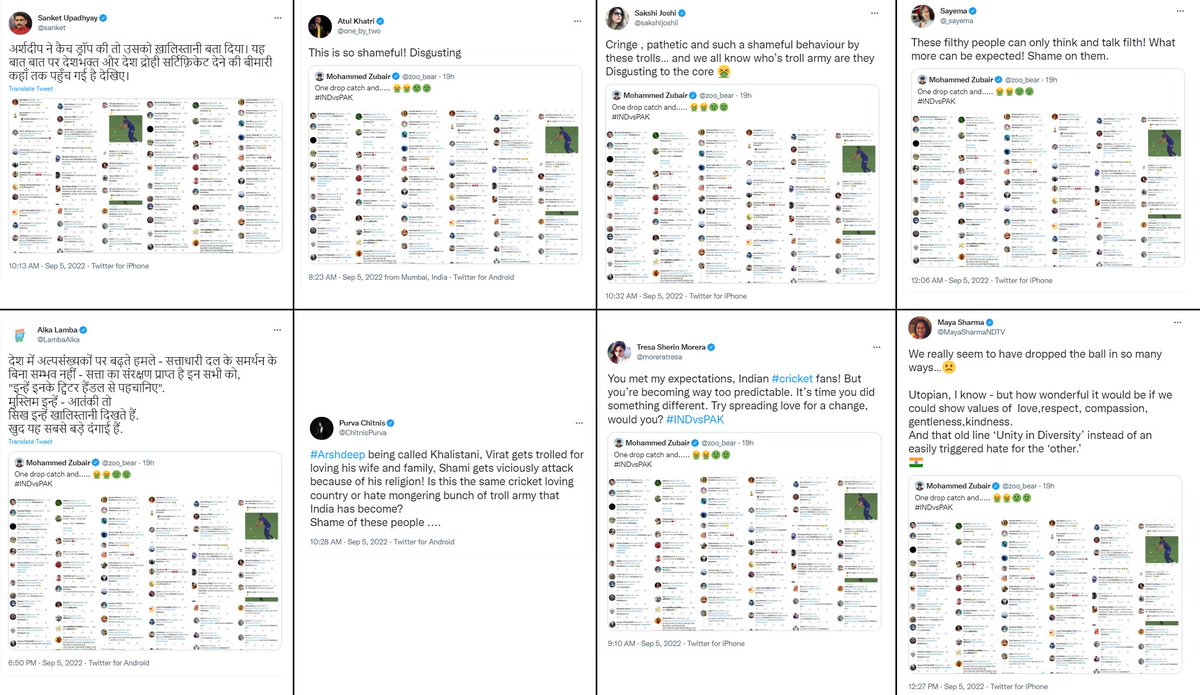 It was a toolkit 2.0 replicating the similar Md. Shami's incident during last year's #indvspak game.
Pak propaganda picked by some 'purported' fact checkers and amplified by the useful idiots/ wilful collaborators who help in the success of such disinformation propaganda.
(This article has been compiled from the tweet thread originally tweeted by OSINTवा (@OSINTWa_com) on September 5, 2022.)