The West that often lectures on human rights and presents itself as an epitome of 'civilized beings' is guilty of perpetrating the worst crimes on humanity – the greatest of which is human zoos. These were zoos where humans from 'third world countries' were captured and put on exhibition.
The heart-wrenching story of African native Ota Benga shared by Twitterati African Archives is a grim reminder of the savagery perpetrated by colonial powers. Ota, who belonged to the Mbuti tribe, was kidnapped in 1904 from Congo to be 'exhibited' at the Bronx Zoo along with monkeys in 1906 after being initially sent to the American Museum of Natural History in New York City.
The trouble of the Congolese men began when Belgium colonized Congo for its rich resources. The colonizers forced the natives to labor on rubber plantations while inflicting several horrors on them including chopping off their hands for not meeting the quota. Samuel Verner, who was preparing 'exhibits' for the 1904 'fair' to depict the progress of mankind "from the dark prime to the highest enlightenment, from savagery to civic organization" and who was given a hefty budget to collect living "specimens" of people from Africa, is said to have 'bought' Ota from slave traders.
Ota was put as an 'exhibit' with a plaque being erected to describe him in the same way an animal would be described. He was put into a cage in the monkey house with a trained orangutan named Dohong. The Minneapolis Journal declared Ota to be the 'missing link' between chimps and humans. Did someone say civilized West?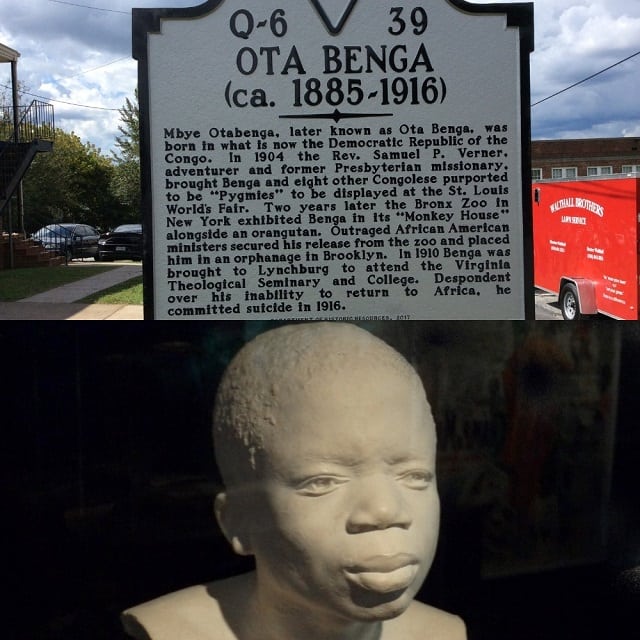 Though his release was secured by African American ministers, he was placed in an orphanage in Brooklyn where he committed suicide on the evening of March 19, 1916. Samuel Philps Verner was a missionary who had turned into an explorer of Africa.
Ota's is not an isolated case, up to the twentieth-century people were presented as 'exotic objects' in 'ethnological shows'. 267 Congolese men and women were herded into a park in Brussels' suburb Tervuren for the 1897 World's fair that is said to have attracted around 40,000 visitors every day. To gawk at the natives was a favorite past time of the westerners.
"A 1903 diagram of 'racial types' shows that racist fantasies of superiority considered non-European people to be nonhuman primates; the colonial powers were convinced of their own 'civilized' superiority", says Deutsche Welle (DW).
In Germany, Hamburg-based Carl Hagenbeck turned human zoos into a business model. The first colonial exhibition in Germany was held in 1896. Organizers set up a village in a park in the city's Treptow district, as part of a trade show, that was dubbed with a derogatory term for Black people.
More than 106 Africans from the German colonies were lured using false promises and brought to Berlin, where they were forced to present themselves to the public for seven months as villagers in exotic costumes. They were repeatedly subjected to publicly humiliating medical or "racial" examinations.
France had an agricultural site where indigenous villages from its colonies (Madagascar, Indochine, Sudan, Congo, Tunisia, and Morocco) were recreated to showcase what life was like in these colonies. These villages were populated with colonial subjects who were turned into exhibits. According to CBC, "the performers were given costumes to wear as they performed non-stop for the audience, their costumes only authentic in that they offered little protection from the elements: Terrible living conditions, foreign diseases, and the cold killed dozens of the performers, who were then buried in the gardens".
The St. Louis World's Fair of 1904 held in Missouri boasted a variety of displays including 'living exhibits' in recreated Filipino villages. The US government of the Philippines brought in more than 1,000 Filipinos from dozens of tribes who were 'displayed' in a 47-acre area of the fair.
The inhuman treatment of the people from North Philippines' Igorot tribe, which was one of the villages on display at the fair, is another case in point that shows how 'civilized' the west was. Although members of this tribe consumed dog meat as part of certain ceremonial rituals, they were fed dog meat every day for the seven months that the fair lasted even as the audience clamored to get a 'better look' at them. Furthermore, they had to perform infrequent sacred rituals, such as crowing a chief, as daily entertainment for their audience.
"In 1958, the World's Fair in Brussels featured a Congolese Village and boasted a picture that's become emblematic of this phenomena: a young African girl in western dress. She's fed by the outstretched white hand of a patron. A fence stands between them. A throng of visitors watch", notes CBC.
The 1958 World's Fair is considered to be the last of such human zoos as most countries had reportedly banned this inhuman practice by then. However, 297 people from the Congolese village are said to have died during the show in 1958 and were buried in an unmarked mass grave.
The next time the West feels the urge to provide moral lectures on human rights, it should take a good hard look at itself because even though human zoos have vanished the racial superiority that drove these zoos and fairs still persist.
(Featured Image Source: Daily Mail UK)