A Matang youth was lynched to death by a group of 8 to 10 Mahar youths in Maharashtra's Aurangabad (Sambhaji Nagar). The gruesome murder is yet another proof of the lawlessness in the state under the Uddhav Thackeray-led MVA (Maha Vikas Aghadi) sarkar. The incident occurred in HUDCO N12 area of the city.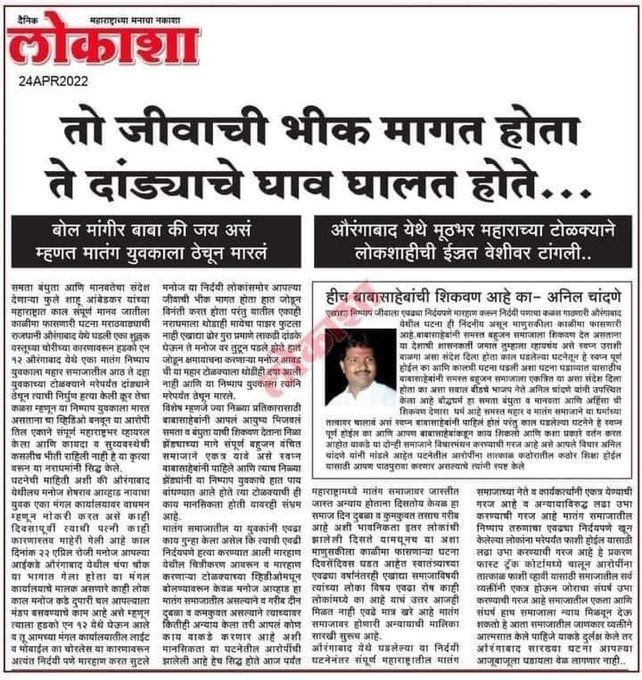 As per available information, the victim Manoj Seshrao Awhad was a watchman in a wedding hall in Aurangabad. On April 22, he was visiting his mother in the city's Champa Chowk area. The next day a few people, supposedly owners of the hall, approached Manoj and took him to the N12 area under the pretext of wanting to set up a mandap.
After reaching the hall, they began lynching Manoj using sticks alleging he had stolen light and mobile from the hall. Manoj kept pleading with them but they continued beating him till he died. What's worse? Manoj's hands and feet were tied using the neo-Ambedkarite blue flag. One of the assaulters also captured the cruelty on video and made it viral on social media.
Both Mahar and Matang communities are listed as Scheduled Castes (SC). However, Matangs are poor and ranked lower in the social hierarchy. Members of the Matang community continue to face oppression. The brutal lynching and the fearlessness of the law exhibited by the perpetrators highlights the mindset that plagues the society today.
Beed BJP leader Anil Chandne has condemned the brutality and demanded strict punishment for the perpetrators. However, the so-called progressive and secular parties and their media handmaidens have chosen to brush the incident under the carpet. The only reason for this deafening silence appears to be the lack of political advantage.
It must be noted that while many Mahars converted to Buddhism following in the footsteps of Dr. Ambedkar, Matangs continue to be Hindus. These dynamics explains the lack of interest on the part of the left-liberals since there is no "evil Hindutva" agenda to be milked in this lynching.
The 'lynching' of an Akhlaq makes national news but the lynching of a Manoj is simply ignored by politicians, media and intellectuals. After all, lynching is seen as an opportunity to draw political advantage or attack Hindu Dharma.