First 3 images show what The Atlantic said when Trump announced that the US/Saudi partnership must continue despite the murder of Jamal Khashoggi. Last image shows what The Atlantic said when Biden announced that the US/Saudi partnership must continue despite the murder of Jamal Khashoggi.
As I wrote, the close US/Saudi partnership shows that the US does not care — at all — if other countries are democratic or despotic. It only cares that other countries' regimes serve US interests. Trump's only sin was he was honest about this.
The excuses Biden officials are making – for why Biden vowed during the campaign to turn Saudis into "pariahs", only to now embrace them – is the same rationale Trump offered for the same decision (which caused pundits to declare the Death of US Values):
In 2018, Trump said: yeah, sure, it's terrible that Khashoggi was killed, but our close partnership with the Saudis is too valuable to sever that relationship. That caused hysteria in the pundit class. This is *exactly* what Biden is now saying to justify the same decision.
WATCH: Biden, 2020 campaign, on what he vowed he would do — if elected President — to the Saudis and the US/Saudi partnership as punishment for murdering Jamal Khashoggi and slaughtering Yemeni children.
Here's Biden, as President, on what he actually did to the Saudis and the US/Saudi partnership, pretty much everything he said in that above video was a flat-out lie. He sold weapons to them. He refused to sanction MbS. Now he's visiting on his knees, heralding the partnership.
After Biden campaigned on a vow to not sell arms to the Saudis and turn them into "pariahs," the first thing he did as President was refuse to sanction bin Salman for his role in Khashoggi's murder. In Oct – way before Russia's invasion — Biden approved major arms sales. Now: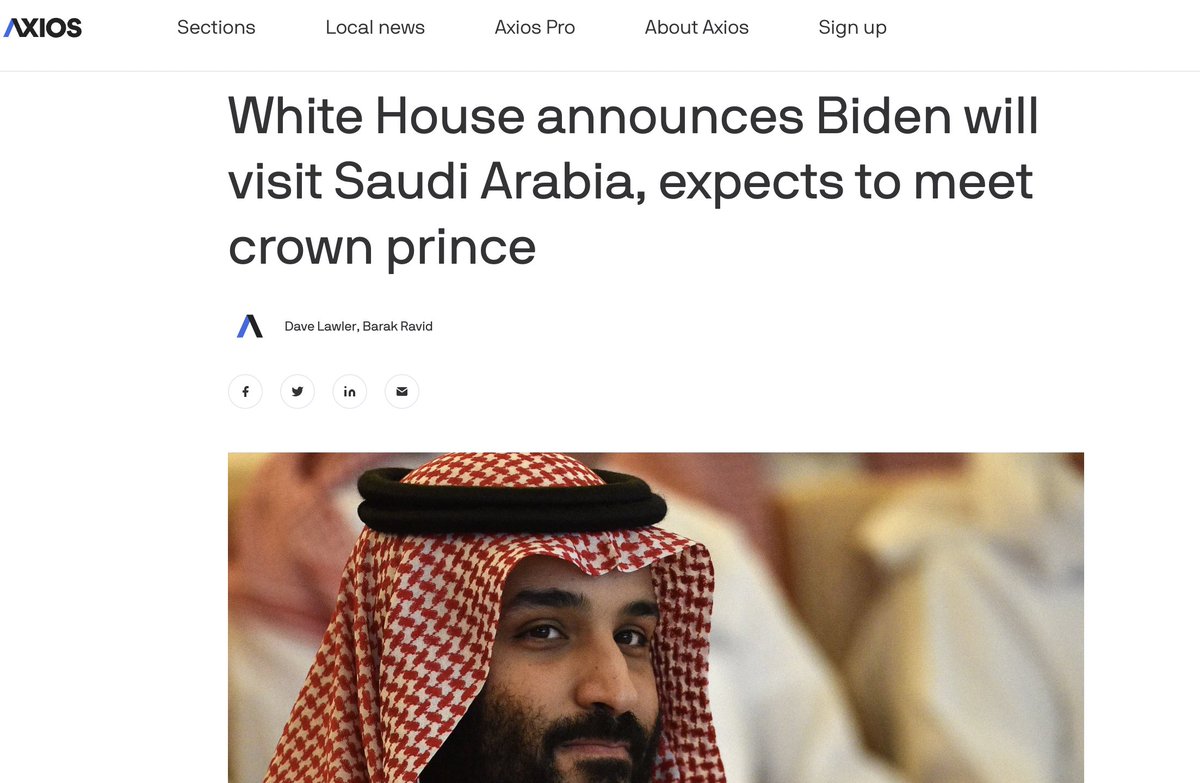 The excuse from Biden officials for why Biden began embracing and coddling the Saudis from the start is *exactly* the same as Trump's rationale. Yes, it's bad Khashoggi was murdered and they starve Yemenis, but the benefits we get from this partnership are too great to stop.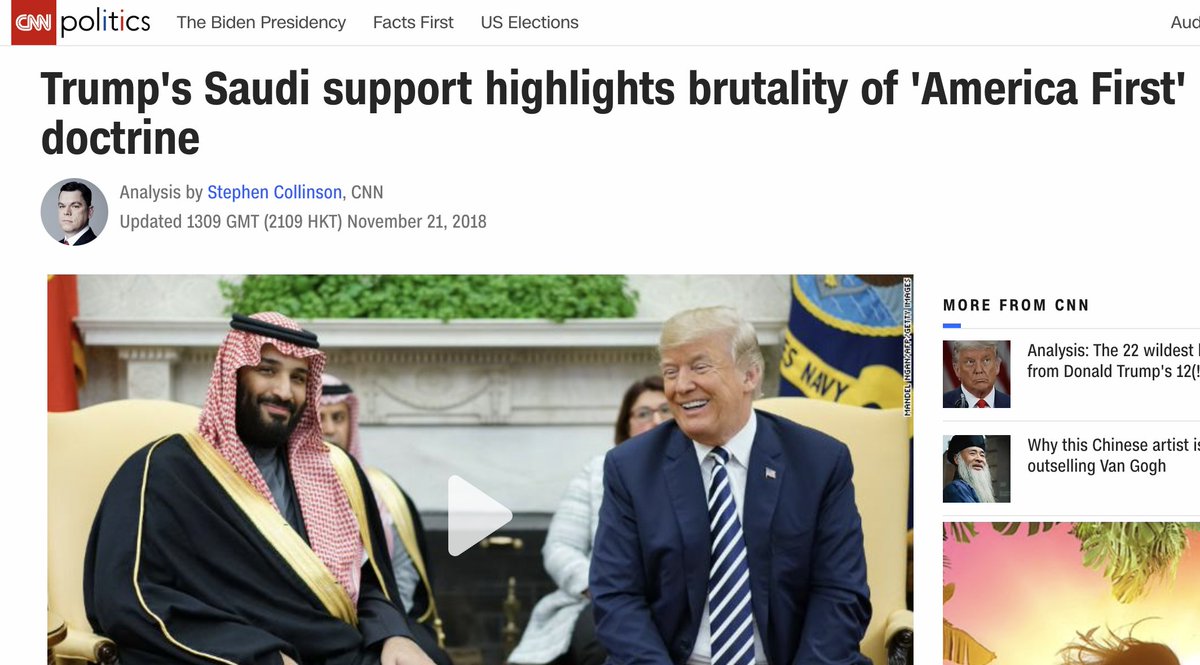 It's amazing to look to 2018, to see how the entire DC political and media class reacted *with revulsion* when Trump did *exactly* what Biden is now doing: ignoring the Khashoggi murder and destruction of Yemen because of the benefits to US. Here's the summary of what they did: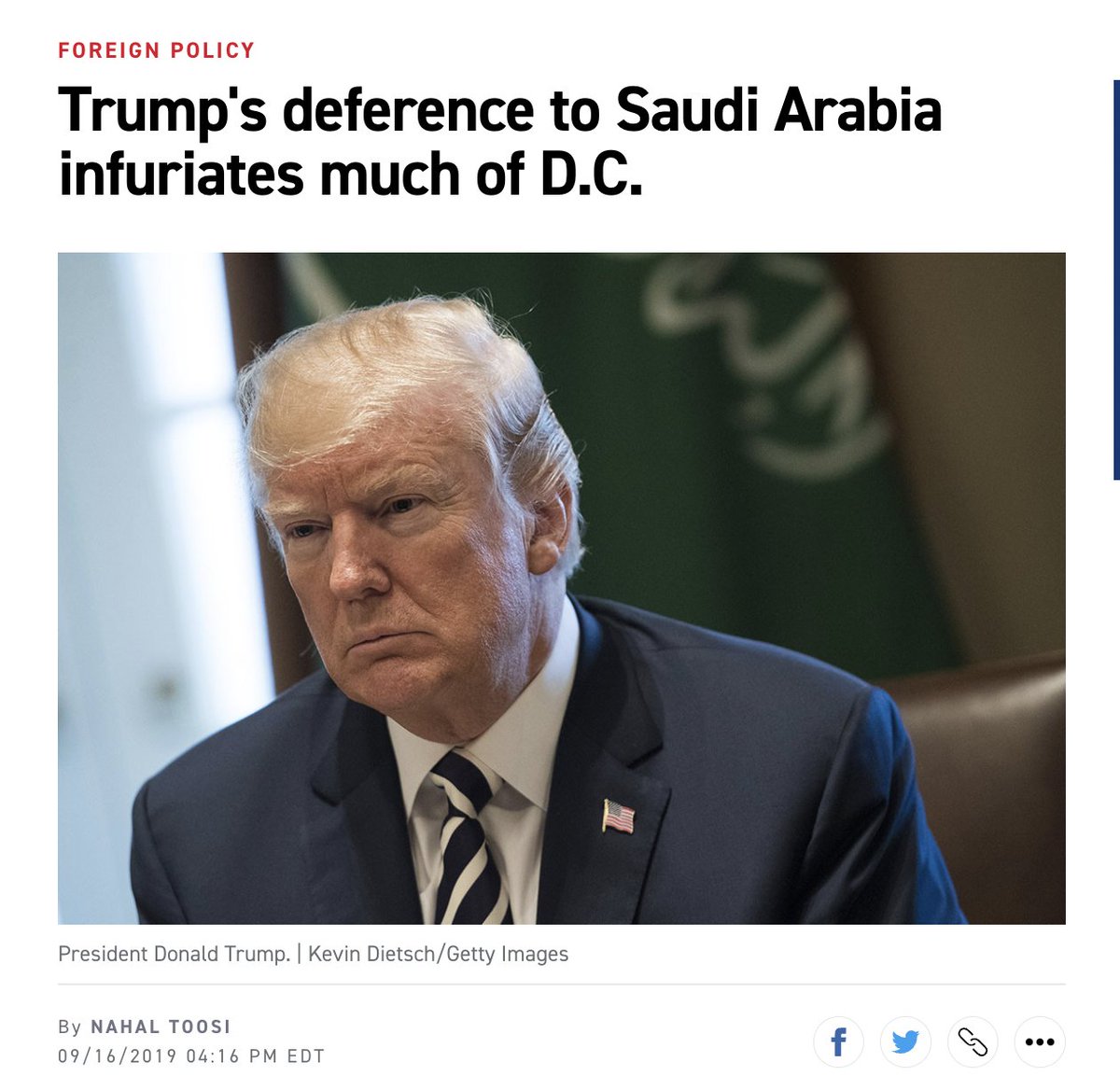 It's really worth looking at what specific DC elites said after Trump announced he'd continue to embrace Saudi despite Khashoggi and Yemen. You'd never hear such bile now toward Biden.
They invented a fake narrative: Trump was a singular monster: for upholding US tradition.
As Biden sells arms to the Saudis and prepares to meet MbS, join me in looking at some specific examples of what was said — and how it was said — about Trump doing the same.
To start: John Brennan, the NYT, Acosta, and Acosta again:
Next up: the fiery rage, fury and indignation of Sen. Tim Kaine, Ana Navarro, Lawrence O'Donnell, and Carl Bildt. Just read this. Try to imagine these fraudulent hacks uttering even a tiny fraction of moral rage toward Biden for doing the same exact thing (which Obama and Bush also did):
The rage over Trump's refusal to sever ties with the Saudis — despite Khashoggi's murder and their destruction of Yemen (with US and UK weapons) — intensifies with VP Kamala Harris (now herself selling arms to the Saudis!), Richard Engel, Ken Roth, and Stephen King.
More righteous disgust and moral indignation — how could someone be so monstrous as to partner with **the Saudis** as Trump is doing? — courtesy of Dan Rather, Rob Reiner, Publisher of Washington Post (who employed Khashoggi), and Charles M. Blow. Smell the moral righteousness:
Next up: John Oliver (Trump shows "arms deals are more important than a butchered journalist!"), Jim Sciutto (same), NYT Editors (Trump *destroys US values, embraces Saudi values*); CNN WH reporter Stephen Collinson (Trump announced: you can murder if you have oil and money!).
So often, this was the core fraud of Trump-era media discourse. They depicted acts all presidents have done (meeting with Egypt's dictator, ignoring atrocities by allies, hugging despots), and pretended Trump pioneered it, a singular monster among noble Presidents.
My favorite:

One last time: don't try to justify this by claiming everything changed because of Ukraine.
Biden refused to sanction MbS in Feb, 2021. He ordered a major arms sale to Saudis in Oct, 2021. And there's no argument that buying Saudi oil now is more moral than buying it elsewhere.
And for good measure: in 2009, as Egyptians began rising up against their long-time dictator, the US-supported-and-protected Hosni Mubarak, Hillary pronounced him "my good friend" and defended him.
And it was Obama who enabled the Saudis to destroy Yemen with endless support.
But by all means: continue to write your columns spewing moral outrage at golfers who decided to play in a Saudi-funded tour.
It's much easier to deal with that than confront the reality of what the US — not Trump, but the US — has been doing for decades with Saudi despots.
This article has been compiled from the tweet thread originally tweeted by Glenn Greenwald (@ggreenwald).