National Security Search Engine: Why has Google hired so many ex-CIA agents to run its most important internal and external operations.
Google is hiring tons of former CIA personnel, primarily in its most sensitive and arguably most important fields such as security, content moderation, along with trust and safety.
This has huge implications for the internet & what the world sees and doesn't see in searches.
A few examples-
These actions are highly questionable, as one of the main functions of the CIA is to spread false information, as even ex-CIA boss Mike Pompeo casually admitted (see video).
And let's not forget about the drone wars, the coups and network of torture centers the CIA oversees.
Here's former CIA agent John Stockwell talking about how the agency infiltrates media and spreads propaganda.
Many people from this organization are deciding security and content policy for Google is deeply concerning.
My favorite guy I found was this person, who has one of the all-time greatest LinkedIn profiles-
In previous investigations, I also found dozens of former CIA operatives working in Facebook's most politically sensitive and influential departments.
Twitter has also recruited heavily from government agencies, especially the FBI. Check out my investigation here.
I also describe what I call the "NATO to TikTok pipeline" in this article, which details how TikTok has been hiring a ton of individuals directly from NATO (again in fields that directly alter the app's outlook and content like security along with trust and safety).
Google, however is different. For one, it's far bigger and more important. Secondly, it was nurtured from the very start by the CIA, who reportedly funded and oversaw Sergey Brin's research work that would lead to Google's founding.
The CIA actually held significant shares in Google, selling them in 2005.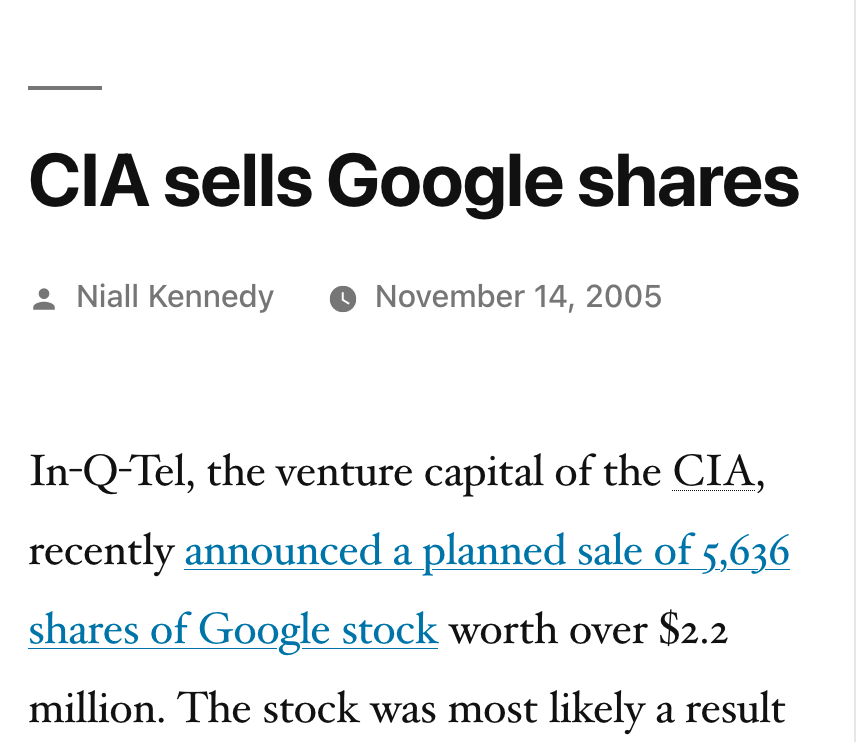 Thus, perhaps the fourth estate and the national security state were not so distinctly separate as we thought. Check out the article here.
(This article has been compiled from the tweet thread originally tweeted by Alan MacLeod (@AlanRMacLeod) on July 26, 2022.)
(Featured image source- mintnewspress.com)