Just saw The Battle at Lake Changjin. Through-the-looking-glass experience, where the good guys are the plucky underdog Chinese and the bad guys are the powerful Americans. It's the #1 movie in the world, and seemingly meant to prepare for conflict.
They want to fight because they think they'll win. "Combat was formerly seen as a threat to the Party's hold on power. China's military was not in a position to win…Now it is perceived as a way to strengthen the CCP's position."
China has truly shifted from peaceful internationalist capitalism under Deng/Jiang/Hu to militarist nationalist socialism under Xi. Their head is just in a completely different place from the US. Totally asymmetric matchup in terms of civilizational will.
A weird thing about Lake Changjin or Wolf Warrior 2 (biggest Chinese movie of 2017) is the use of Hollywood film techniques that you'll recognize from Saving Private Ryan or Rambo, but with the Chinese as the good guys and the Americans as the bad guys.
It may not even turn out to be a long Cold War between China and the US. It may turn out to be a short hot one, followed by internal US conflict. Polls show Americans mainly want to fight each other these days, not folks from other countries.
Of course, the obvious counterargument is that many war movies are US propaganda. The military actively works with Hollywood on films like Transformers. The default is Rambo, but even the cynical ones are still recognizably American. A pro-China slant is a new thing to see.
China has accomplished a lot economically over the last 40 years. And unfortunately the US is less of a model today, at home and abroad. But we want an order that supports international peace and trade, not war between rising and falling powers.
The closest thing to a coherent China strategy that I've seen articulated by the US is the Longer Telegram piece. It's not irrationally bellicose, it's more realistic than most. But it does assume the current US order can be maintained indefinitely.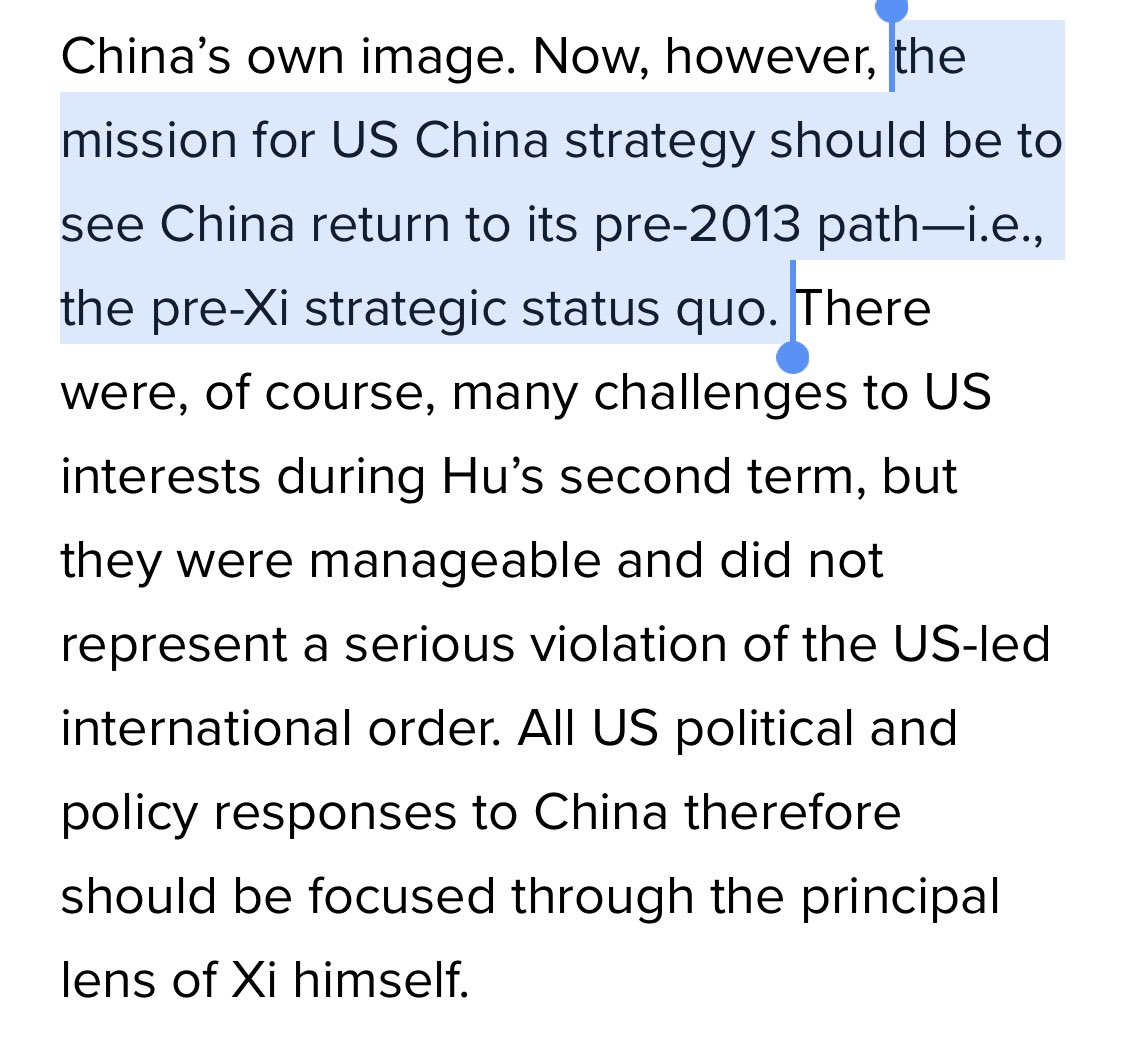 Another perspective is from Kishore Mahbubani, Singapore's former UN ambassador. One may have to set aside ego to read it, but it sets out a different approach: accept that China is rising, avoid war, renegotiate the order.
I agree with many points in his work, but also think it's hard to manage military decline. And an unchecked China would indeed be a fearsome beast. You do not want to see the Chinese drone armada cresting the horizon towards your country in 2035.
One argument is: the US is invading the world for democracy, but post-Mao China has shown little interest in exporting ideology to other countries. It's interested in trade. However, software is where economics & ideology coincide. Run Chinese software, accept Chinese ideology.
That is, all trade now involves software. And all Chinese software with any cloud component is under the Chinese state's control at its discretion. This is how the seemingly apolitical export of goods gets intrinsically tied up with ideology. Software != sofas. Who has root?
Conversely, if you go back and look at the Longer Telegram, all four pillars are showing weakness. The US military lost on COVID & Afghanistan, the US dollar is inflating, the US govt is attacking tech, and the US rep for rule of law has taken a huge hit.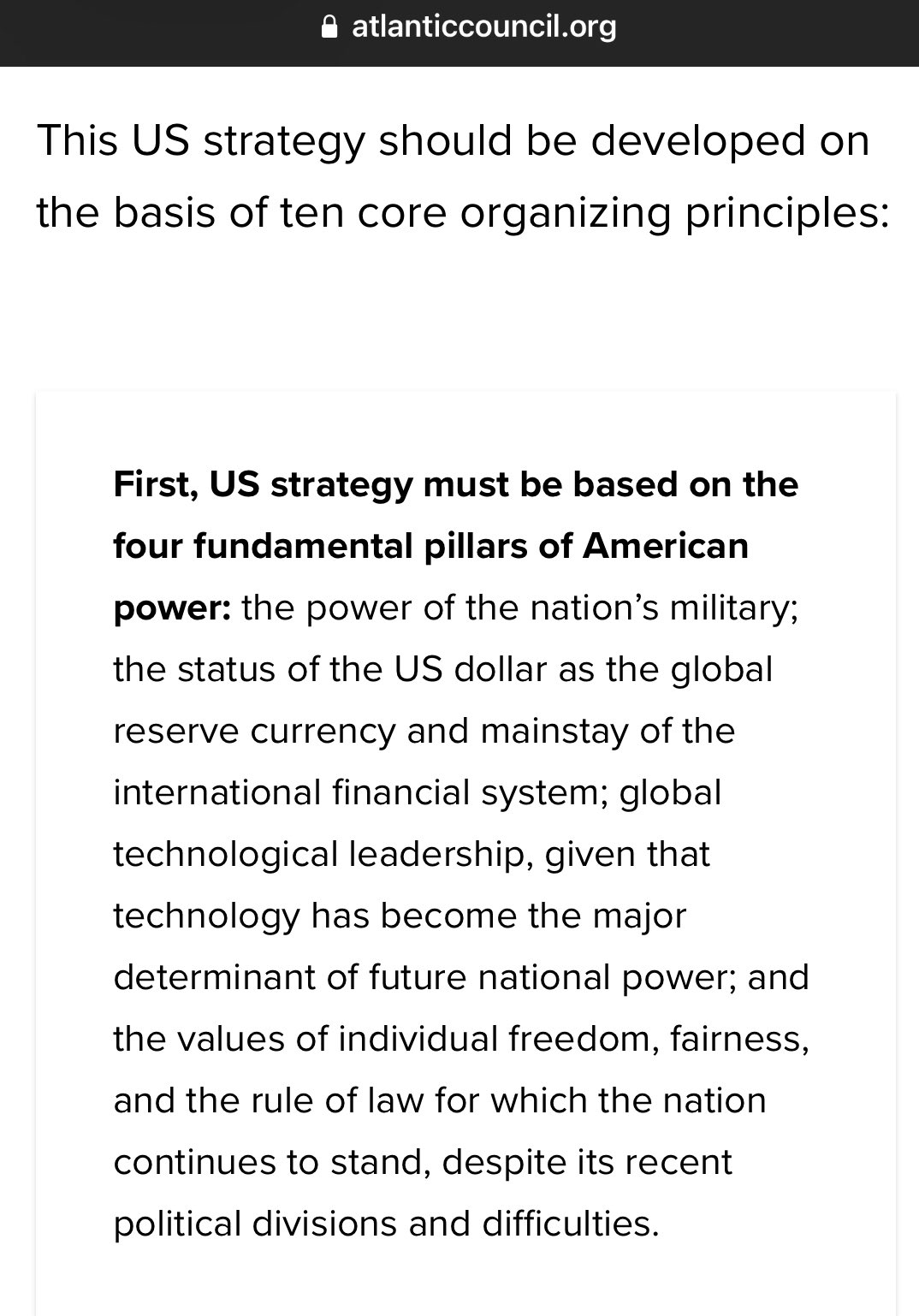 For these reasons I don't think the current order holds up long, nor do I think an unchecked Chinese state would be a benevolent overlord. We'll need to assemble a new coalition, a decentralized center. As positive sum as possible, but not naive.
(This article has been compiled from the tweet thread of Balaji Srinivasan @balajis)