Soldiers who served under him remember him motivating them frequently, saying, "I will never ask you to do anything that I am myself incapable of doing." Every part of this article is history which many are not aware. Please make some time and do read about the Upanishad Expert.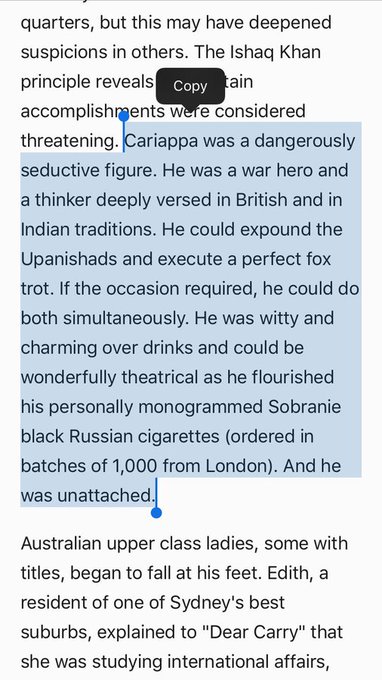 When Cariappa warned about possible Chinese incursion, Nehru said- "I think Gen. Cariappa is completely off the track mentally and otherwise." Please note, whether it is General Cariappa or General Thimmaiah, Nehru never gave respect for the men in uniform.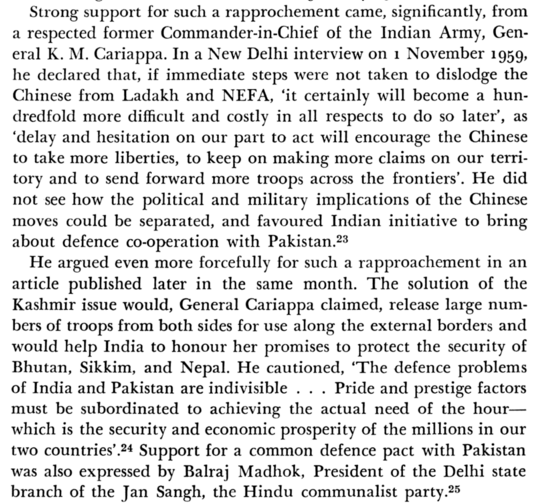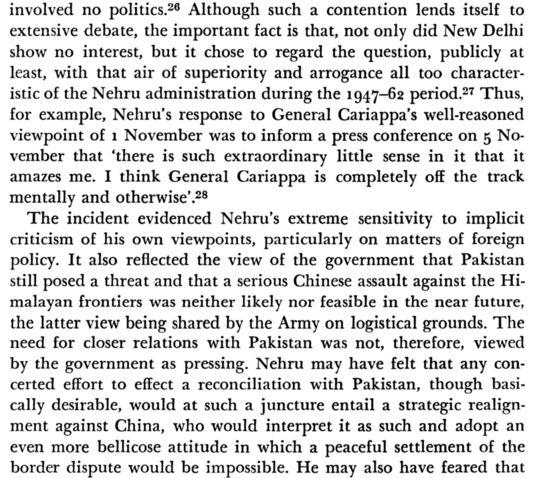 And General Cariappa built Indian Army under these circumstances. How many know Nehru consulted Edwina during Army Chief Selection? Read this fascinating story in the image.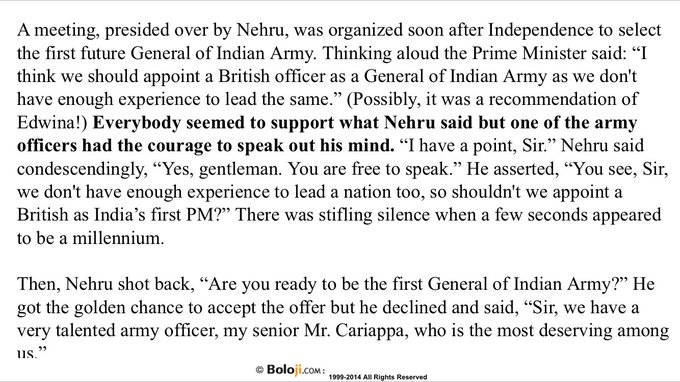 "I have a large number of good Muslim friends with whom I talk freely. In these talks some have given me, much to my sadness, the impression of their having their feet in 2 boats – India and Pakistan. Their loyalty seems to be primarily to Pakistan. This is a crime unpardonable."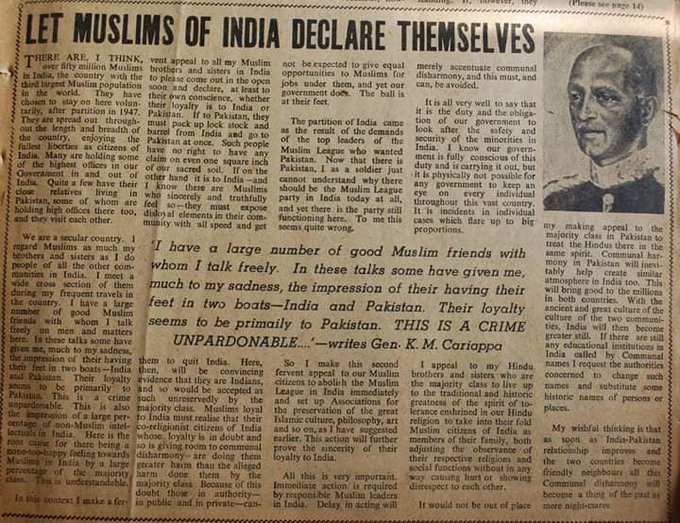 Field Marshall K M Cariappa – The legendary Army man on and off the battle field, on his Punyasmaran, a sincere tribute for our 1st and also 5 Star Rank Holding Field Marshal (Another is Sam Meneckshaw) on whose memory Army Day is celebrated.
Kodandera Madappa Cariappa was born on 28-Jan-1899 at Madikeri, Karnataka. He was widely acclaimed for his treatment of the Indian National Army's (INA) prisoners.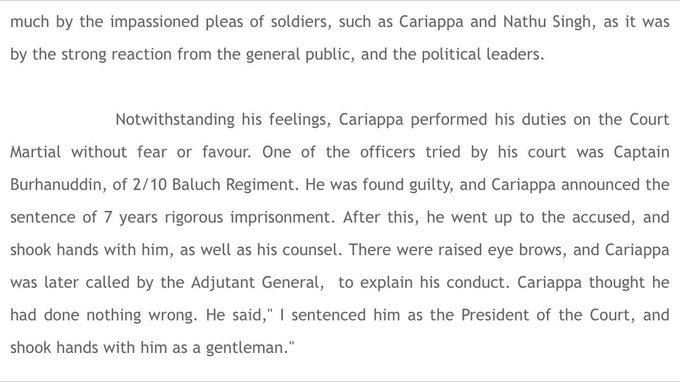 When Cariappa visited one of the camps that held INA prisoners, he was moved by the conditions in which they lived. He immediately wrote to the Adjutant General recommending that their living conditions be improved and to pardon some of those who were not guilty.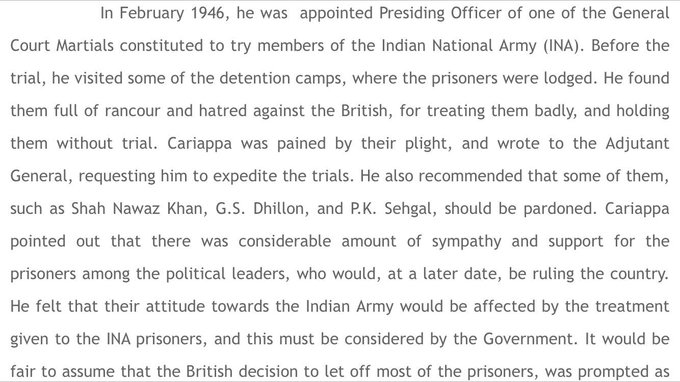 These included Colonel Prem Kumar Sahgal, Gurbaksh Singh Dhillon and Shah Nawaz Khan. Cariappa pointed out that these prisoners had considerable support from the Indian leaders, who would later rule the country. This led the British to release most of the prisoners.
The day Cariappa took over the reins of the Indian Army, 15 January 1949, was marked as official Army Day and celebrated annually. INA's slogan Jai Hind which means "Victory to Bharat", was adopted by Cariappa and later it became a formal phrase between personnel to greet each other. He also turned down the proposal to reserve vacancies in the Army for Scheduled Castes and Scheduled Tribes as had been done in other government services.
Towards the end of his tenure, Field Marshal Cariappa publicly aired his views on Bharat's preferred model of economic development. In October 1952, PM Nehru advised him in writing to give fewer press conferences and stick to safer subjects, implying that he should not play the role of a "semi political" leader.
Historians have speculated that one of the reasons Cariappa was appointed as the High Commissioner to Australia (1953-1955) was so that he could be kept away from national politics. Even in Australia, he went beyond diplomacy to repeatedly question the "White Australia" immigration policy in vogue since 1901. His campaign went a long way in shaping liberal thought in Australia and the policy was finally changed in 1973.
Infact, like many patriots, K M Cariappa also was disgusted at Nehru's governance, he publicly said "scrap Constitution, bring military rule". For a moment we see dictatorship here, but no, he was protecting his country and its citizens. Field Marshal Cariappa's 1970 remark is a case in point.
In 1965 war, his son, Nanda, was shot down over Pakistan. He was captured, held as a prisoner of war (POW). On realizing the identity of the wounded soldier at Kargil, Radio Pakistan immediately announced the capture of the younger Cariappa. General Ayub Khan himself contacted General Cariappa, who was living a retired life at Madikeri, his hometown, with information about his son's safety. When Ayub Khan offered to release his son immediately, Cariappa is reported to have scoffed at the idea and told him to give his son no better treatment than any other PoW.
Cariappa replied, "He is my son no longer. He is the child of this country, a soldier fighting for his motherland like a true patriot. My many thanks for your kind gesture, but I request you to release all or release none. Give him no special treatment."
Cariappa was also greatly disappointed when the government settled for a UN-brokered ceasefire on January 1, 1949. He sent a letter of protest to Prime Minister Nehru but stopped short of resigning. Instead, he took up the responsibility of transforming the army's identity from an imperial to a nationalist one.
A tireless worker who hobbies included reading and playing sports, Cariappa always led from the front, and by personal example. A strong believer in the power of personal communication, he would make it a point to spend time with his troops to ask them about their food, their comfort and whether they had received letters from home. Cariappa's health began to deteriorate in 1991; he suffered from arthritis and heart problems. He attained sadgati in his sleep on 15 May 1993, at the Bangalore Command Hospital.
(This article has been compiled from the tweet thread of seshapatangi1.)