BJP (Bharatiya Janata Party) has more often than not rewarded merit which has come to the fore in its ticket distribution, be it the urban body elections in Tamil Nadu or the UP elections, the largest assembly in the country. The BJP returned to power for a second term under CM Yogiadityanath with 255 seats while another 12 and 6 were won by its allies Apna Dal (S) and Nishad Party respectively.
Here's the heart-warming story of Ganesh Chandra Chauhan who won on a BJP ticket thereby proving yet again that the party is the foremost vehicle for political meritocracy today – at a time when other parties are either giving tickets solely to family members, die-hard loyalists, or dangerous criminals like Mukhtar Ansari, Atiq Ahmad and their families etc.
Chauhan defeated his nearest rival Alagu Prasad of Om Prakash Rajbhar's Suheldev Bharatiya Samaj Party (SBSP) with a margin of 10,553 votes to win the Dhanghata constituency. Chauhan highlighted the fact that ordinary workers are given the platform to rise up the ranks in the party.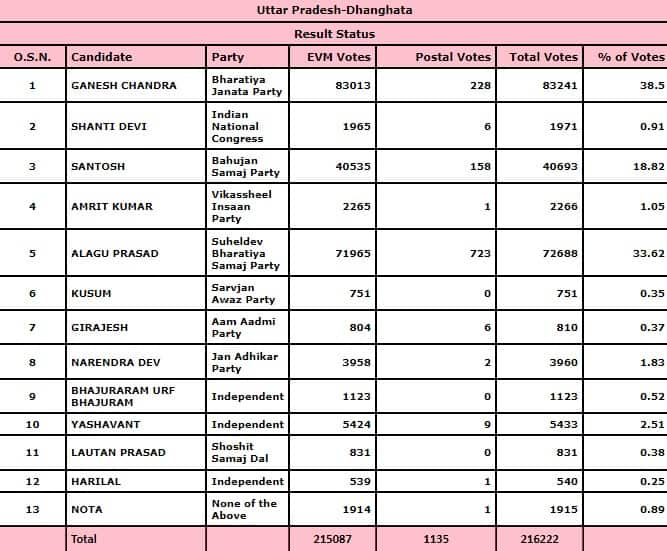 "The party and voters gave a message that even an ordinary worker can reach greater heights. Several people from Bihar live in Sant Kabir Nagar. When I was given the ticket, people came to meet me, they were emotional. The day I won, rickshaw pullers came and hugged me", the BJP MLA-elect said in his interview with news agency ANI.
It must be mentioned that Chauhan used to serve puri-sabji to rickshaw-pullers during the pandemic. Chauhan also brought forth the point of PM Modi washing the feet of sanitation workers in Prayagraj to show that those who keep the society clean cannot be considered lowly.
While on the one hand, BJP has been facilitating even ordinary workers to rise through the ranks, on the other, parties such as Congress refuse to let go of the Nehru family despite a barrage of defeats. Rahul Gandhi's track record of electoral defeats is all too well-known. His sister Priyanka Vadra, whose qualification as an 'Indira Gandhi look alike' was supposed to entice voters, failed to deliver in the recently concluded assembly elections.
With every passing election, the Gandhi-Nehru family-led Congress only buries itself deeper. In the context of meritocracy, the lesser said about regional parties the better. Be it the DMK, NCP, Shiv Sena, RJD, SP, or JD(S) among others, the dominance of one family and perpetuation of the dynasty is evident. Other than family members only sycophants make the cut in these parties.
The biggest advantage for BJP, unlike the others, is that it is a cadre-based party where even the party president doesn't come from one family alone. PM Modi himself is an example of meritocracy being rewarded by the saffron party. If sycophants like Mani Shankar Aiyar, who had remarked that Modi can only distribute tea and never become the PM, had asked questions of the 'first family' rather than taking potshots at humble backgrounds of BJP leaders, the Congress wouldn't have been in the dire situation it finds itself today.
People like Kapil Sibal and Ghulam Nabi Azad who have time and again voiced their displeasure are either not finding takers for their advice or are being ignored. "As Ghulam Nabi Azad said yesterday a leader must have the attributes of accessibility, accountability, and acceptability. Ever since 2014, there is an absence of accountability, decreasing acceptability, and little attempt to increase accessibility. That's the real problem", The Indian Express has quoted Sibal as saying.
It is high time parties indulging in dynastic politics realize that the citizens of the country have moved beyond "dadi ki naak" (grandmother's nose) and "so and so was my father, grandfather" etc. and are now looking for candidates who represent their aspirations, are one from among them, and would work in their interests.
(Featured Image Source: ANI)