The horrendous killing of Lakhbir Singh (30), an SC Sikh man, at the farmers' protest site on the Singhu border has sent chills down the spines of several people with many equating the gruesome incident to a Taliban-style killing. It is believed that Lakhbir was staying with a group of Nihang Sikhs on the Singhu border for the past 3 to 4 days.
Lakhbir Singh accused of desecrating Sikh holy book
As per news agency IANS, the incident took place in the wee hours of Friday on the Singhu border dividing Haryana and Delhi when Lakhbir, a resident of Tarn Taran district in Punjab, was allegedly seen carrying the Sarbloh Granth – a Sikh religious scripture – by a Nihang Sikh man.
When confronted, Lakhbir was unable to answer a barrage of questions. This lead to an argument, drawing the attention of other Nihangs present there. The fracas occurred at around 3 am in morning.
Lakhbir was then accused of 'desecrating' the Sarbloh Granth. The arguments soon turned violent and the man's hand was allegedly chopped off amid the chaos. Since then, several gruesome videos surfaced on social media that depicted the brutal act of the crime.
The cops received the first information about the incident at around 5 am, and when they reached they were initially not allowed to take the body down and none of the crowd gathered at the site cooperated with police.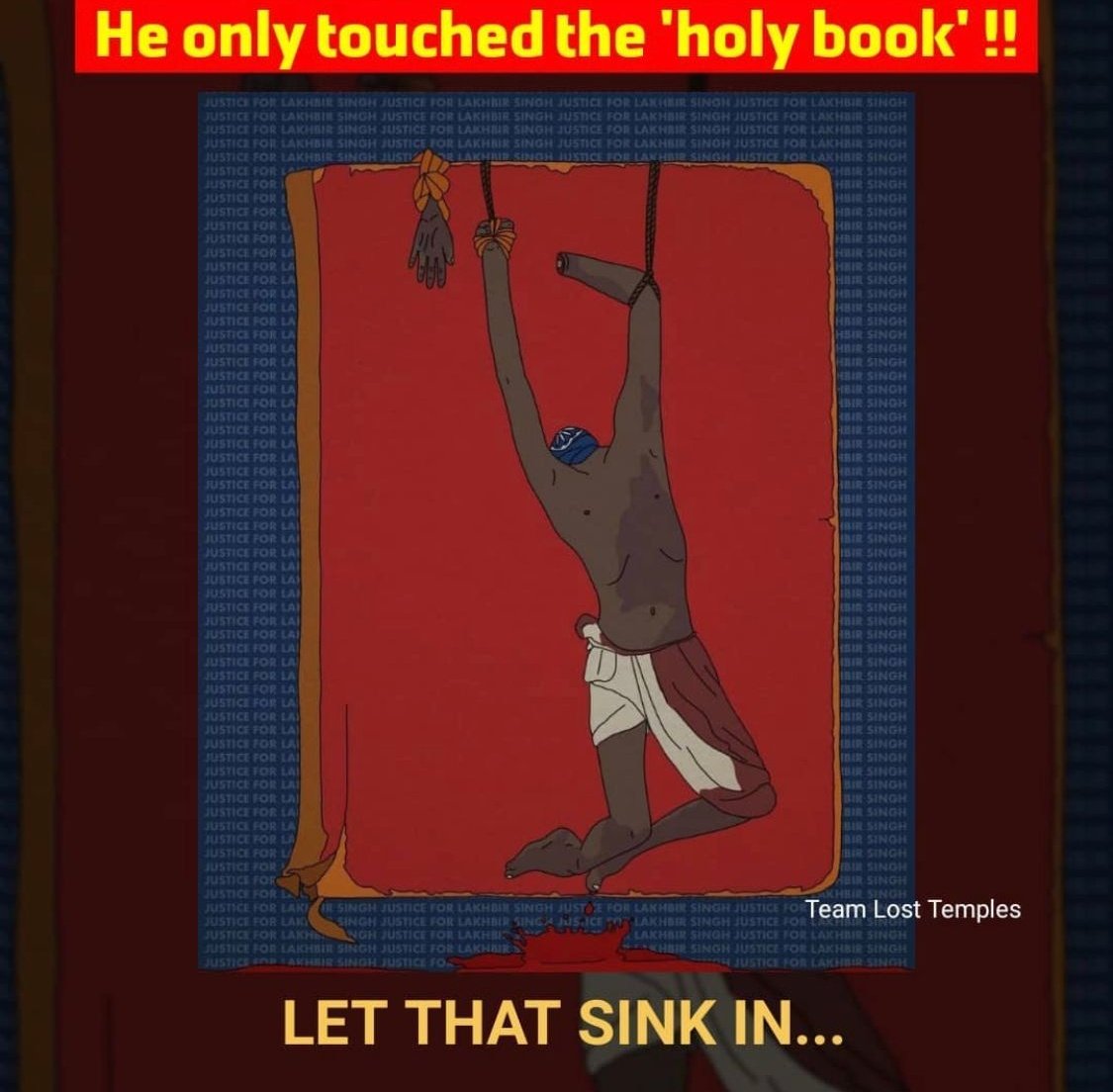 No regrets says Lakhbir Singh's alleged murderer
In the meanwhile Sarabjeet Singh, the Nihang Sikh who has supposedly taken responsibility for the gruesome murder and surrendered to the police stated that he had no regrets and that he would even repeat his act if anyone 'dared to commit such sacrilege' again. The Haryana police arrested a second suspect named Narain Singh from Amritsar.
As per reports, three of the accused have even been felicitated with garlands in the gurudwaras in their villages. Visuals of Narain Singh being garlanded with currency notes and offered a robe of honor have been captured on camera. Narain, who surrendered on Saturday, is reported to have informed the police that while Sarabjit cut off Lakhbir's wrist, he (Narain) was angered, and hence he chopped Lakhbir's foot as well.
Similarly, Fatehgarh Sahib natives Govindpreet Singh and Bhagwant Singh, who surrendered before the Kundli police, are said to have been felicitated at a gurdwara as per pictures circulating on social media.
Family members raise questions regarding Lakhbir Singh's murder
The estranged wife of the slain man, on the other hand, said that Singh had great respect for Guru Gobind Singh and hence he would never indulge in such an act. His family members have also said that Lakhbir wasn't the kind of person who would venture out alone while adding that he didn't even have enough money with him to travel as far as Delhi. The family wants a thorough investigation into his murder.
Lakhbir's uncle Harnaam Singh who adopted him after the death of his parents has been quoted by The Print as saying "My son was the biggest believer of Guruji. I want to ask the Nihangs… they could make a video of them killing my son, but the allegations on which he was killed, do they have any proof of that? What proof did they have that Lakhbir desecrated the Sarbloh Granth? You want me to believe that there were CCTV cameras at Singhu, thousands of people with phones, such a big incident happened, and nobody made any video of Lakhbir running with the Granth?"
A Sri Guru Granth Sahib Satkar Committee delegation comprising of 6-7 members that visited the victim's family has defended the lynching while accusing Lakhbir of being a government agent who they said was involved in a 'conspiracy' to defame the ongoing 'farmer' protests. Committee leader Tarlochan Singh said, "It's our duty to not just follow but protect Guru Granth Sahib. We can give or take lives for that".
SIT to probe Lakhbir Singh murder case
Interestingly, the Charanjit Singh Channi Punjab government has constituted a Special Investigation Team (SIT) to probe the circumstances that led to the murder of Lakhbir Singh. However, since Singhu is in Haryana questions arise regarding the jurisdiction of the Punjab Police in the matter.
Reporting on the development, OpIndia notes:
It has been reported that SIT has been formed for expeditious enquiry into the matter. However, it could be a matter of legal debate about the extent of jurisdiction of Punjab police in the matter of investigation, as the case took place in Haryana. Notably, attempts are being made from the first day to divert investigation and create confusion.
…Punjab Home Minister Sukhjinder Singh Randhawa said that the government had started investigating the case as Lakhbir Singh was a resident of Punjab. Moreover, the activities of Nihang leader Aman Singh has a direct bearing on Punjab.
As per the notification, Additional Director General of Police (Bureau of Investigation) Varinder Kumar will head the SIT, comprising two other members namely Ferozepur Range Deputy Inspector General Inderbir Singh and Tarn Taran SSP Harvinder Singh Virk.
It is pertinent to note that National Commission for Scheduled Castes (NCSC) Chairman Vijay Sampla has written to acting Jathedar of Akal Takhat Giani Harpreet Singh saying Lakhbir Singh can't be held guilty till it is proven so by the police investigation. He has also stated that Lakhbir's cremation should be done as per Sikh rituals. He pointed out how a large number of SC Sikhs had been targeted by missionaries in Punjab border districts.
Sampla further highlighted the objection raised by some members of the Satkar committee to allow Lakhbir's cremation to be conducted as per Sikh customs while emphasizing that Singh's bhog should be conducted in accordance with the Sikh rehat maryada.
(With IANS inputs)