An open letter, signed by 15 retired judges, 77 former bureaucrats and 25 army veterans, have slammed Supreme Court Judges Surya Kant and Pardiwala for the "unfortunate and unprecedented comments" comments on Nupur Sharma and for pronouncing her guilty even before trial.
The letter called out the two judges for surpassing their "Laxman Rekha", causing shockwaves in the country and outside and compelling the signatories to issue an open statement.
The letter said that the observations made by the two Judges had no connection jurisprudentially with the issue raised in the petition and it transgressed "all cannons of the dispensation of justice".
"The comment made by the SC bench that Nupur Sharma is "single-handedly responsible for what is happening in the country" has no rationale." the letter said adding that by making such an observation, the Court virtually exonerated "the dastardliest beheading in broad daylight" and flared up emotions by diluting the gravity of the gruesome act that was committed in Udaipur.
The letter also pointed out that only the Hon'ble Supreme Court has the jurisdiction to transfer or club the FIRs/ cases registered in other States. Yet, the two judges refused to take cognisance of Sharma's petition, forced her to withdraw it and asked her to approach appropriate forums (High Court). "Such an approach", the letter read, "deserves no applause and impacts the very sanctity and honour of the Highest Court of land."
Here is the full statement.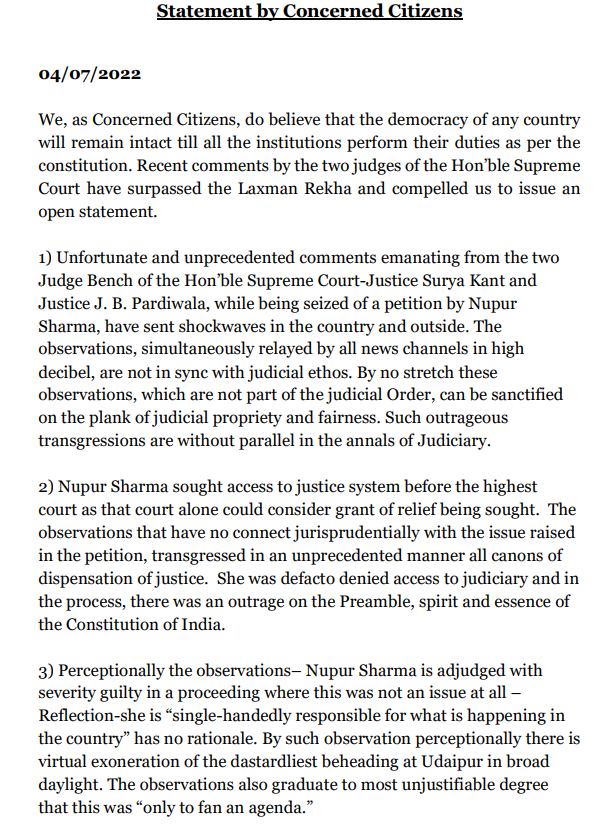 (This article was published on thecommunemag.com on July 5, 2022 and has been reproduced here.)