The demographic aggression in Uttarakhand has taken yet another dangerous turn. An article in today's Dainik Jagran informs that a Muslim-only colony is being built in Lalpur village, Rudrapur block, Uddham Singh Nagar district of Uttarakhand. This area is right on the border with West UP districts like Rampur and Bareilly.
Posters and banner in UP towns like Bilaspur and Bahedi pronounce – "First ever Muslim colony in Lalpur (Rudrapur). Plots from 1000 to 2000 sq. ft. available. 50 varg gaj plot for Rs. 2,50,000. Payment in easy monthly installments."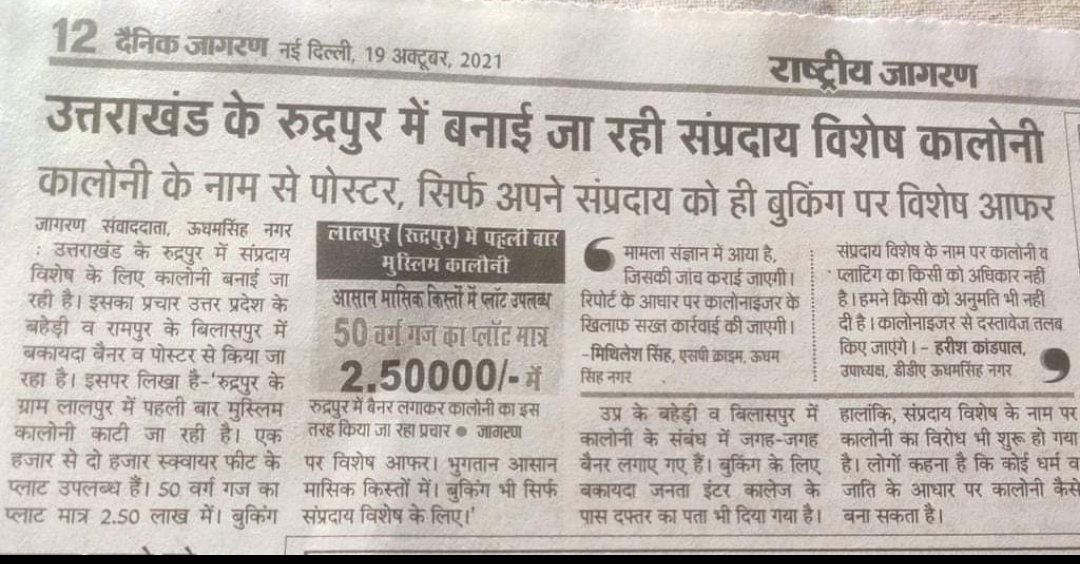 An office address has been provided near Janta Inter College for making the plot bookings. Locals have started opposing the colony asking how someone can build a colony exclusively for a religious community.
Uddham Singh Nagar district officials said that no such permission has been given and action will be taken against whoever is behind this colony project.
There has been massive build up of Muslim population in lower Uttarakhand over the last few decades. As per Census 2011, the Muslim population is well over 33% in eight districts that fall in northwest UP and the adjoining district of Hardwar in Uttarakhand – this pocket of intense Muslim presence and growth as has been analyzed in the 2011 census article series by Dr. JK Bajaj, one of the leading demographers in Bharat. The numbers are bound to be higher once the 2021-22 census data is out.
Allied with a surge in mosque-madrassa construction along the international border in UP and Uttarakhand, it is clear what Islamic fundamentalists are trying to achieve. They want to carve out a Muslim dominated corridor stretching from Kashmir to Bengal.
Thus, it is not without reason that locals of Uttarakhand are demanding a tough land law that prohibits outsiders from buying land in the state. A hashtag #उत्तराखंड_मांगे_भू_कानून (Uttarakhand demands land law) has gained popularity, and there are even demands for a inner line permit like system which some states in the North East have.
Exoduses of Hindus from areas as widespread as Kairana in UP, Sundar Nagari in Delhi, Bharuch in Gujarat, Malvani in Mumbai, border districts in West Bengal and literally any place where the Muslim population crosses a critical mass, shows that Hindu fears are well-founded.
The clock is ticking. Hindus have maybe a decade or two at best to prevent the kind of inorganic demographic transition which will turn our devbhoomi into something totally alien.