An out of control truck laden with smuggled cattle rammed into a hut on the UP-Bihar border yesterday, crushing 7 members of one family to death, reports Hindi daily Jagran.
The incident occurred in Maldah village of UP's Chandauli district. Agitated villagers pelted stones to protest against police lethargy over cow smuggling which is rampant in the area. They did not allow the dead bodies to be taken for cremation, demanding presence of higher authorities.
Kallu Ram and his family lived in a hut, adjacent to the road. The cow smugglers' truck was being chased by a UP-100 police team, when the speeding driver lost control. Deceased include Ramkishun (25), Suhagin (22), Golu (8), Nisha (10), Moni (6), Molu (5), Sama devi (60). Kallu Ram was sleeping elsewhere so escaped. Now only one son and daughter-in-law, who are working elsewhere, are left in his family.
The truck driver managed to flee. Many cattle were found brutally tied up and stuffed into the mid-size truck. District administration has announced compensation of Rs. 5 lakh each for the deceased's family.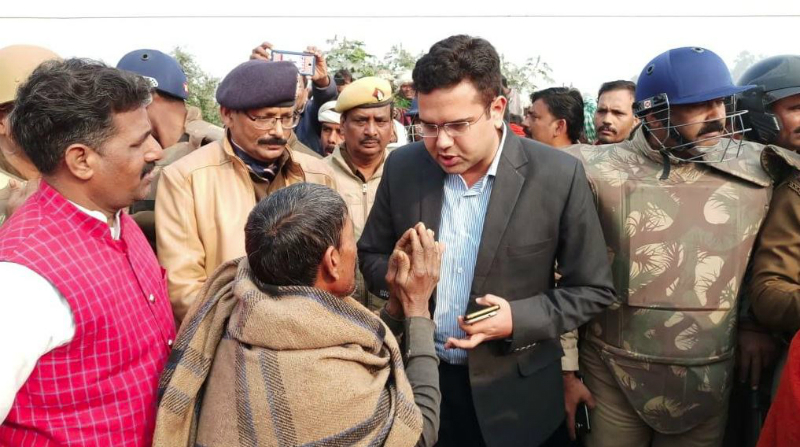 Villagers alleged that despite several alerts about cow smugglers being active in the area, police failed to take note. The local police rushed to the spot but were chased away by irate villagers. Additional forces have now been rushed to replace the local police. Action has been taken against several police officers for dereliction of duty.
While Hindi media has covered the incident in depth and atleast reported the name of the deceased, English-language Times of India in its cursory report has failed to even name the dead and has also cast doubt over the truck being one of cattle smugglers.
---
Did you find this article useful? We're a non-profit. Make a donation and help pay for our journalism.