Should we say that these brands learn nothing from the mistakes of "forced secularism" by other brands or do they commit these horrendous cultural assaults purposely for some quick publicity?
Earlier this week, traditional clothing brand Fabindia attracted major backlash from Hindus from all walks of life after just days ahead of Diwali, they launched an ad campaign for their new collection which was branded 'Jashn-e-Riwaaz', with the accompanying image showing 4 women, all without bindis.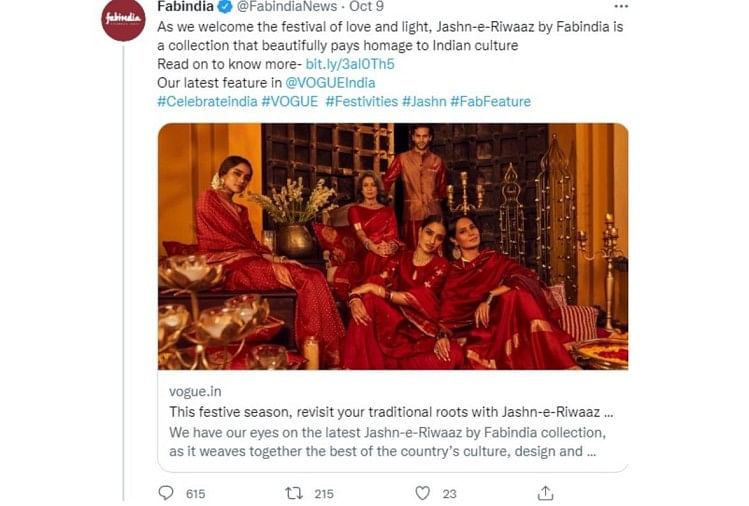 This misadventure didn't sit well with most Hindus who took to social media to voice their protest at the appropriation and erasure of a Hindu religious festival. The hashtag #BoycottFabindia started to trend in no time and was trending for two days. Many regular customers of the brand vowed not to buy from Fabindia again. 
BJP MP Tejasvi Surya also took to Twitter to condemn this cultural appropriation in the strongest words.
Padma Shri Awardee and current Chairman of Manipal Global Education, T. V. Mohandas Pai also expressed his disapproval in no uncertain terms.
Ex-Foreign Secretary Kanwal Sibal also called out the chicanery of those trying to defend the ad campaign.
Fabindia was founded in 1960 by John Bissell, an American working for the Ford Foundation's New Delhi office. The current Chairman of the brand is William Nanda Bissell. It has also been revealed that in 2019, FabIndia had appointed Zeno Group as its digital advertising partner, headed by Managing Director Rekha Rao Gulrays who is also the co-founder of Katha Kathan, an organization routinely promoting Urdu literature.
Rekha Rao also has an affinity for using her Twitter account for cracking Hinduphobic cow-urine jokes and hating on Prime Minister Modi.
Rekha Rao is married to one Jameel Gulray who is an ardent promoter of Urdu poetry and literature.
After the massive backlash, Fabindia deleted the tweet promoting "Jashn-e-Riwaaz" as its collection for the festival of love and light.
"Our current capsule of products under name Jashn-e-Riwaaz is a celebration of Indian traditions. The phrase means that, literally. The capsule is not our Diwali collection of products. Our Diwali collection 'Jhilmil si Diwali' is yet to be launched. Please keep a look out," said the Fabindia spokesperson.
However, the face-saving exercise was quickly exposed on social media as the now deleted publicity material for 'Jashn-e-Riwaz' collection clearly stated that it was welcoming the 'festival of lights', which is the sobriquet Deepawali has acquired among the English-speaking class who have probably forgotten that for most Hindus the festival celebrates the triumphant return of Bhagwan Ram and Maa Sita to Ayodhya.
The Jashn-e-Riwaaz collection has now been taken off FabIndia's list on their official website. Meeting an unexpected retaliation from the Hindu community, the brand has now become so vigilant about the nomenclature of their products that they were quick to correct journalist Pallavi Ghosh when she referred to the new Diwali collection as 'Jhilmil-e-Diwali'.
While Fabindia is trying to correct its mistake and woo back its Hindu patrons before Diwali, Hindus must not forget and forgive this faux pas. If people had not raised a hue and cry, Jashn-e-Riwaaz might well have caught on as a new nick-name for Diwali. But this is not an isolated incident. Other big brands like Tanishq have also been caught on the wrong foot, trying to distort Hindu festivals/traditions or demean and sermonize Hindus in some way or other.
This is not the first time that FabIndia made it to the headlines for the wrong reasons. In February 2018, the Khadi & Village Industries Commission, Govt. of India had sued the brand for using the Khadi brand without their permission and demanded Rs. 525 crores in damages for illegally using the trademark and selling clothing under the khadi tag. In August 2018, representatives of FabIndia confirmed that they will not use the word "Khadi" or any trademark related to it in any of their products without informing KVIC; the case is pending in the Bombay High Court.
In 2015, Union Minister Smriti Irani had noticed a camera in the trial room of a FabIndia outlet in Candolim, Goa and four people were charged in the case. The same year, another incident was reported where police had arrested a salesman at Fabindia's Kolhapur outlet for secretly filming a lady customer.
But more than companies and brands, it is the advertisement industry which has acquired a distinctly Hinduphobic tinge, as the influence of 'woke' HINOs grows in that space.
The battle to reclaim our Dharma, heritage and civilization is going to be long and uphill. Raising our voices in protest is a good first step. But now we have to focus on long-term institutionalized solutions as well.