Attacks on Hindus and Hindu Dharma, both in Bharat and overseas, are frequent and unrelenting. In many regions of the world, this persecution is like a genocide slowly unfolding before our eyes. For decades, the true depth and breadth of these attacks, driven by disturbing anti-Hindu bigotry, have been ignored by the world. From murders, forced conversions, land grabs, assault on festivals, desecration of temples and murtis, hate speech, sexual violence to institutionalized & legal discrimination, Hindus are facing an increasing assault on their very existence along with an unprecedented Hindu hatred.
In this weekly summary for the period from 7 November to 13 November 2021, we hope to provide a snapshot of such crimes and hopefully awaken more people around the world to this human rights crisis:
Bharat
1) The brainwashing of Hindu students continues unabated in our schools. Students of St. Mary's School in Tohana city in Haryana's Fatehabad district performed an extremely derogatory Ram Leela skit, a clip of which has gone viral online inviting condemnation from all quarters. The students are seen parodying Sri Ram, Laxman, and Maa Sita in front of a packed audience inside their school and with teachers standing on the side of the stage.
2) The Christian CM-led Andhra Pradesh government is on a spree extracting temple money from Tirumala Tirupati Devasthanam for government projects. It has demanded Rs.458 crores from the board for an expressway project worth Rs.684 crores.
3) A young fisherman from Palghar in Maharashtra was killed and another was injured after Pakistani troops fired at a fishing boat off Okha Coast, Porbandar, Gujarat, officials said on Sunday.
4) Days after a Bharatiya Janata Yuva Morcha (BJYM) leader Mithun Ghosh was shot dead at his home in West Bengal's Uttar Dinajpur district, another BJP leader has been hacked to death at Bhagabanpur in Purba Medinipur (East Midnapore) district of the state.
5) Allegations have been leveled against DMK ally VCK's candidate Vanni Arasu of illegally contesting from a constituency reserved for Hindu SCs despite being a Christian. His father had recently passed away and the pictures posted by him show that he was buried as per Christian customs.
6) 45-year-old Ashim Das, a local TMC leader (Trinamool Congress) from Purba Bardhaman district's Mangalkot was shot dead on Monday, July 12, this year. The 'anchal' (area) president of the TMC party, was chased by 2 bike-borne miscreants at around 6.30 PM, who then shot him from a close range, a senior police officer of the district informed PTI. Though the locals rushed Das to a nearby hospital, he was declared brought dead, said the official.
7) Local Hindus have prevented an illegal mass Christian conversion event that was being carried out in a residential building in Maratha Colony in Karnataka's Belagavi district on Sunday.
8) Two brothers, Tazimulla and Nazir Pasha have been arrested by police for kidnapping college student Tarun (20) for ransom and murdering him when he tried to escape.
9) An elderly lady and her 2 minor grandsons were reportedly assaulted by a Muslim mob near Nabi Masjid in Gali 13 Part 1 of Delhi's Mukundpur. A case has been filed against a Muslim mob in connection with the assault that took place at around 7 in the evening on Friday.
10) 14-year-old Hindu twins Sreya & Sreja went missing from Alathur in the Palakkad district of Kerala on Wednesday, November 3. Also missing are their classmates Arshad, son of Yakkoob of Chundakkad, and Afzal Mohammad, son of Abdul Manaf of Melarcod. Sureshkumar, the father of the girls came to know about the disappearance two hours after they left and complained to the police.
11) Making an absolute mockery of Hindu traditions and culture right before Diwali, US-based footwear brand Crocs featured a woman in Hijab as their model for their recent ad. The ad was published on Crocs India's YouTube channel on October 29, and also carries the logo of women's fashion and lifestyle magazine Cosmopolitan (aka Cosmo).
12) The movie Jai Bhim has landed in another controversy after caste organizations opposed the movie for portraying their jati in a negative light. The villain's character has been portrayed as Vanniyar, a Tamil caste, to which the community has taken offense. After their caste organizations condemned it and took the matter to the director, the specific scene has been changed. Earlier the movie drew flak for a scene where Prakash Raj slaps a Marwari man for speaking in Hindi.
13) After three consecutive attacks on temples in Perambalur, Tamil Nadu, the deities in a temple have been vandalized once again. Despite the continuous attacks police have failed to nab the culprits and the atheist DMK government has turned a blind eye.
14) Mumbai-based model and actress Poonam Pandey has accused her husband of one year, Sam Ahmed, aka Sam Bombay, of severe domestic violence. Mumbai Police has arrested Ahmed after the actress made a formal complaint of assault against him. 
15) A Hindu minor girl from West Bengal's Cooch Behar committed suicide on the day of Diwali after being constantly harassed by local Muslim youth Rahul Islam who had been forcing the minor to marry him.
16) Two Christian missionaries from Kerala were apprehended in Bihar for illegal conversion. Villagers informed the police that a duo, including a woman, was distributing bibles, denigrating Hindu deities, and trying to lure poor villagers to convert to Christianity. Pastor George and Rishu were taken into custody from a village in the Supaul district.
17) Police in Lucknow have arrested a man for making derogatory and abusive statements against the Central government, police, and other dignitaries during a Facebook Live session.
18) The DMK government has given special permission to partymen and their families to witness SooraSamharam in Tiruchendur while chasing away devotees who took shelter in the temple in the midst of heavy rain. Devotees were left to lie down on footpaths and open mandapams after being chased out from the temple complex.
19) Baba Farid college in Bhatinda, Punjab ordered 4 Hindu students from Bihar to vacate their hostel rooms, pay for 'damages' caused and threatened them with further action accusing them of disciplinary issues following incidents that occurred on October 30. Following a huge public outcry, the college canceled the suspicious order and ordered a 'detailed inquiry' by an internal committee.
20) The Madras High Court, on Monday, dismissed a public interest litigation petition filed by an advocate to restrain Tamil Nadu Chief Minister M.K. Stalin from chairing an Advisory Committee of Hindu Religious and Charitable Endowments (HR&CE) Department without taking a pledge that he professes Hindu faith as it is required to be undertaken by HR&CE employees.
21) Yet another child has been harassed by Christian school teachers for wearing Hindu sacred symbols. A girl wearing Vibhuti and Kumkum was humiliated and asked to rub it by government-aided Christian school teachers in Tenkasi, Tamil Nadu.
22) The chairman of the National Commission for Protection of Child Rights(NCPCR) paid a surprise visit to a Christian hostel in Madhya Pradesh and found evidence of religious conversion. Chairman Priyank Kanoongo has initiated a probe into it and directed the district administration to send the girls to their parents.
23) This is not the first Radio Mirchi's RJ Sayema has exposed her Hindu-hating traits and insulted Hindu sentiments. But Bharat is a 'forgiving and tolerant' country, and hence thinly-veiled Islamists like Sayema, Munawar Faruqui, and Mir Asgar Ali are given celebrity status and applauded by left-liberals for each mockery of Hindu Dharma. 
24) The RJB (Shri Ram Janmabhoomi) journey has been a long and arduous one for Hindus with the patience of the majority community ultimately paying off. However, expecting an anti-Hindu party like Congress to respect the sentiments of the majority is too much. Therefore, it is hardly surprising that Congress leader Chidambaram terms the judgment incorrect just because Hindus won.
25) The body of a 6-year-old Hindu vanvasi child, who had gone missing on the day of Kali Puja (Diwali), has been recovered by the local police. The body was buried in local paddy fields. The gory incident has been reported from Nayagram police station area in Jhargram, West Bengal.
26) In a horrific reminder of the gang-rape of a minor in Pune a couple of months ago, a minor girl from Maharashtra's Beed is reported to have been raped by 400 people and even policemen are alleged to have sexually exploited the victim.
27) In a Ramleela parody presented by the institutions, Shri Ram, Lakshman and Sitamata were ridiculed at AIIMS and St. Mary's Public School. This hurt the religious sentiments of Hindus. A video of both these parodies is circulating on social media. The Bajrang Dal has complained to the police demanding action against the institutions.
28) In yet another gruesome incident of 'Love Jihad' that has come to light in the District, Mohammad Malik (21), a religious fanatic from Narayanagar, Punagam, lured a 17-year-old Hindu girl with a fake identity as 'Rahul Patel' and raped her. He then pressured her to convert, forcing her to perform Namaz. After her family reported her missing to the Police, the Police rescued her from Malik and arrested him. Action has been taken against Malik under the 'Love Jihad' Act.
Pakistan
1) A Hindu temple was vandalized and robbed in Sindh, Pakistan just before Diwali. Islamists vandalized the Hanuman Devi Mata temple and stole jewelry and money.
Bangladesh
1) Hindu shops & homes were attacked and completely destroyed by Islamists at Anwarpur road, Dhirai, Sunamganj on November 7.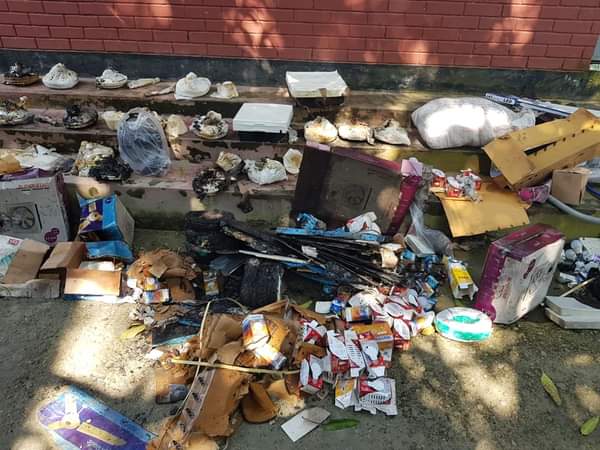 2) Hindu temple, Durga Mandav & homes at Nalchar, Hatiya, Begumganj were destroyed by Muslims.
3) Manik Bhattacharyya's home as well as his shop was destroyed by Muslims at Chingrakhali, Morelganj, Bagerhat.
World
1) Hindus are urging the Brook Theatre in Chatham (England) to withdraw "La Bayadère" ballet; scheduled for March 25-27, 2022; which they feel seriously trivializes Eastern religious and other traditions. 
Most hate crimes are driven by anti-Hindu bigotry encoded in certain religious teachings and political ideologies. While the anti-Hindu hate in Islamic countries is obvious, there is another subtler form of anti-Hindu sentiment within institutions and the public sphere of ostensibly secular states (like India) that provides an enabling environment for Hinduphobia and hate crimes. This subtle, everyday discrimination can be missed unless one studies prevailing laws and patterns. The gradual ban on firecrackers during Diwali is a good example – it might seem pollution-related on the surface, but the double standards at play become clear when one looks at the larger picture of restrictions on Hindu festivals, and the lack of sound reasoning behind the ban.
We request all readers to share other anti-Hindu hate crimes that we might have missed in this period in the comments below or by dropping an email to [email protected]. We also solicit support in the maintenance of the Hindu human rights tracker database started by us.