Ayodhya Foundation, a non-profit, is dedicated to the cause of Bharatiya art, culture, heritage, and civilization. They are also engaged in researching, engaging, sharing, and producing content aimed at the comprehension of Sanatan Dharma.
The foundation is organizing a 'Samuhik Tarpan' for the crores of Hindus who, since 632 CE, have lost their lives fighting for us to have the privilege of being Hindus.
This is being done to repay the countless Hindus who've been annihilated because of their Hindu identity. The tarpan is being organized in various cities across the country on September 25 at 11 am:
Haridwar, Chandi ghat
2. Varanasi, Dashashwamedh Ghat
3. Bithur, Ganesh Ghat
4. Omkareshwar, Gaya Shila
5. Ujjain, Neelganga Sarovar
6. Himmat Nagar, Gujarat, with Kapil Mishra, BJP
7. Durg, Chhatisgarh
8. Narmada Ghat, Amarkantak
9. Satluj river bank, Himachal Pradesh
10. Vyas river bank, Himachal Pradesh
11. Yamuna river bank, Himachal Pradesh
12. Paonta Sahib, Himachal Pradesh
13. Kandga, Himachal Pradesh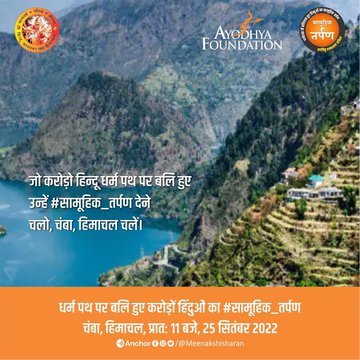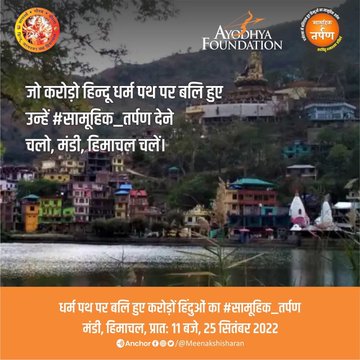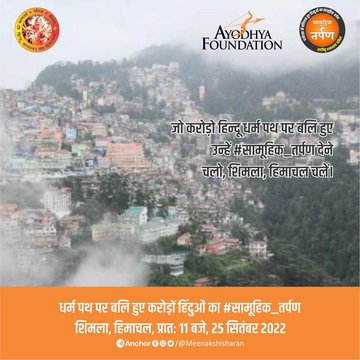 17. Triveni Ghat Sangam, Himachal Pradesh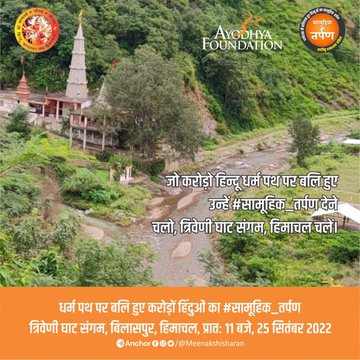 18. Bilaspur, Himachal Pradesh
19. Shri Sanatana Dharma Sabha, Nairobi, Kenya, where 30 dharmik veeranganas have already registered for the ritual
20. Narmada river banks, Dakshin ghat, Kataar ghat, Omkareshwar
The foundation celebrated 15 August as Shraddha Sankap Divas across various locations in the country where thousands of Hindus vowed to organize a samoohik tarpan for their ancestors.
(This article has been compiled from the tweet thread originally tweeted by Ayodhya Foundation (@Ayodhyasummit) on September 22, 2022.)