Ram Navami is an auspicious occasion for Hindus to celebrate the birth of Prabhu Sri Ram, and it is customary for Hindus to take out processions to mark the event. This year the occasion was marred by Islamist violence with attacks on Ram Navami processions being reported from several states across the country.
Ram Navami processions attacked by Islamists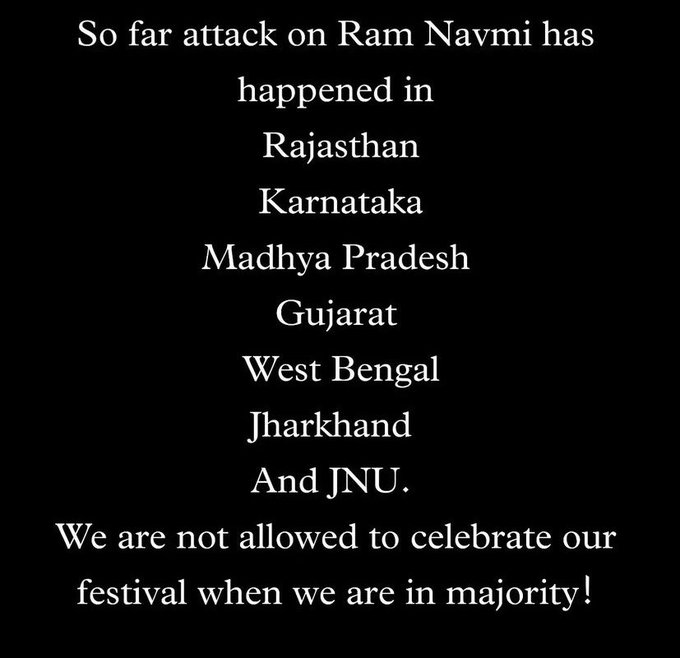 Among the states that witnessed violence are Karnataka, Gujarat, West Bengal, Jharkhand, and Madhya Pradesh. Leftist dominated JNU where slogans of 'Bharat tere tukde honge' have been raised also saw stones being pelted by leftist students on Ram Navami Puja.
Attacks in BJP-ruled states
Detailing the violence, India TV noted that peaceful processions were attacked. In Gujarat's Himmatnagar (Sabarkantha District) and Khambhat (Anand District), the police had to fire tear gas shells after stones were pelted damaging shops, and vehicles were set afire.
One person has been reported dead while another one is injured in Khambhat. Superintendent of Police (SP) Ajeet Rajyan stated "The body of an unidentified man, who appears to be around 65 years old, was recovered from the spot in Khambhat, where two groups pelted each other with stones after a clash broke out between them during a Ram Navami procession late this afternoon" while adding that further investigations were ongoing.
The dead person has now been identified as 60-year old Kanaiyalal Rana who was attending the peaceful procession which was pelted with stones by Islamists as the procession passed through Muslim dominated Shakkarpura area in Khambhat.
Sabarkantha SP Vishal Vaghela also confirmed reports of violence and added that the situation was brought under control. Additional security forces had to be deployed in the area. Violence was also reported in Madhya Pradesh's Khargone and Barwani Districts.
It has come to light that Khargone town in Khargone District and Barwani's Sendhwa town was hit by violence and the police had to clamp Section 144. Curfew was imposed on the intervening night of Sunday and Monday and people were allowed to step out only for medical emergencies in Khargone.
Available information states that 8 to 10 persons including 5 policemen were injured in the attack. Khargone SP Siddharth Chaudhary, SDOP, and local police inspector are among those who suffered injuries. Talab Chowk, Motipura, Sanjay Nagar, Tabadi Chowk, and Gaushala Marg among others have been recognized that were badly hit by violence. The MP government is reported to have taken action against those involved in pelting stones on the Ram Navami procession in Khargone.
In Sendhwa, the procession of the Vanvasi community that was on its way to join the main Ram Navami procession in the town from Bargoan Village was attacked in the Idgah-Jogwara Road area. In violence reported from other areas including Jai Hind and Kranti Chowks, seven people including two policemen were reportedly injured. "Swinging into action, the Barwani district collector Shivraj Singh Verma and SP Dipak Shukla along with adequate force later ensured that the main Ram Navami procession happened peacefully in main Sendhwa town", noted The New Indian Express (TNIE).
Incidents of stone-pelting, two cars being burnt, and shops being vandalized were reported from BJP-ruled Karnataka's Mulbagal Town in the Kolar District. The police resorted to lathicharge to bring the situation under control and later prohibitory orders were clamped in the area. As per reports, nine people have been detained by the police so far.
Ram Navami violence in Congress-JMM ruled Jharkhand
In Jharkhand, a Ram Navami fair at the border of Hendlaso-Kujra village was hit by violence. Islamists pelted stones at people participating in the procession and also set fire to 10 bikes as also a pick-up van in Lohardaga.
"In self-defense, people involved in the procession also pelted stones in response. At least 4 people have been injured in the incident while 2 of them are serious. The condition of Manohar Sahu and Bhola Singh is said to be critical, both have been shifted to a hospital", reports India TV.
Last reported the situation in the area continues to be tense with a huge police force stationed in the area to prevent further violence. Lohardaga DC, SP, Campaign DSP, and Sadar police station in-charge are camping in the region where clashes broke out. Hindus have demanded the arrest of the attackers.
Mamata Banerjee-ruled West Bengal
Not surprisingly, TMC-ruled West Bengal is among the states that saw Hindus celebrating Ram Navami being attacked by Islamists. "A Ram Navami Procession in Howrah in West Bengal was attacked, and the devotees had to abandon the procession due to the attack by Muslims. Several participants of the procession were injured in the attack including stone-pelting", stated an OpIndia report.
An attack on the Ram Shobha Yatra was also reported from Bengal's Bankura Town in a video message shared by Shri Dilip Ghosh.
The state has witnessed similar violence earlier as well. In 2018, violence was reported from Raniganj in which one person died, a DSP's hand was chopped off, crude bombs were thrown and shops belonging to Hindus were burned down. Similarly, Ram Navami processions were attacked by Islamists in 2017 as well.
These instances of violence come close on the heels of Karauli violence in Congress-ruled Rajasthan during Hindu New Year celebrations. In the Karauli incident too, the role of Islamists had also been clearly established. It is, therefore, important to probe the part played by Islamist organizations in the Ram Navami violence across the nation.
For all the claims of 'Dara Hua Musalman' and 'minorities under threat', it is actually the majority community that is being threatened, attacked, and forced to flee in several pockets of the country – thanks to 'secular' politics and parties as well as their intellectual footsoldiers and media handmaidens who have zero concern for Hindu interests. Make no mistake, these attacks stem from the radicalization of the Muslim society that is in the iron grip of Maulvis and Maulanas who have ingrained Hindu hatred in the Muslim populace and sidetracked the rare rational Muslim voices.
That attacks have also been reported from states where the so-called saffron Hindutva party BJP is in power should be a matter of concern given the fact that the party's "sabka saath sabka Vikas sabka Vishwas" only appears to be emboldening anti-Hindu forces. It can't be reiterated enough that Bharat is the only nation for Hindus and probably the only country in the world where the 'majority' community lives under constant threat from both Islamists and missionaries/evangelists.
(Featured Image Source: India TV & OpIndia)