Missionaries of Charity (MoC) funded through a Panama based firm named in Pandora Papers leaks! Who is the actual donor?
MoC's gigantic foreign funding:
250+ bank accounts,
₹1099Cr in 15yrs,
₹426Cr in 5yrs
₹75Cr this FY, from 347 individual and 59 institutional donors.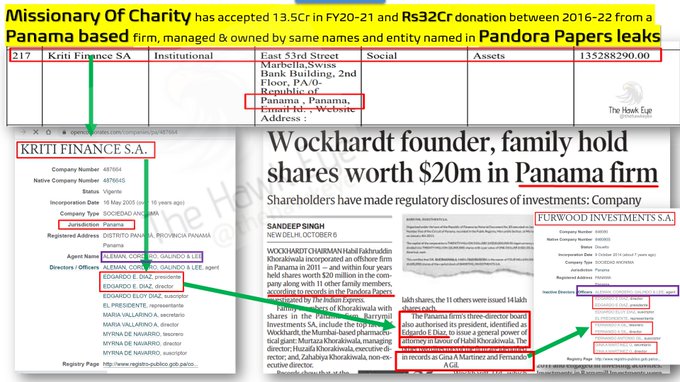 While analyzing this 76 page high-magnitude FCRA report, I found something catchy. Out of Rs. 75Cr (FY20-21), MoC, India has received Rs. 44Cr from MoC, USA. Usually, one may see names of other NGO/ corporate as donors. However, the second highest donor (Rs. 13.5Cr) here is Kriti Finance SA, which is a Panama-based asset management firm.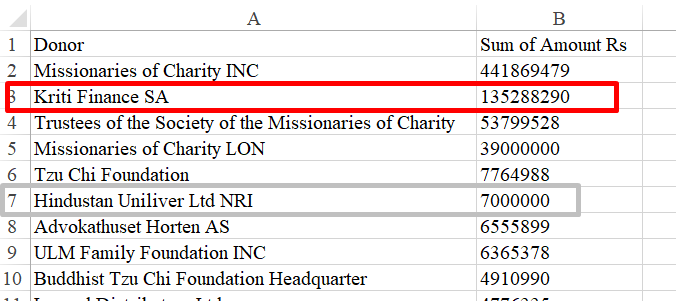 In the last 4 years , either this firm (Kriti Finance) or something named 'Simi Foundation' (having same c/o address) has routed Rs. 32Cr to MoC. By all means, this is very unusual to receive funds directly from a Tax heaven country's finance firm.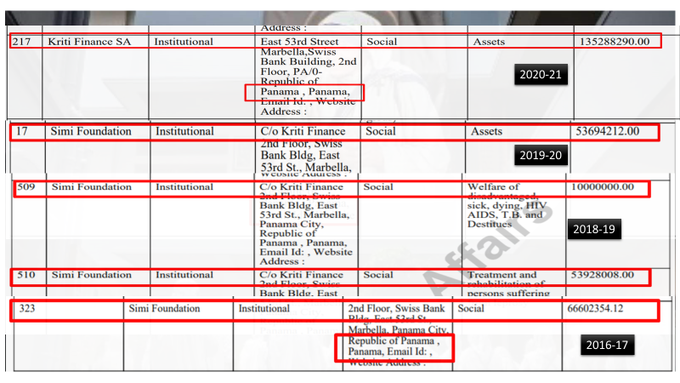 Now interestingly Kriti Finance SA's president and director Edgardo E. Diaz is incidentally holding a similar position in many such cos including one Furwood Investment whose other two directors are Martinez and Gil. This is the same firm named in the recently released tax evasion.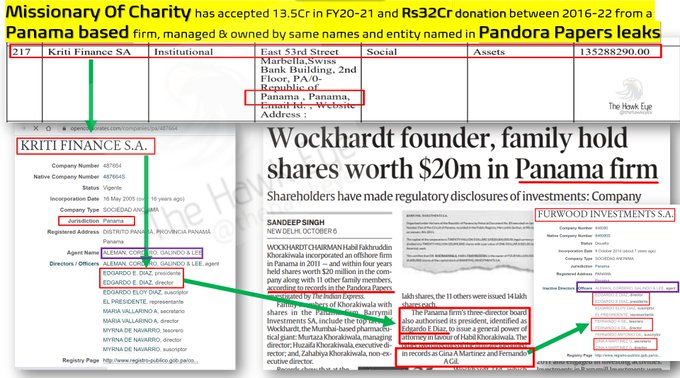 Money laundering report Pandora Papers in context of Wockhardt's tax evasions case. Another catch is both these Panama firms are managed by the same law firm (Alemen, Cordero, Galindo & Lee).
The question is – How come no media, including Indian Express which was part ofPandora Papers have not highlighted this peculiar 18% donation of the total in FY20-21? Who is the actual donor? Is it a case of money laundering (black into white)? Why such Tax heaven country finance firm would donate to a Christian missionary organisation in Bharat?
Why a lobby defending MoC which is already facing conversion FIR in Gujarat and trafficking case in Ranchi? Can a Nobel laurel name grant you immunity from laws?
MoC has accepted Rs. 26.5Cr in the last 5 years from "Hinustan UNILIVER Ltd" having same address as the famous "Hinustan UNILEVER Ltd." Typo mistake every year or a trick to launder money in the name of big corporate?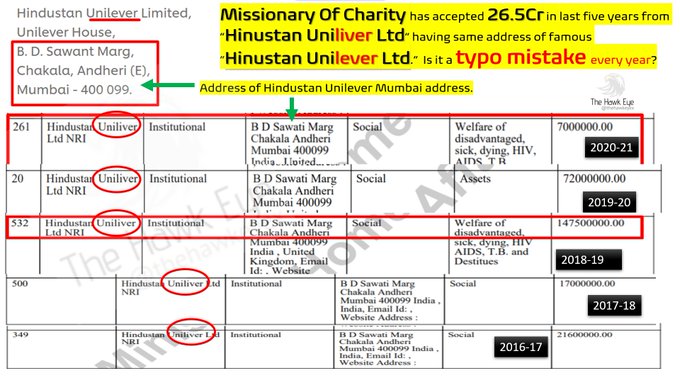 Just like most of didn't notice the spelling of 'Hindustan' at both place, that's how typo works. The spelling of UNILIVER and UNILEVER is the catch anyway.
(This article has been compiled from the tweet thread of @thehawkeyex – HinduPost is not responsible for the accuracy, completeness, suitability, or validity of any information, or assume any responsibility or liability for the same)