The contributions of 63-year-old farmer Prem Chand Sharma towards the production of high-yield fruits and vegetables using organic methods without the use of chemicals in Uttarakhand's remote village have been recognized and he has been awarded Padma Shri for this contribution. Previously, he has also received various awards at the state and national level for his outstanding contribution and achievements in the area of organic farming.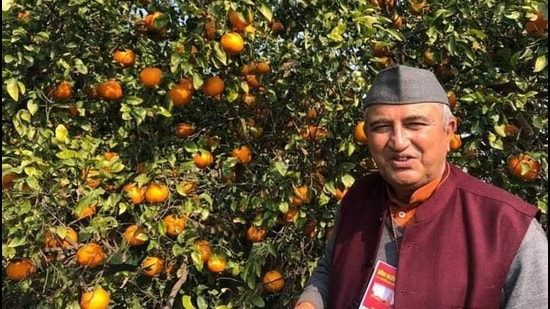 Shri Premchand Sharma was born in 1957 in a peasant family in the frontier village Atal in Chakrata block of Jaunsar-Bawar, a tribal-dominated area adjoining the Dehradun district. Premchand, who received education only till the fifth grade, had inherited farming skills. Since his childhood, he joined his father JhanuRam Sharma during farming activities and started learning farming skills in his farm-barn school. After the death of his father, the entire burden of farming came on his shoulders.
Seeing that there was no cost advantage in traditional farming, he decided to experiment with agriculture. He started his experiments in 1994 with organic farming of pomegranate. As this experiment was successful, he also inspired other farmers of the area to take this up.
Continuing his experiments in the field of agriculture, in the year 2000, Sharma developed a nursery of one and a half lakh plants of advanced varieties of pomegranate. He distributed this plant to about three and a half hundred farmers in Jaunsar-Bawar and neighboring Himachal Pradesh. He went to Himachal's Kullu, Jalgaon in Maharashtra as well as Karnataka to learn the tricks of pomegranate farming.
Shri Prem Chand Sharma is a progressive Horticulture Farmer from Dehradun who has successfully introduced a range of pomegranate varieties. He will be awarded Padma Shri this year. #PadmaAwards2021 #PeoplesPadma pic.twitter.com/j7UUF1EwDd

— MyGovIndia (@mygovindia) January 28, 2021
In the year 2013, Sharma formed a fruit and vegetable growers' committee by bringing together around 200 farmers belonging to the Sainj-Taranu and Attal Panchayats of Deoghar Khat. Along with this, he played an important role in the development of agriculture and horticulture in the region by starting an agricultural service center at the village level.
Sharma, who has been associated with agriculture and horticulture for nearly three decades, inspired farmers in Jaunsar-Bawar to increase the production of cash crops to boost their income. With his initiative, hundreds of farmers of the border area started producing cash crops and started improving their economy. Along with this, he showed the way of organic farming to the farmers of the area. Sharma was the deputy head of the Sainz-Atal Gram Panchayat from the year 1984 to 1989 and the head from 1989 to 1998.
In his interview to Hindustan Times, Sharma said:
"I have been focusing to diversify farming in the state by growing high-quality fruits, vegetables, and grains in a completely organic way…
…I would continue working for the development of clean farming. I want to make our air and food pure as these are the two important things needed to survive."
While thanking Prime Minister Narendra Modi for the award, Sharma added "It will help draw the attention of people towards the importance of agriculture in the country."
Other awards received by progressive farmer Shri Premchand Sharma
Kisan Bhushan on behalf of the Government of Uttarakhand in the year 2012, Kisan Samman on behalf of Indian Association of Soil and Water Conservation in the year 2014, Kisan Samman on behalf of Indian Agricultural Research, Krishak Samrat Samman in the year 2015, Special from Indian Veterinary Research Institute Achievement Award, Progressive Agriculture Award from Govind Vallabh Pant University of Agriculture and Technology, Pantnagar in the year 2015, Uttarakhand Bismet Nayak Award from Swadeshi Jagran Manch in the year 2016, Jagjivan Ram Kisan Puraskar from Indian Council of Agricultural Research in the year 2018 and  Jasoda Navani Award from Social Institution Dhad.
References:
https://www.hindustantimes.com/india-news/uttarakhand-farmer-gets-padma-award-for-innovations-in-agriculture-101611661163531.html
https://krishijagran.com/success-story/uttarakhand-farmer-receives-padma-shri-for-diversification-innovation-in-agriculture/
(Featured Image Source: Krishijagran.com)
---
Did you find this article useful? We're a non-profit. Make a donation and help pay for our journalism.
HinduPost is now on Telegram. For the best reports & opinions on issues concerning Hindu society, subscribe to HinduPost on Telegram.