The world is at an inflection point and the world order is about to change. There are only two possibilities: Either a multipolar world arises after China surpasses the US as the world's largest economy, or the US defeats both Russia and China to establish absolute supremacy over the world. Nobody can predict for sure where the chips will fall. However, if you were to quantify, the probability is high for the emergence of a multipolar world. This is why Bharat shouldn't blindly follow the USA or antagonize China permanently.
China's inexorable rise
China's growth over the last two decades has been incredible and unprecedented. Look at the chart below that compares the GDP of Bharat, China and the US from 2001 to 2021: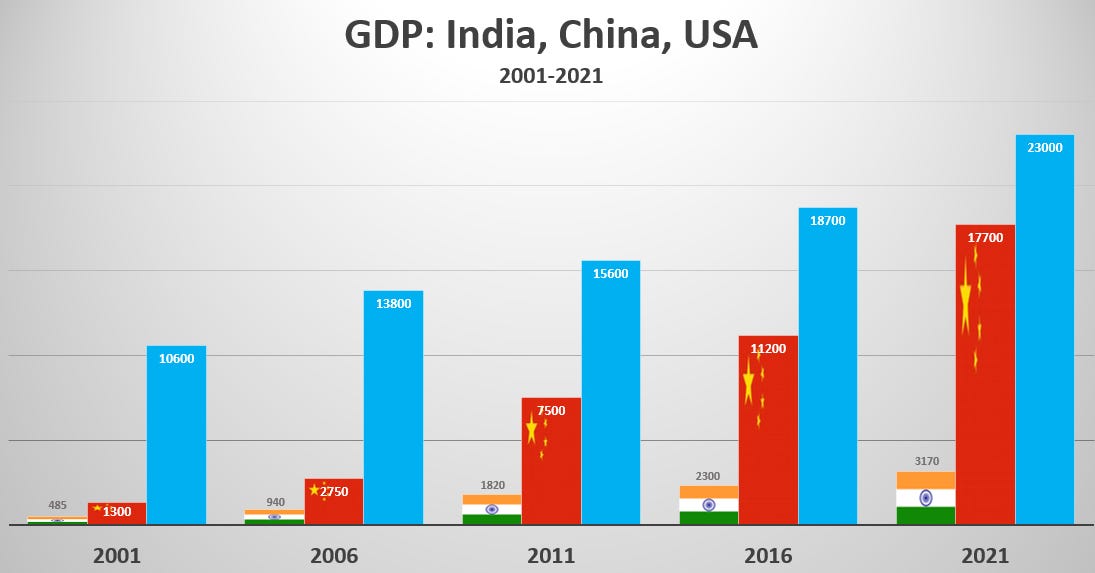 The US economy is now only 20% larger than China's. While China faces a lot of uphill battles — slowing economy, high debt, real estate crisis, shrinking workforce, and unscrupulous US sanctions (which most US "allies" are forced to follow) — the Chinese society can bite the bullet and push hard for a few more years to surpass the US.
Look at the IMF estimate for 2022 and 2023. Combined, China will grow 3x faster than the US — 7.6% versus 2.6%. A few more years like that, China will surely overtake the US.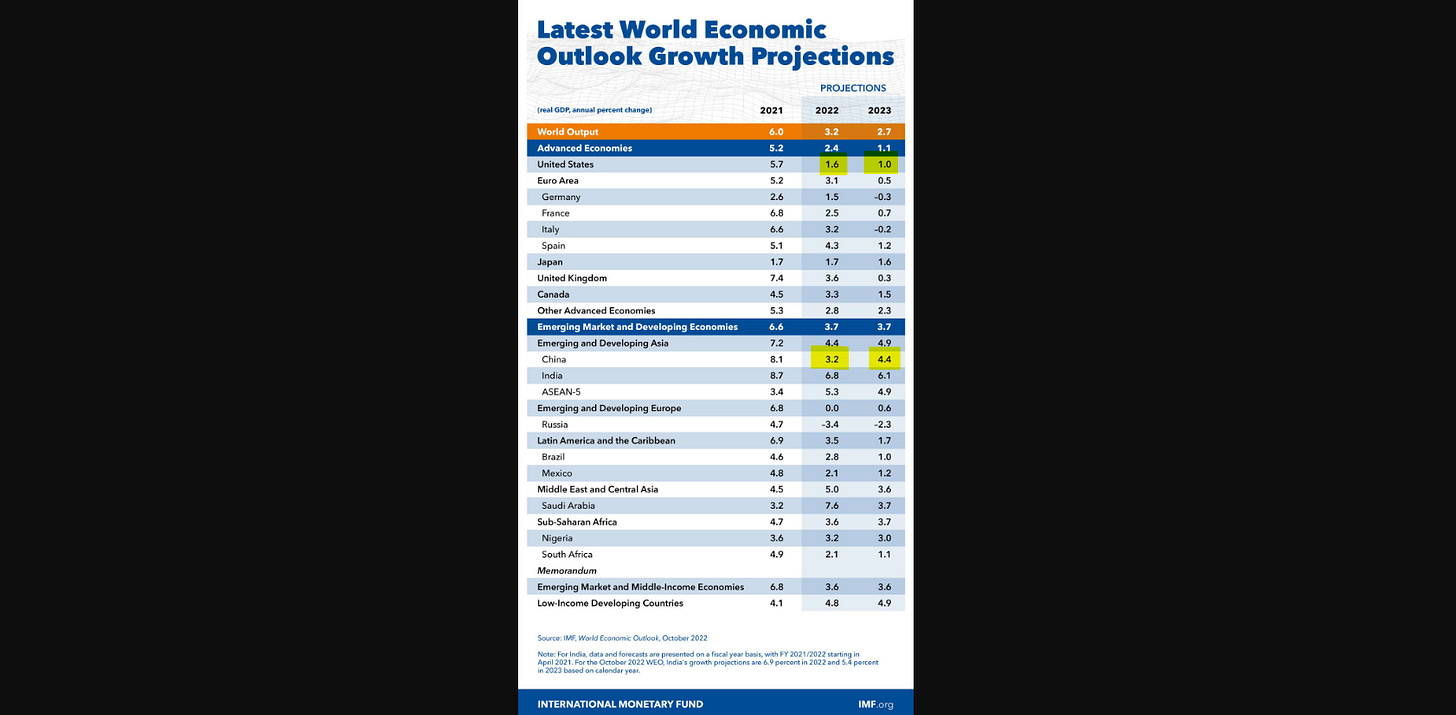 US economists and pundits are furiously talking down China. However, here's a shocker for them: China's GDP went up whopping 23% in one year (2020-2021)!!!
From $14.4 trillion to $17.7 trillion!
One more such jump in the next few years… and China will easily leave the US behind in dust.
By the way, how did this happen? It was mostly because Chinese Yuan appreciated about 10% against the US dollar in 2021.
Yuan/RMB will strengthen
Forget 2022 when the US dollar is appreciating against pretty much all currencies (except against Russian Ruble!). This is not all good for the US, by the way. The rising interest rates will wreck the US housing market and the bond market. The US stock market is also deep in the bear zone.
Eventually, China's Yuan will strengthen — perhaps by 20-25% over the next few years. Why? Two main reasons:
Internationalization of Yuan. This is already happening but in a gradual way, like the Chinese always do — remember how they embraced capitalism step-by-step. Already, Yuan is a part of the IMF basket; last year, cross-border transactions worth trillions of Yuan happened without fanfare; dozens of countries now have Yuan in their portfolios for foreign exchange reserves; BRI countries and America's geopolitical rivals like Russia and Iran are wholeheartedly embracing Yuan for trade. Finally, Digital Yuan and CIPS — China's answer for SWIFT — will accelerate internationalization of RMB.
A strong Yuan to become a wealthy nation. China will officially become a developed nation next year — crossing the threshold of $13,000 of GDP-per-capita. China's goal is to double that number by 2035. That cannot be achieved by GDP growth alone; it will be accomplished by strengthening of Yuan. Yes, as an exporter, China will be concerned about too strong a Yuan, but it can easily go from ¥6.40 to ¥5.40 per $1. This will also be a good test for Chinese manufacturers — they need to get better in quality and marketing in order to sell more expensive products.
America's problems
While the US is still the world's hegemon, its power doesn't come from fair play anymore.
The only reason the US economy is growing a little bit at all is because of its ability to print and borrow trillions of dollars. The illusion of wealth for some Americans comes from massive bubbles in the stock market and real estate, both of which are crashing this year. Majority of Americans live from paycheck to paycheck. The US model of financial capitalism is predatory and unsustainable.
The US is also lagging behind in technology. China is publishing more scientific papers and applying for far more patents than the US does. The only option for the US to maintain its tech supremacy is by imposing sanctions on 500+ Chinese companies. This is such a pathetic way to win.
In geopolitics, the US is the Empire of Chaos. Again, rather than focusing on its own success, the US tries to stay #1 by bringing down Europe and Russia in one swoop. The traditional divide-and-rule playbook.
Conclusion
This is the most dangerous decade since WW2. Bharat must avoid getting caught up in geopolitical power games. There is a good chance that Russia will win the Ukraine war and Europe will be forced to negotiate peace. (Four months of winter without adequate electricity and heating will change a lot of European minds).
China has the potential to become the largest economy. And the moment it happens, a lot of countries will openly ditch the US and embrace China. Imagine OPEC countries selling oil for Yuan — that will be the end of Petrodollar and the American Century.
Bharat should be smart and hedge its bets to thrive in the coming tumultuous years.
-by S.L. Kanthan
(The story was published on the author's blog on October 27, 2022 and has been reproduced here with minor edits to conform to HinduPost style-guide.)